Evan Spiegel has described Snap as a camera company. He tells us what that means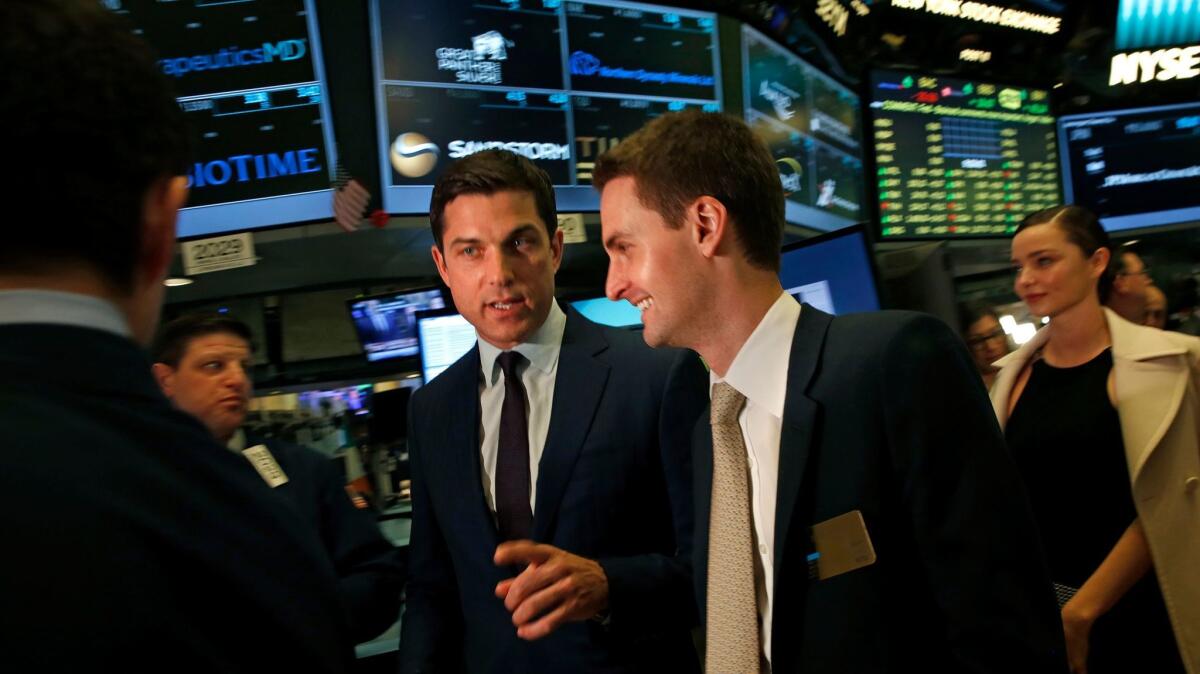 Reporting from New York —
Its home screen is a camera rather than a newsfeed and its aesthetic is garish instead of staid. These key differences set Snapchat apart from Facebook, but they could be a turnoff for the hundreds of millions of people with Facebook accounts who have never tried its younger Los Angeles rival.
Though most of the 158 million people who use Snapchat each day are younger than 35, the app's co-creator, Evan Spiegel, believes that his company appeals to more than just the youthful. And as Spiegel looked back on his firm's historic stock market debut Thursday, he insisted during an interview with The Times that what Snapchat offers — and will offer — is something all should want.
"Talking with pictures and making memories is universally appealing," he said over coffee in Brooklyn, still wearing his suit from Thursday's festivities. "It's been great to watch the business grow, but there's more to come."
Through Snap Inc., Spiegel and co-founder Bobby Murphy have set out to reinvent the camera. They are working to change how cameras are made, to increase their capabilities and to introduce new ways for images to sync with sophisticated software. Their earliest ideas have manifested in the Snapchat app and $130 video-camera sunglasses called Spectacles. Many more ideas remain shrouded in secrecy; neither founder spoke on the record about future products.
Their mission stemmed from a realization five years ago that Snapchat had opened up a new form of communication — photo and video messages that vanish after they are viewed. Though images had long been used to preserve the memory of special events, Spiegel and Murphy discovered that the most popular thing people do through the now 2.5 billion Snapchat transmissions each day is simply talk with friends and family.
"There's this focus on people you care about as an individual," Spiegel said, noting that Snap has carved out a "massive, large and terrific" spot in communication as a result.
Without an online paper trail left behind, users show what they're up to even in the dullest part of their days, check in with friends and plaster stickers, emojis and text on images to convey their feelings at the moment.
The messages might come off as zany and goofy at times. And Snapchat's addictive features — like one that enables users to see what they look like with someone's else face — encourage humorous entertainment more than serious dialogue. But even those gimmicks wound up fostering raw, authentic conversation, according to the founders and academics who study the company.
"They are somewhere between having a face-to-face in person and Facebook-posting to 500 people," said Joseph Bayer, an assistant professor at Ohio State University who has studied Snapchat. "They've found an interesting mix of the old school and new school."
The question is whether Snap's products and services will spark enough interest and revenue to justify the $34-billion market capitalization it notched Thursday. Snap has drawn skepticism from investors and financial analysts because Snapchat has mostly attracted younger individuals, led by millennials and Generation Z behind them, and there simply aren't that many young users left in its prime markets to recruit. Investors used to trading Facebook and Twitter shares based on user growth data will want Snap to add more users at a fast and steady clip.
Spiegel says investors should focus first on how and how much users are interacting with its service and products. He's not going to deviate from the emphasis on helping people strengthen their close bonds in a bid to rope a broader audience into the app.
"We'd rather inspire creation," he said, because everyone has a desire to create fun memories and connect with others in a visual way.
He believes that if Snap continues to offer entertaining and novel ways for people to keep in touch with the people they care about the most, the company shouldn't have trouble gaining and retaining users.
"Closer people are generally happier people," said Natalie Bazarova, an associate professor at Cornell who's researched the app. "When we share joys, when we share sorrows — that's what makes us better off. Snapchat works for some conversations, it doesn't work for deep and social support conversations. But it's part of the communication fabric of our daily lives."
Spiegel recognizes that there's a disconnect between how investors and much of the public want to see Snap evolve — preferably something as ubiquitous as Facebook — and the path he wants the business to take. Facebook has reached immense value by connecting 1.9 billion people to its social network, but Spiegel believes that Snap could become just as valuable by building a smaller, more personal service.
"We built our business on creativity," Spiegel said. "And we're going to have to go through an education process for the next five years to explain to people how our users and that creativity creates value."
Snap faces risks. A younger generation could find that they value being social butterflies, sharing a big posse of friends to whom they aren't especially close. Others might take the position that they'll only choose services that keep them anonymous and don't use their information for advertising purposes. And many analysts fear that an influx of older people would send Snapchat's existing youth fleeing.
Still amid rising competition from Facebook, Apple and other big tech firms emulating the best of Snapchat, Spiegel and Murphy are gearing up to turn the camera and the images they produce into a tool for actions beyond communication.
"The dream for us is expanding the camera and what it can do for your life," Spiegel said. "It has capabilities beyond making memories."
There's growing speculation that Snapchat's next move could be helping people understand what's around them at a given time, including places, objects, people and events.
"Can [Snapchat] be a place you don't just go to when you want to connect to a friends but also just want to get information?" said Nicole Ellison, professor of information at University of Michigan. "Can you take advantage of this device in your hands that knows where you are in 3-D space and tailor content and information?"
Producing a feature or product that achieves that could be what Snapchat needs to grow without sacrificing its unique personality.
Spiegel and Murphy remained coy about what exactly comes next. As Spiegel has said, its users know to expect from Snap the unexpected.
Twitter: @peard33
ALSO
Exclusive interview: How Snapchat founder Evan Spiegel feels after the historic IPO
Snap's share price pops 44% in first day of public trading. Was price set too low?