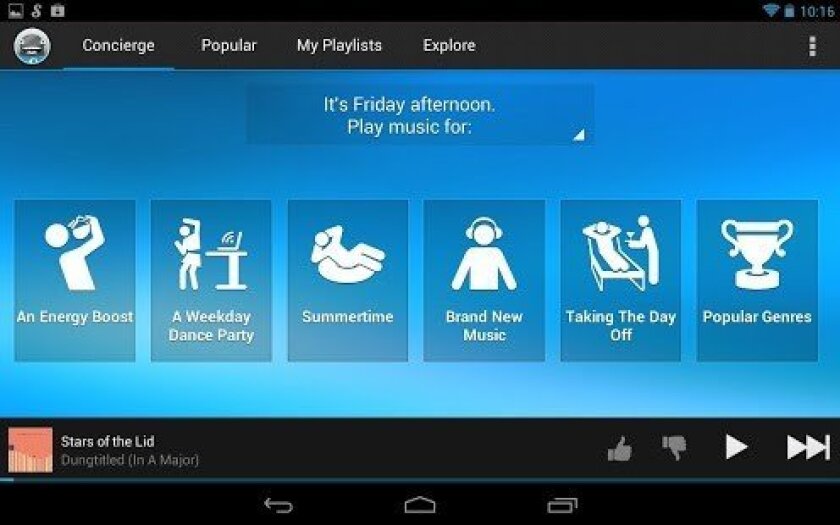 Once upon a time, I listened to the radio. I even bought LPs, cassette tapes and CDs. But gone are those days. Now, I listen to streaming music, which has made staying on top of all the latest tunes as easy as a couple of clicks, all for about $10 a month.
Some music apps focus on the basics (oldies are the goodies), others make recommendations based on your preferences or musical discovery, while others emphasize features like lyrics, sound adjustment and user interface.
Whether you're looking for new music or want to listen to top 40, there's a music app for you.
The Hype Machine: If you are looking for fresh music to listen to before it even hits the mainstream, Hype Machine is a good start. The iOS and Android app monitors hundreds of blogs for new music, collecting the MP3 links in a massive library of songs into a single location for visitors to listen and discover new music.
You can favorite songs, adding them to your dashboard, and then play them back like a radio.
The app is free with ads, or $3.99 per month without ads.
Spotify: If ever there was a King of Music service, the popularity title would be given to Spotify. The free app allows you to instantly stream a song or even a full album and works like an ad-supported radio service. Users can build playlists, discover new music, share and listen to what other members are listening to via its Facebook integration.
For those who are bothered by the many ads interrupting songs in the free desktop version, Spotify premium ($9.99 per month) removes ads and includes offline listening from your mobile devices even when not connected to the Internet.
Rdio: Rdio has been Spotify's biggest streaming competitor for quite some time now. Instead of just managing music, the Rdio Android and iOS apps encourage you to check out new music based on what other people you follow are listening to. If you don't know what you want to listen to, then you can let the app help you.
The app is the most aesthetically pleasing of the bunch. Its blue-and-white interface is clean and crisp, and highlights album covers, almost filling the screen with beautiful artwork.
The app is free for a 30-day trial, but subscriptions start at $4.99 per month for unlimited Web streaming.
Radical.FM: This is a newer free music iOS app that lets you listen to streaming music by genre, mix genres together and create 30-song playlists with songs you pick.
Similar to Pandora, with its curated radio feature and on-demand playlists (like Spotify) Radical.FM sets itself apart with its channel for indie artists. Artists can upload and broadcast their independently created material worldwide with the RadCasts feature, or live voice and video feed transmissions, with Radical.FM providing every user a broadcast radio station with legal content.
Songza: What can be better than a hand-picked song for your every mood? The free Songza Android, iOS and Kindle app gives users expertly curated playlists that match your mood at any given time of the day or night.
Open the app on a Sunday afternoon, for instance, and Songza suggests music for a BBQ or pool party.
The best part about this app is that there are no audible commercial interruptions. Although there are ads displayed on the site, they are easy to ignore, especially because it's free. An ad-free experience costs 99 cents per week.
Follow @JessicaNaziri on Twitter
ALSO:
Tech gadgets to make your Labor Day holiday more enjoyable
Need a compatible roommate? Five apps and sites to help you search
PHOTOS: 10 tech projects getting a boost from Kickstarter
---