Google fined nearly $1.7 billion for ad practices that violated European antitrust laws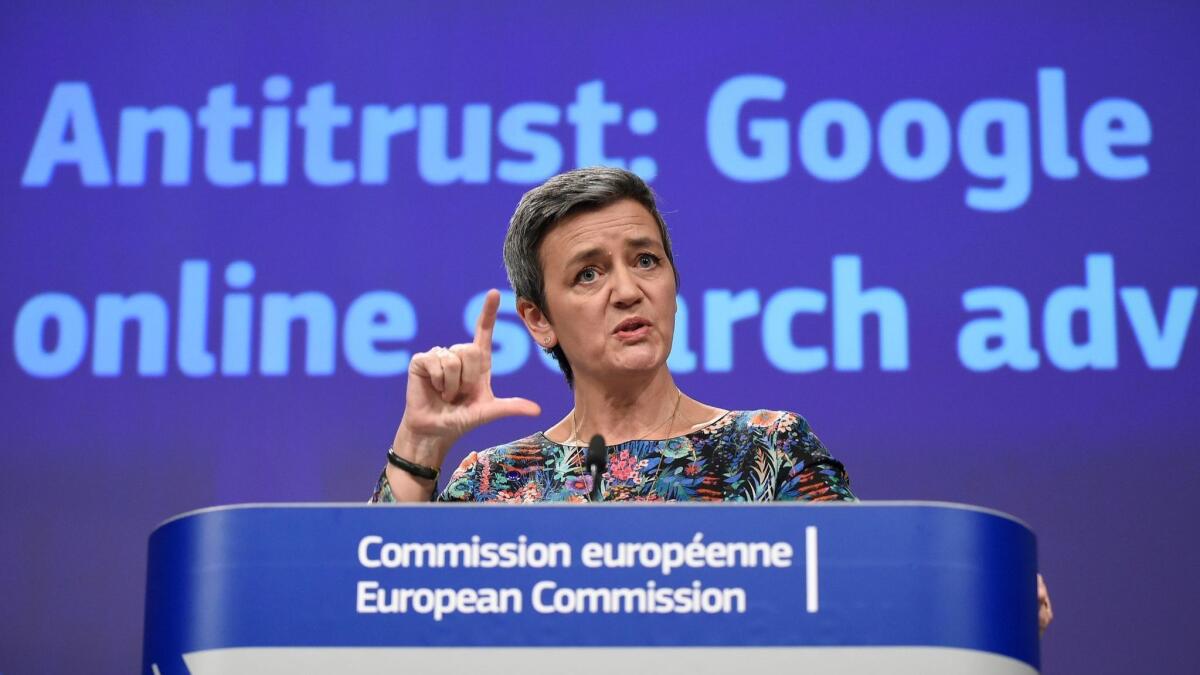 Washington Post
Google was fined $1.7 billion on Wednesday by the European Union for thwarting advertising rivals, marking a third rebuke of the tech giant by the EU antitrust chief — and one that could barely come at a more politically sensitive time domestically.
The latest fine brings the total that Google has been ordered to pay to $9.4 billion in a series of EU antitrust investigations over the last decade that have taken aim at the Alphabet Inc.'s subsidiary's popular software for Android phones and searches related to shopping.
The EU in July fined the company 4.3 billion euros ($4.92 billion) and demanded that it change the way it puts search and web-browser apps onto Android mobile devices.
A year earlier, Google received a then-record 2.4-billion-euro ($2.74-billion) penalty after regulators accused it of skewing results to thwart smaller shopping search services.
As European regulators have sought to crack down on perceived oversteps by U.S. technology companies, U.S. politicians are also upping their critiques.
This month, presidential candidate Sen. Elizabeth Warren (D-Mass.) called for far stricter oversight of the tech industry and even went so far as to lay out a plan for breaking up Google and other Silicon Valley tech giants that she says are thwarting competition.
"Europe's action will increase pressure on U.S. policymakers to scrutinize Google, but it's still unclear whether there's a strong antitrust case here," said Gene Kimmelman, a former chief counsel for the U.S. Justice Department's antitrust division who now leads the consumer advocacy group Public Knowledge. "The pressure to increase tech platform accountability will only grow, and it's simply a matter of time before Congress will weigh in to limit discrimination in the marketplace."
Wednesday's fine stemmed from Google's role as an ad broker for websites, targeting exclusivity agreements for online ads with its AdSense for Search product. That service places text advertising on websites. The problematic contracts were all dropped by 2016, when the EU escalated the investigation. As a condition of using the service, Google required that third parties prioritize its own advertisers over rivals'.
For instance, the commission found that Google restricted third parties from displaying advertisers from rival services altogether in some cases. Other times, third parties were required to reserve a premium spot for Google advertisers as well as allow the company to alter the way that rivals' advertisements were displayed.
These are some of many restrictions on AdSense customers that led the European Commission to conclude in an initial complaint filed in 2016 that Google had acted anti-competitively. EU officials did acknowledge at the time that Google had changed its AdSense contracts to allow for "more freedom to display competing search ads."
Google is by far the biggest internet advertising broker, setting up searches on customers' websites, and that allows it to control how most consumers start shopping, said Margrethe Vestager, the EU's aggressive chief antitrust regulator.
"It's an entry point," Vestager said at a news conference. "By gaining a foothold in advertising brokering," competitors "could grow their business and then challenge Google in general search advertising."
The advertising revenues that fuel profits for Google and Facebook Inc. are increasingly coming under antitrust scrutiny, often prompted by complaints from media companies as advertising spending shifts to the web. France's competition authority has flagged the scale of Google's ad business as a potential concern. Germany started an inquiry in February, and Dutch regulators have been looking at how media companies generate ad revenue. Britain recently signaled it plans to start its own inquiry.
Kimmelman said, though, that it is more difficult for U.S. regulators to bring an antitrust case.
"The U.S. generally places a higher burden of proof on enforcers than Europe, making it more difficult to bring a case," he said.
However, Warren is seeking legislation that would radically change how giant tech companies are regulated in the United States.
The Democratic lawmaker said her administration would first appoint "regulators committed to reversing illegal and anti-competitive tech mergers," including Amazon's purchase of Whole Foods, Facebook's tie-up with WhatsApp and Instagram, and Google's ownership of Waze, Nest and DoubleClick.
Second, Warren said she would push legislation that would label key services — such as Amazon's marketplace for goods and Google search — as "platform utilities," which would have to be spun off from those tech giants' other businesses.
"This is exactly why we need to #BreakUpBigTech. Companies like Google have too much power — and fines alone won't fix the problem," Warren tweeted Wednesday.
In response to Wednesday's fine, Google said it has "already made a wide range of changes to our products to address the commission's concerns," Kent Walker, the company's senior vice president for global affairs, said in an email. "Over the next few months, we'll be making further updates to give more visibility to rivals in Europe."
On Wednesday, however, Vestager gave the company hope it could avoid fresh fines by saying she didn't see "a non-compliance issue" over how Google is obeying antitrust orders related to Android and shopping searches.
"When I cite the numbers that we have now and the intentions from Google in the Android decision, we don't have a non-compliance issue as of now," she said at the news conference.
Shopping search rivals are becoming more visible in Google's results, she said, and Google's plans to prompt users to pick alternative search and browser apps had "the potential to give users a real choice," she said.
Google has said EU investigators lack evidence. The AdSense case cites "just a few complaints to justify broad legal claims," one of the company's top lawyers said in a 2016 blog post.
The Danish EU commissioner has rejected claims she's singling out U.S. tech giants for special treatment, despite a series of high-profile decisions targeting American companies, including Apple Inc. and Amazon.com Inc.
Times staff writers Laurence Darmiento and Johana Bhuiyan and Washington Post writers Tony Romm and Brian Fung contributed to this report.