Google Dude-le? White men dominate Google Doodles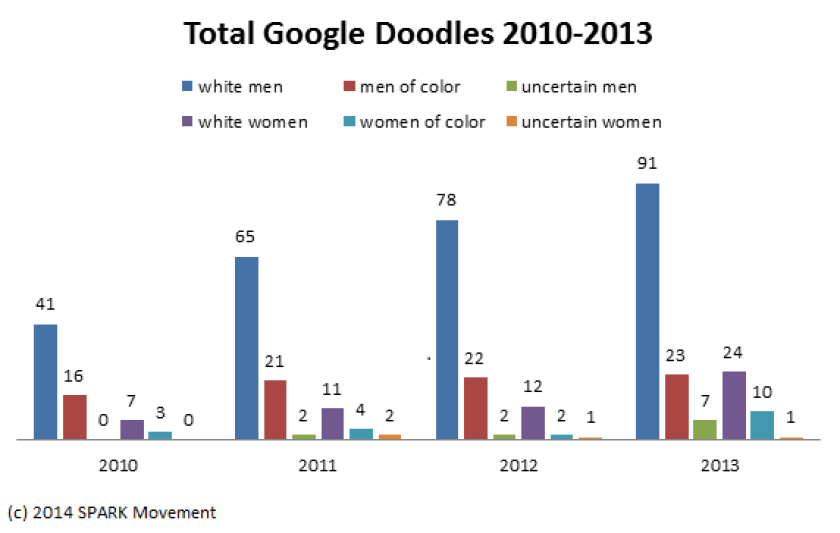 SAN FRANCISCO -- Saying Google has overlooked key historical figures who also happen to be women, a girls advocacy group is pressing Google to bring more diversity to its iconic doodles.
As a gateway to the Web, Google's home page is one of the most trafficked in the world. But, according to SPARK Movement, 82.5% of its doodles that have honored humans (i.e., not cartoon characters) have been devoted to men. Women of color accounted for just 4% of doodles over the last four years. White men, on the other hand, were featured in 62% of doodles.
This preponderance of men prompted Time magazine to quip in a headline "Google Doodle? More like Google Dude-le."
Google says it's working to strike a better doodle gender balance. Ryan Germick, Google's doodle team leader, told the Wall Street Journal in an email: "Women have historically been underrepresented in almost all fields: science, school curricula, business, politics — and, sadly, doodles."
SPARK, which fights for positive representation of girls in the media, is going to keep up the pressure on Google. It has started a social media campaign with the hashtag #doodleus. It includes a Tumblr page with a list of "awesome people" Google should honor with doodles.
ALSO:
Google to pay for free bus passes for San Francisco kids
Google takes stand against anti-gay law at Sochi Winter Olympics
Has Occupy movement come to Silicon Valley? Vandals strike Atherton
---
Your guide to our new economic reality.
Get our free business newsletter for insights and tips for getting by.
You may occasionally receive promotional content from the Los Angeles Times.