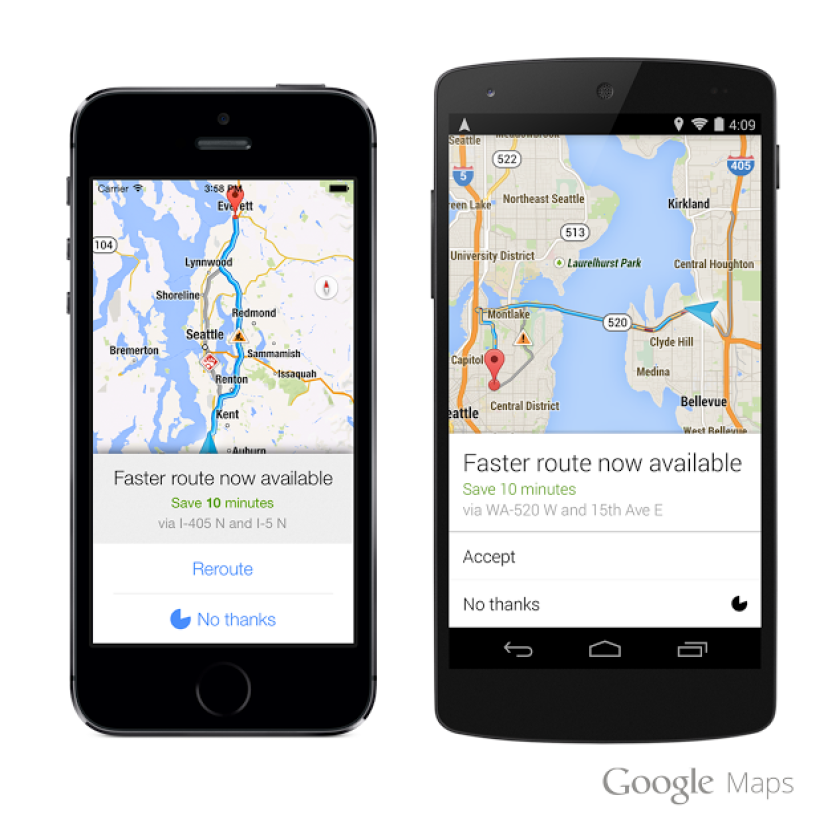 Google Maps for the iPhone is getting smarter thanks to a new feature that will recommend quicker routes to users as they drive.
"Outsmart traffic and save time on the road -- #GoogleMaps will notify you if there's a faster route," the Silicon Valley company said Tuesday morning after updating the Apple iOS version of its app with the new feature.
As iPhone users drive, Google Maps will account for traffic and road conditions. If the app finds a quicker way to users' destinations, it will let users know how much time the new route could save them. Users can hit "Reroute" or continue on their way by tapping "No thanks."
PHOTOS: 10 ways to use the sharing economy
The previous version of Google Maps offered users multiple possible routes, but it did not continue to actively look for a quicker way after users picked a route.
The new feature comes after arriving on the Android version of Google Maps last summer. The feature is also similar to what has already been available for quite some time on Waze, another navigation app that was purchased by Google for more than $1 billion last year.
Waze rose to prominence by using crowd-sourced information to constantly look for the quickest routes that users can take. Google appears to be adapting some of the technology on Waze to improve Google Maps.
ALSO:
Facebook's 10th birthday: Zuckerberg reflects, looks to future
Microsoft picks Satya Nadella as CEO; Bill Gates out as chairman
Maine student gets second-degree burns after iPhone catches fire
---