Lawsuit alleges nepotism, waste and assault at Hyperloop One — including a noose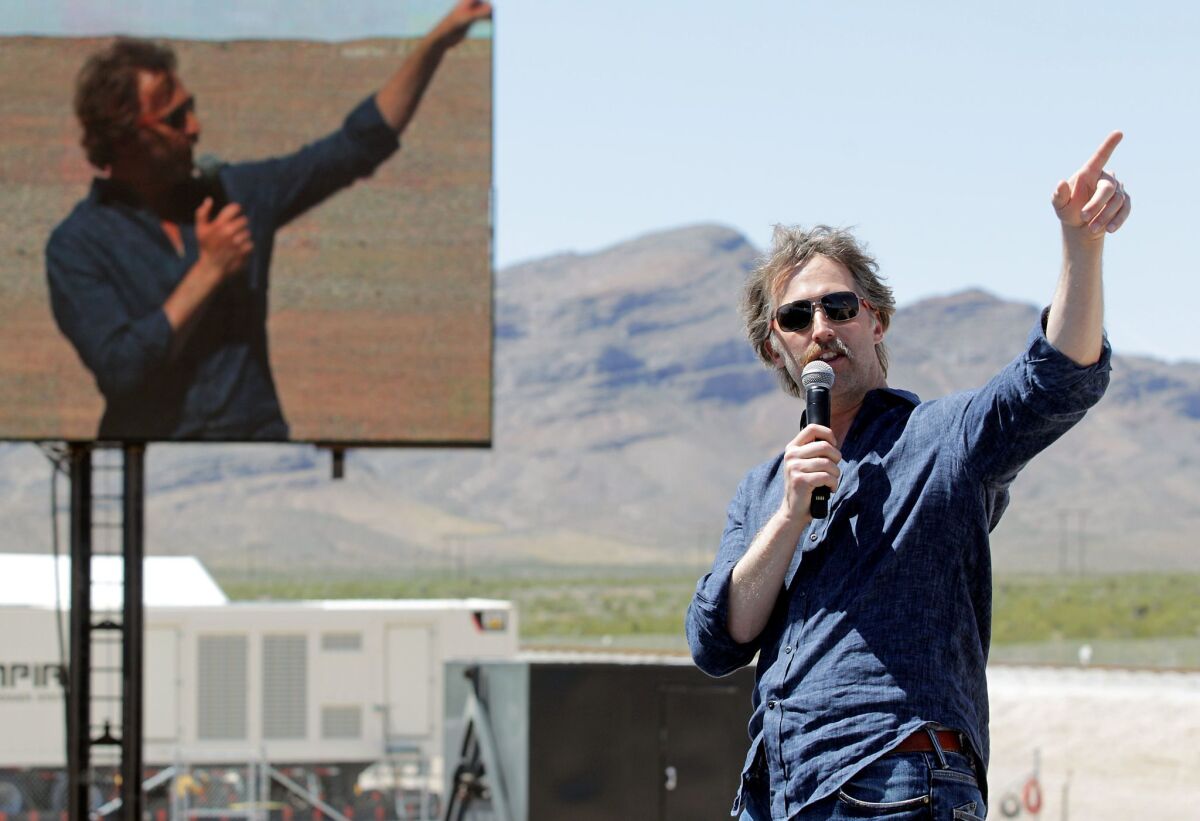 High-profile venture capitalist Shervin Pishevar needed a top engineer to develop the futuristic hyperloop transportation system. In SpaceX rocket engine designer Brogan BamBrogan, he landed his first choice.
But two years later, with the nearly 700-mph pods-in-tubes idea inching toward reality faster than many expected, BamBrogan is no longer involved.
How the relationship between the leading investor and the founding chief executive of Hyperloop Technologies Inc. deteriorated is laid out in a wrongful termination lawsuit filed Tuesday in Los Angeles County Superior Court. BamBrogan and three other former high-ranking officials at the start-up say they were axed or forced to resign for speaking out to higher-ups and shareholders about widespread mismanagement and poor behavior at the Los Angeles firm.
The allegations primarily target Pishevar and fellow investor Joe Lonsdale, who were said to have forced the company into multiple business deals that benefited friends, family members or themselves. Pishevar also regularly turned the Arts District headquarters of Hyperloop One, as the company now refers to itself, into a venue for showboating and personal parties, the lawsuit claims.
An attorney for the company called the claims "pure nonsense." And a countersuit is expected, alleging BamBrogan and his colleagues engaged in pattern of misconduct that the company considered a mutinous power-grab, according to a person familiar with the dispute who spoke on the condition of anonymity.
For BamBrogan, the partnership with Pishevar started on a bad note and only got worse.
At the outset, 90% of the start-up's common stock went to Pishevar, who takes credit for persuading billionaire entrepreneur Elon Musk to publicly share the hyperloop concept. BamBrogan was left with just 6% as his financially savvier partner took advantage of the situation, according to the lawsuit. Through a series of legal and financing maneuvers, Pishevar and Lonsdale now control 78% of voting rights, the court filing notes.
But as they've gained greater control, they've found more ways to abuse it, according to the lawsuit.
Tensions reached a fever point last month when Pishevar's brother and company lawyer, Afshin Pishevar, left a noose on BamBrogan's chair – an incident captured on security camera footage, according to the lawsuit. BamBrogan left the company days later and is seeking a restraining order against Afshin Pishevar in a case expected to be heard Thursday. BamBrogan is now suing Afshin Pishevar and the company for assault as part of Tuesday's lawsuit.
Hours before the alleged noose episode, Shervin Pishevar had met with Russian investors with whom BamBrogan had shared his concerns. And the next morning, BamBrogan and 10 other employees who had signed a letter calling for management reforms were brought in to meet with Chief Executive Rob Lloyd, according to the lawsuit.
The meeting didn't go well, with concerns rejected and threats allegedly lodged at the disgruntled employees. The discussion prompted the resignations of BamBrogan; William Mulholland, vice president of finance; and Knut Sauer, vice president of business development. Assistant general counsel David Pendergast was fired.
The group had tried to convince Lloyd – a former Cisco Systems executive named CEO last September as BamBrogan moved down to chief technology officer – that engineering had become a sideshow to marketing exercises. Partly to blame were Pishevar and Lonsdale, who helped the company raise much of its $90 million in cash, but weren't doing enough, in their eyes, to protect it.
Pishevar boosted the monthly pay of Hyperloop One's public relations consultant – also his fiance – to $40,000 from $15,000, or more than any employee, the lawsuit says. The contract was cut when their engagement fell through.
He brought in his brother, whose background isn't in corporate law, to be the company's general counsel in a decision that slowed the company's progress, the lawsuit argues.
Lonsdale's alleged transgression involved insisting the company sign with his brother's small investment bank for hundreds of thousands of dollars rather than with a larger, more well-connected institution willing to forgo fees.
Along the way, Pishevar, known for leading investments in Uber Technologies and Airbnb, lined his own wallet by pressuring at least one prospective Hyperloop One financier to invest in his own venture capital fund, according to the filing.
The lawsuit also states that Pishevar distracted employees by forcing them out of the office so he could host parties, and that he made BamBrogan and others give tours to people he wanted to impress, including celebrities and a nightclub doorman.
The plaintiffs are seeking a public apology, reinstatement and lost pay and stock options, among other damages.
Lonsdale and Pishevar didn't respond to requests for comment. But Orin Snyder, a partner at Gibson Dunn representing the company, said in a statement that "frivolous lawsuits like this one have become all too common against start-ups that achieve breakthrough success."
Hyperloop One is among several organizations developing high-speed, city-to-city transportation lines that would use a mix of electricity, magnetism and air pressure to propel cargo and passenger pods through tubes. No projects have been formalized, but there are plans to hold a major demonstration of the technology late this year.
A smaller demonstration in North Las Vegas, Nev., in May went as planned, but it may have added to the bitterness between Pishevar and BamBrogan that ultimately led to their undoing.
Neither Pishevar, Lonsdale nor Lloyd "even bothered to send an email of thanks and congratulations to the team that actually did the work," the lawsuit states.
Twitter: @peard33
---
UPDATES:
4:42 p.m.: This article was updated with additional details from the lawsuit.
This article was originally published at 11:20 a.m.
---