Likes, comments and sometimes sales — how Instagram is shaping the art world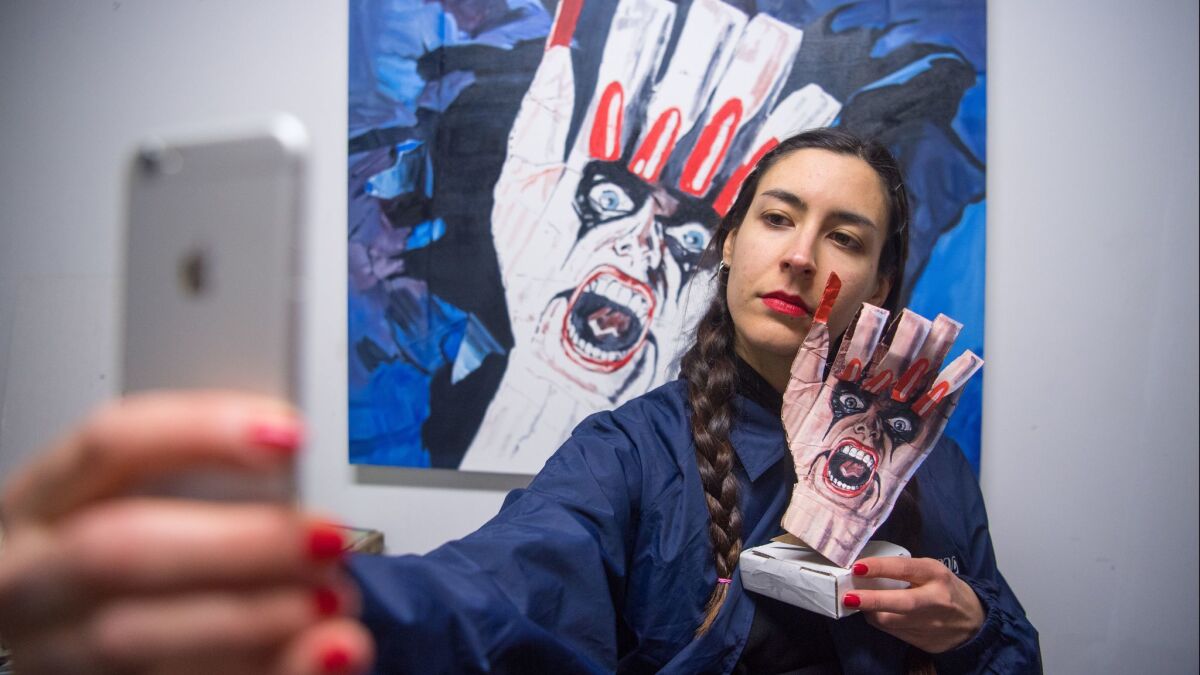 Reporting from San Francisco —
As a member of a millennia-old profession, 28-year-old artist Laura Rokas can do her job — painting, sculpting, drawing, weaving — without the help of most modern technology. But the Bay Area artist makes one exception: Instagram.
Since its launch in 2010, the photo and video sharing app has become a mainstay in the art world. Originally an app that used filters to add a retro aesthetic to photos taken on phones, the Facebook-owned platform has become a home to artists, art collectors and curators like no other social network.
It's more visual than Twitter. It's more social than Pinterest. And simply cooler than Facebook. It's fitting then that artists are using the app to promote, discover and sell art.
"I've sold work through Instagram," Rokas said. "I've gotten show requests from people who have found me on Instagram, and galleries and curators have contacted me over Instagram."
Many emerging artists see the photo and video sharing app as a democratizer, helping artists who might not have representation from the most prestigious galleries or degrees from the most exclusive art schools get their work in front of big audiences.
"I've met a lot of artists and curators that aren't local through Instagram," said Rachelle Bussieres, 31, an artist who also works in the Bay Area and has received, through the app, offers of art residencies in Brooklyn, Paris and Iceland.
"Without it, I don't think it would have been possible to show my work in Norway," Bussieres said of the country where she has exhibited twice. "I've never even been there!"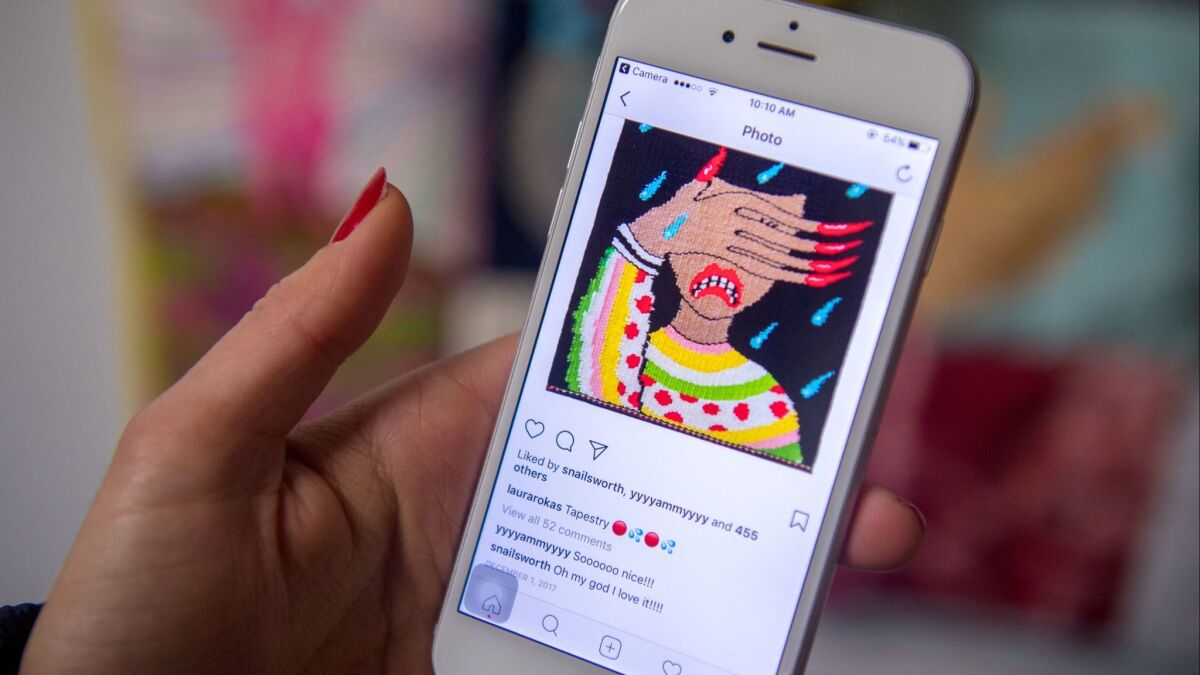 In the days before social media, emerging artists had a harder time getting noticed. The traditional way, according to art consultant and appraiser Alan Bamberger who runs the website artbusiness.com, was for artists to call local galleries and hope for the best. To cultivate a bigger following, there were additional hurdles such as securing representation at top galleries, exhibiting internationally and participating in major art festivals.
With the advent of social media, artists started using services such as Facebook, Tumblr, Reddit and Flickr to showcase their work, attract audiences without geographic limitations and advocate on their own behalf.
But it's Instagram, according to Bamberger, that has had the biggest effect on the industry.
"The lack of words, the immediacy, it changed everything up," Bamberger said. "Artists like that. They're not big fans of tedious explanations or big, long discussions. They like fewer words, more pictures."
As an image-sharing social network, it also far surpasses the competition. Flickr, the photo-sharing service that Yahoo bought in 2005, has around 90 million monthly active users. Pinterest, a visual bookmarking website, recently crossed 200 million monthly active users. Instagram is on track to reach a billion monthly active users this year.
The coalescence of tech, demographics and changing buying habits also plays a role in making Instagram the tool of choice for art professionals. In the Venn diagram of people who use Instagram and people who are discovering and willing to buy art online, the overlap is increasing. Around a third of online adults in the U.S. use Instagram, according to research from Pew. Among those ages 18-29, usage shoots up to 59%. In its 2017 survey, art marketplace Invaluable found that nearly 56% of U.S. consumers ages 18-24 said they would buy art online, and 45% said social media is the main way they discover art.
"That's a very young group," said Andrew Gully, a spokesman for Invaluable. Given that most people don't start collecting art until later in life when they have the resources for it, Gully said if young people are already looking at and buying art online, the trend will only grow. "As they age into a collecting demographic, think of the buying power that group will have," he said.
While art sales from big auction houses such as Sotheby's and Christie's are well-documented, there isn't a lot of data on private art sales, and it's hard to say whether direct sales over Instagram are cannibalizing gallery sales. Anecdotally, though, auction houses and galleries are seeing their own sales increase as their work gets discovered on Instagram.
Major galleries, such as Saatchi in London, and museums including the Whitney in New York City and the Los Angeles County Museum of Art have cultivated enormous followings on Instagram. The museums use the service to promote upcoming shows, give followers a behind-the-scenes look at their operations and make art itself more accessible.
"Social media is a space where we get to be especially playful. Everyone loves sharing a good Caturday image, so why can't we?" said Eva Recinos, social media manager at LACMA, which has more than 650,000 Instagram followers (Caturday is a portmanteau of "cat" and "Saturday" that appears frequently on the service). "That post could pique someone's curiosity about Japanese art or get them to explore our collections page for more artworks."
It has worked the other way, too, with museum visitors helping build awareness of LACMA by posting photos from the museum to their own Instagram pages. "Urban Light," the large-scale sculpture of lampposts outside LACMA's entrance, has become "an icon of Los Angeles, and that's due in large part to Instagram," Recinos said.
At smaller galleries, such as San Francisco's Guerrero Gallery, owner Andres Guerrero primarily uses Instagram to find new artists. The gallery's staff most recently discovered Sacramento artist Maija Peeples-Bright after seeing her work on Instagram, which resulted in a showing in the gallery's main exhibition earlier this year.
Curators such as Rosa Tyhurst, who previously relied on gallery and museum mailing lists and art shows to discover new artists, have also added Instagram to their toolbox.
"Nothing can ever replace meeting artists face-to-face and seeing them in the studio," Tyhurst said. "But it allows me to see things I wouldn't have seen before."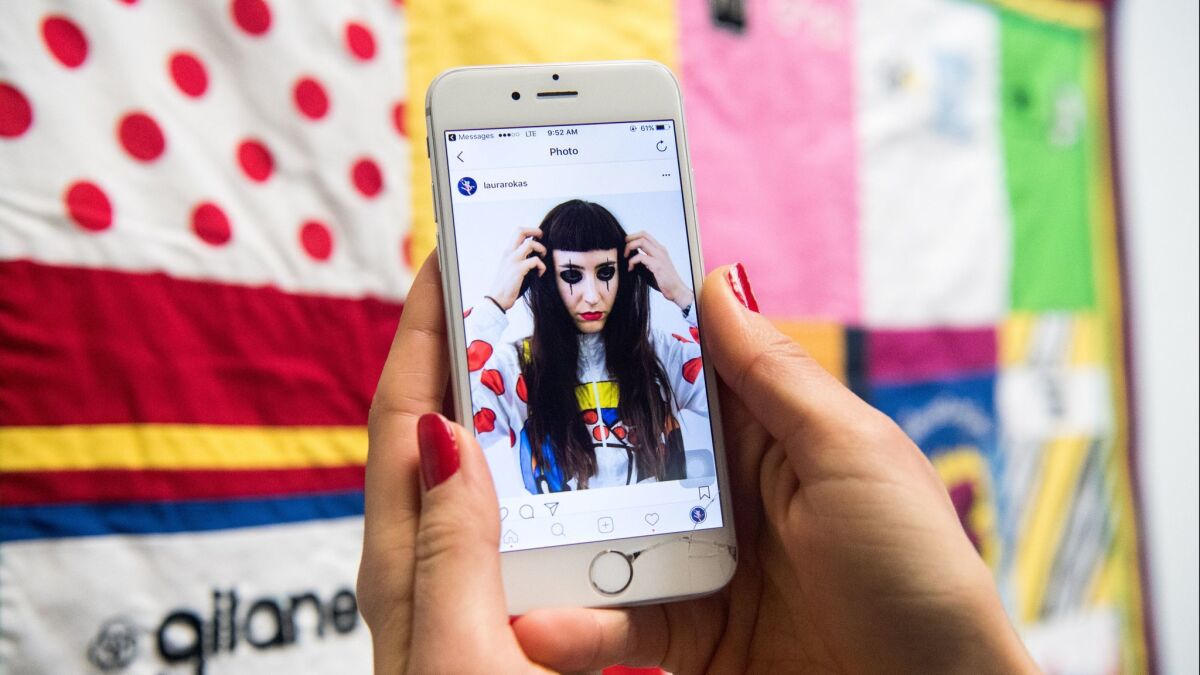 LACMA sees its Instagram page as something of a virtual gallery that allows followers to feel like they're seeing an exhibition, even if they're not in Los Angeles.
Tyhurst likes the idea of accessibility. But for all the access and visibility Instagram has given artists, there are also downsides. She worries that an overreliance on Instagram could discourage people from attending art shows and shift the enjoyment of art from an in-person experience to something that happens over a phone.
The art world is also not immune to the baggage of social media, which can often bring out the worst of an artist's insecurities.
Bussieres says Instagram can be distracting, especially when artists get swept up in comparing how many "likes" or comments their work gets compared with those of others.
"We all have to be able to separate what is good versus what is popular," she said. "Is it popular because the artist is young and stylish and posts cute pictures? Is it a trend? Does it mean anything that this artist has more followers than I do?"
In the photography world, amateurs on Instagram have been criticized for homogenizing outdoor photography by copying each other and perpetuating what's popular. This seems to be less of a problem in the art world. But the emphasis on "likes" and followers has made some artists feel that Instagram is a game that they can't sit out. Rokas and Bussieres describe feeling pressure to constantly be engaged on Instagram and to post photos of their work to maintain a following and keep up with other artists.
"Sometimes I just want to get rid of it because it encourages you to be on your phone, and I don't like that obsession," Rokas said. At the same time, she says that if she deletes the app, she'll miss out on opportunities.
"As with any technology, there are good things and there are bad things," she said. "And you either have to accept both or neither."
Twitter: @traceylien
---