Farewell, headphone jack. Apple is killing you, but we'll never forget the decades we shared
Reporting from San Francisco —
When the Sony Walkman went on sale in 1979, music was stored on a cassette tape, power came from AA batteries and sound traveled through headphones plugged into a 3.5-mm audio jack.
Nearly 40 years later, smartphones double as personal audio players, music is stored in the cloud and rechargeable batteries are built into devices.
Sound, however, still travels through the same 3.5-mm audio jack — one of the last analog holdouts in an increasingly digital world.
The 3.5-mm jack is a miniaturized version of technology that's been in use since 1878, when telephone operators manning switchboards started using its quarter-inch cousin to connect calls across the country. Scaled down in the 1950s, it helped give rise to the era of portable electronics and outlived many of gadgets it made possible: the pocket-sized radio, Walkman, Discman and MP3 player among them.
As years passed and headphones lost their novelty, the 3.5-mm jack became a frequently overlooked but convenient constant of the tech world — the rare piece of gadgetry that works with all kinds of accessories, that doesn't require charging, that doesn't require a second thought.
Being analog meant it was cheap, easy to make and reliable – plug in a 3.5-mm pin from a pair of high-end headphones or an airline freebie, and sound would travel through the wire.
But in 2016, being analog also meant that it was a remnant of the past.
Apple made the first move to retire the audio jack on Wednesday, announcing that it will eliminate the jack from its flagship iPhone 7 smartphones.
When the device ships Sept. 16, it will come with a pair of wired earphones that plug into Apple's proprietary charging port and an adapter that works with 3.5-mm plugs. The company also announced a pair of wireless earbuds called AirPods, priced at $159. Beats, the headphone maker that Apple acquired in 2014 for $3 billion, will offer its own range of wireless headphones.
The jack won't disappear from electronics overnight, according to tech experts, who said decades of being the standard consumer audio jack has made the 3.5-mm port and its earphones pervasive.
"[But] this is a very big deal," said Vince Ponzo, senior director of the entrepreneurship program at Columbia Business School. "When the world's largest phone distributor and seller eliminates that piece of technology from its phones, it's a big step toward doing away with that technology entirely."
And that's not hyperbole, because when Apple moves, the industry typically follows. The company was one of the first to get rid of serial ports on computers and move to USB ports. It got rid of ethernet ports on laptops, forcing customers to use wireless Internet. It got rid of floppy disks and CD and DVD players. And it all but got rid of buttons from cellphones. These are now the norm. With the iPhone 7, a wireless music listening experience could become the new normal.
Apple executive Phil Schiller said the decision to ditch the port "comes down to courage" — a statement that drew snickers from the crowd gathered at the Bill Graham Civic Auditorium in San Francisco on Wednesday for the unveiling of the iPhone 7. He called the single-purpose technology "ancient," taking up valuable real estate on an already compact device, and he spelled out hopes for a "wireless future."
The new iPhone replaces the jack with another speaker, making the gadget twice as loud and allowing users to blast music for the first time in stereo.
The move will no doubt frustrate many customers who currently use wired headphones from third-party headset makers, or those whose junk drawers are filled with tangled earbuds for use when the current pair vanishes.
If Apple's shift makes wireless earbuds commonplace, it will be a change mourned by those prone to losing things (imagine the frustration of digging through a purse to find only a single earbud). It will also irk anyone who doesn't want to charge another device at the end of the day (Apple's AirPods will run for five hours per charge.)
But the loss of the 3.5-mm jack won't be felt for long, said Simon Hall, the head of music technology at the Birmingham Conservatoire, who said consumers will adapt.
"It's going to be a change, but eventually it may be viewed as a storm in a teacup," he said.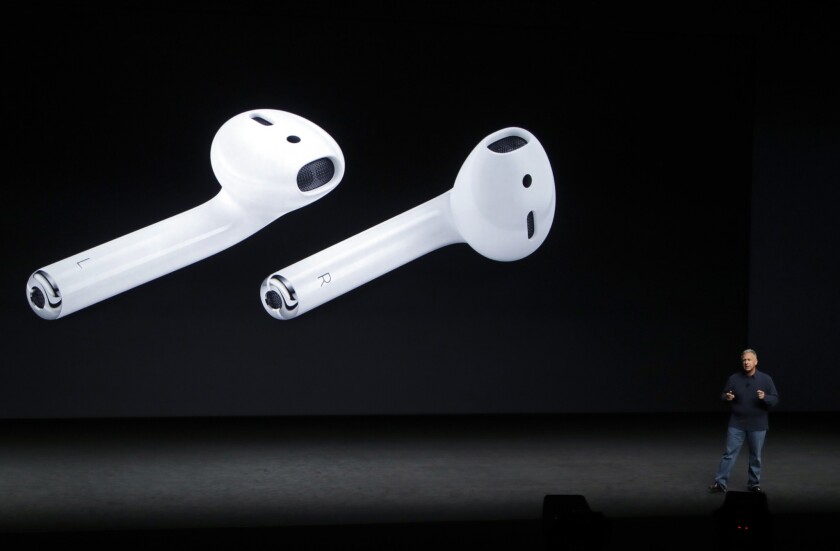 That's because "wires are also really annoying," said Horace Dediu, an analyst and fellow at the Clayton Christensen Institute think tank, who believes that people will be better off in the long run without cords. "Look at Apple's keyboards and track pads. They're all wireless. They've eliminated every single cable except the charging cable. They're allergic to wires."
Dediu said the fact that we have any wires connecting our ears to our phones or our phones to our wall is "unacceptable," especially given the prevalence of wireless technology.
Few audiophiles are lamenting the news. For professional recording, the quarter-inch jack on which the 3.5-mm jack is modeled remains the industry standard, said David Morton, director of communications technology at the Associated Colleges of the South.
Audiophiles "don't have any love in their hearts for the little connector," said Morton, who runs a website dedicated to the history of sound recording. "It's too small and they want something big and substantial."
With size comes sturdiness — and compatibility with professional amps.
The 3.5-mm jack, in some ways, lucked into its longevity. Like Goldilocks, electronic manufacturers found the quarter-inch jack too large for consumer use and the even smaller 2.5-mm jack too fragile. The 3.5-mm jack was just right.
Among professionals, though, "it doesn't have an aura of respectability around it," Morton said. "It's got an aura of cheapness."
Getting rid of the audio jack could someday let phone makers shave millimeters off the thickness of the devices, though the new iPhone comes in the same sizes as its predecessors. It's also not too farfetched to imagine wireless earphones as the next phase in wearable technology, equipped with biosensors that can send data back to the user's phone. A mass migration to wireless earphones could provide all kinds of interesting opportunities, Dediu said.
In the near term, headset makers might scramble to offer affordable alternatives. Some consumers might delay upgrading their iPhones. And soon, wired headphones could be considered quaint and old school.
The 3.5-mm audio jack is a good case study in how a piece of technology can be useful for a while, and then disappear as the world around it changes, Morton said. There's nothing wrong with the jack. It's perfectly capable of effectively passing audio signals. "But it may be too inconvenient," he said.
Which is more or less the story of tech. Things get left behind in the junk drawers of history and the world moves on.
Twitter: @traceylien
ALSO
Apple unveils the iPhone 7 and the Apple Watch 2
Mercedes 'mothership' will transport robot workers to deliver packages
Michigan may no longer require humans behind the wheel of self-driving cars
---