LA Hacks hackathon draws hordes of young developers to UCLA [Updated]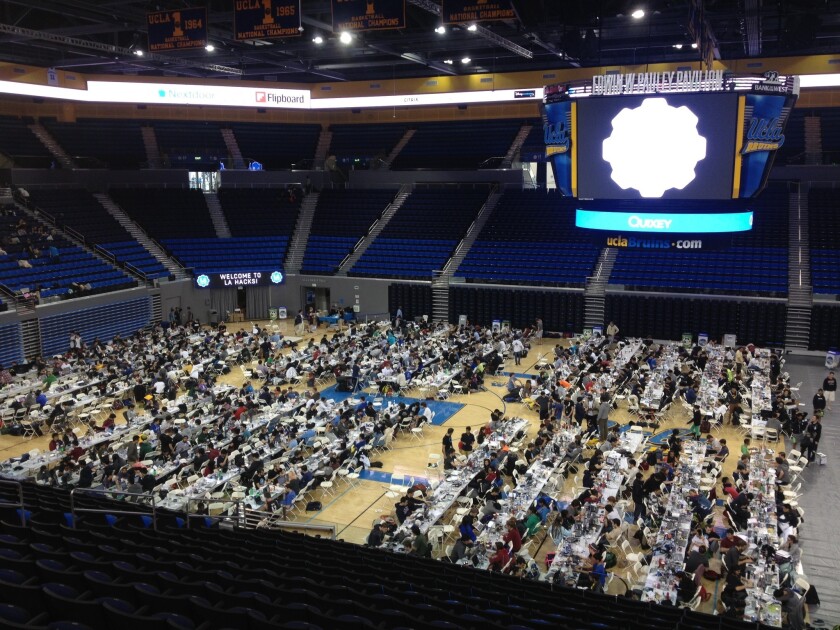 The basketball court at UCLA's Pauley Pavilion was teeming with young hackers this weekend as students descended on the school for the second annual LA Hacks event.
More than 4,000 registered for the 36-hour hackathon, which drew developers from colleges including Stanford, UC Berkeley, USC, UC Davis and Harvard.
[Updated at 9:15 p.m. Pacific time: Organizers said about 1,500 students showed up for the event.]
VIDEO: Unboxing the Amazon Fire TV
The event kicked off Friday night with a "mystery keynote" -- Snapchat co-founder and Chief Executive Evan Spiegel. During his address, Spiegel shared some words of wisdom on finding success.
"I was fortunate enough to have my palm read by a wise old man in a Hong Kong temple. In addition to learning that I will be married and have a son before I am 30, he also gave me the three keys to success," Spiegel said. "They are as follows: 1. Hard work. 2. Ability. 3. Human relationships."
Eighteen hours in, dozens of students appeared wiped out by the round-the-clock hacking, sleeping on floors, air mattresses, bean bags, stadium seats, sleeping bags and, in at least one instance, on top of each other.
Michael Tran, 20, managed to nod off for three hours in the middle of the activity by finding an unoccupied massage chair by the upper concourse.
"I can't code without sleep," the computer science junior from UC Berkeley said.
Last year's inaugural hackathon was significantly smaller, drawing a couple hundred students from half a dozen colleges to co-working space Cross Campus in Santa Monica.
The hackathon's founder, 22-year-old UCLA student Hadar Dor, said organizing the event was a massive undertaking.
"This was like our full-time job except for classes," Dor, a senior majoring in cognitive science, said of the UCLA students who helped plan LA Hacks. "We even ditched class and ditched quizzes to get this done."
As with any event involving college students, the free food and energy drinks were flowing. Half-eaten burritos and cans of Monster and Red Bull lined the long tables set up in the middle of the basketball court.
Registration and food were free thanks to a hefty lineup of corporate sponsors including Cisco, Flipboard, Yelp, Whisper, Quixey, Uber and Citrix. Students from across the state were bused in on Friday.
LA Hacks is set to conclude Sunday afternoon with closing ceremonies and awards presentations. The grand prize of $5,000 is being presented by Tinder; 20 to 30 smaller prizes will also be handed out.
As for next year, Dor hinted that the hackathon could continue to swell in size.
"We'll see. We can always go bigger," he said. "Bigger's cool. But we want to focus on quality first."
ALSO:
Salesforce Tower in S.F. will be tallest in the West, for a while
Wearable tech gains momentum; sales expected to triple this year
Some upset with upcoming change to messages on Facebook mobile app
---