Flipagram, Stance socks, Honor and Headspace are among the week's L.A. tech highlights
With venture capitalists more guarded about where to put their cash amid a global economic slowdown, many technology start-ups are having to shed costs and generate profits sooner than expected.
Not Flipagram Inc.
"If you want to become profitable at all costs, you're leaving users and growth on the table," said Farhad Mohit, chief executive of the image-sharing app.
His Los Angeles company raised $70 million from investors about a year ago, a big haul that's still fueling the business today.
The app enables people to create a slideshow from photos and videos, place samples of popular music in the background, add effects and share it with friends. Flipagram can get a small cut of sales if users buy a full song.
Though Flipagram laid off workers and slowed down hiring, it has largely maintained course and not faced a push from investors to make money, Mohit said. There are conversations with advertisers and some experimentation with what ads might look like, but any rollout of a big moneymaker is far off.
The opportunity he's chasing is one reason why he has been given flexibility. Social media apps usually seek revenue through selling ads, but they need a huge number of users or incredible data about them to interest advertisers.
Flipagram, at 40 million registered users, just isn't there yet. As long as Flipagram reports growing viewership with costs in check, investors are saying "good, fantastic, onward," Mohit said.
Focusing some of Flipagram's 50 employees on developing advertising tools would distract from the larger goal of adding users, and "it's too early" to make those trade-offs, Mohit said.
In putting off significant revenue-generation, Mohit is betting that users will continue to post on Flipagram without getting anything of value in return. Mohit said people gain "love and attention" from their "Flips" and that the company can play "kingmaker" by highlighting the best stuff.
Then, comedians, beauty tip givers, cooks and others who become widely followed could privately seek endorsement deals to promote a product within their videos. It's already happening in rare cases.
Still, it's much easier for amateur and professional videomakers to make money from Instagram and YouTube because advertisers are more familiar with the services.
Flipagram expects its distinguishing feature will keep users coming back: the background music library, filled with 60-second clips acquired through licensing deals with the top record labels. Time limits on Snapchat and Instagram videos don't make background tracks worthwhile, said Mohit, who had a record player and crates of vinyls behind him in his office and a "Keep Calm and Jingle On" mug by his hand. YouTube videos tend to be too long for the samples record labels are willing to license.
That's why many Snapchat users download their posts from that app (which otherwise would be automatically deleted after a day) and then combine them into a Flipagram video, set to music.
"Everyone has stories worth telling and we have to work to get all of those people," Mohit said.
Mohit has been cautious even when the company has chances to aggressively grow. Flipagram could have new users automatically send out download invites to their friends as part of the sign-up process, which quickly could reel in other newbies. Instead, the app encourages users to select particular people they want to invite to try Flipagram when they elect to share a post with a small, private group.
"That's a more organic, slower way to grow," Mohit said. "But it's better than spamming."
Last year's huge funding round could have been used to advertise Flipagram. But Mohit has avoided spending money to sign up users because apps that can't spread by word-of-mouth "don't deserve to live," he said.
"The unicorns and companies shielding crap products with paid marketing are going to go away," he said, referring to the small number of start-ups valued at more than $1 billion.
Flipagram has been cautious with expenses for a while. Mohit described the company's office as "modest" -- there's a ping-pong table and he keeps a paddle at his desk. But it lacks the "frivolous nonsense," including massage chairs and gourmet cappuccino machines, that other tech companies have, he said.
Since launching in late 2013, Flipagram has evolved from a photo-editing tool to a social network unto itself. Recently, the company launched direct messaging within its app and reached 40 million users. Last month, Flipagram introduced its own photo-taking tool within the app. This allows people to snap a series of photos to use in a Flipagram, but quickly delete all of them after they're included to free up space on the smartphone.
Mohit wouldn't discuss upcoming features. He did make clear that one thing absent from his vision is becoming a media company. For instance, Snapchat has hired producers and journalists to generate videos using internal and user-filmed clips. Many of their creations are called Stories, and they bring together multiple perspectives from events such as fashion shows and sports games.
Flipagram is unlikely to copy that playbook because its users are already creating complete stories. Mohit thinks it should be up to users, not company editors, to decide how to tell stories -- with software promoting the ones that gain the most interest.
Flipagram offers variety, Mohit said, pointing to dueling Flipagram videos following a Baltimore police shooting of a young black man last year. One favoring the black man was set to a Rage Against the Machine song, while the other had the song "Why Can't We Get Along?"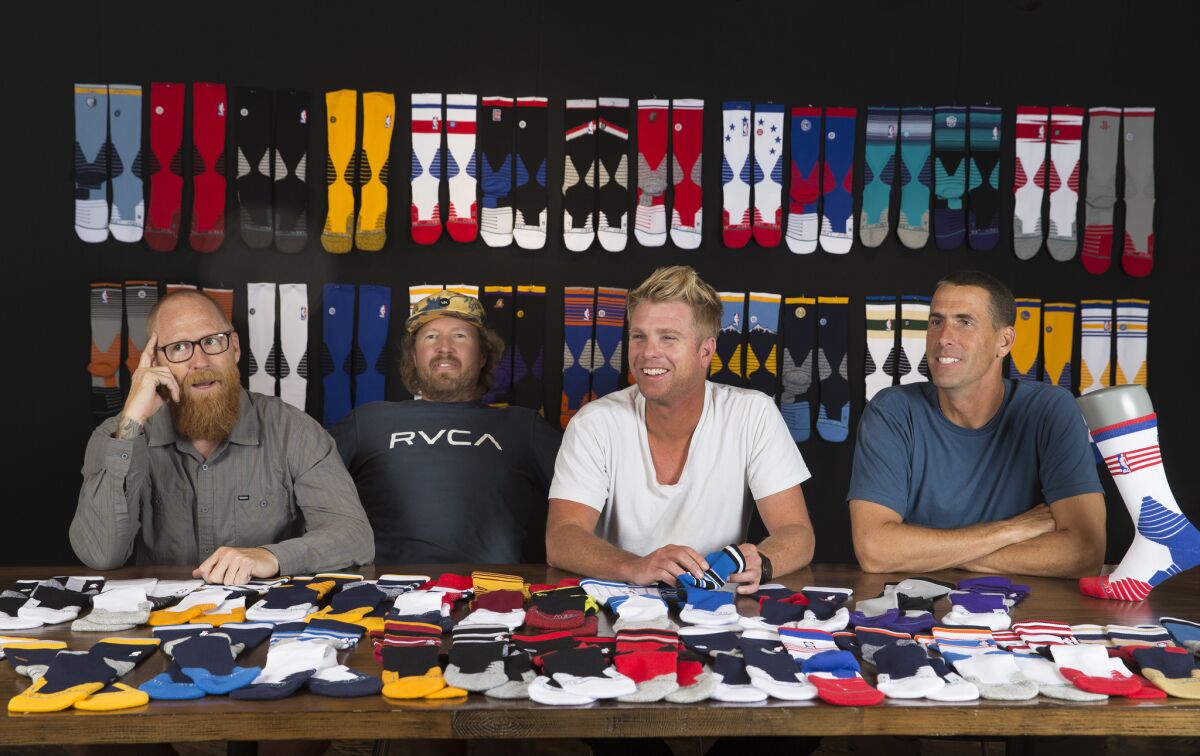 Stuffing money in socks
The downturn in venture capital funding apparently doesn't apply to luxury socks.
Stance Inc., a San Clemente start-up with a host of celebrity designers -- including Rihanna, Big Sean and James Harden -- closed a $30-million Series D funding round last week led by Mercato Partners.
"We made this investment largely because Stance is not just about lifestyle or performance, men's or women's" categories, said Greg Warnock, Mercato's co-founder and managing director. "The brand is scalable across both genders and multiple categories."
The company has now raised a total of $116 million at a time when the financing spigot has tightened. Los Angeles start-ups, for example, experienced their weakest quarter in two years for investment earlier this year.
The latest round of funding for Stance includes big name firms such as Kleiner Perkins Caufield & Byers and Menlo Ventures.
Stance features socks with wild patterns and colors that can cost as much as $50 a pair. The company signed a multiyear licensing agreement with the NBA to include team logos.
Stance's co-founder and president, John Wilson, is the former president of Reef and has been an executive at Oakley.
Honor heightens home-care competition in L.A.
Start-ups including Honor and HomeHero have developed online services aimed at making it easier for families to book an in-home care provider. Last year, HomeHero, based in Santa Monica, expanded its service area to San Francisco, and Honor, based in San Francisco, came to Los Angeles.
Now, Honor is taking a bigger step in Los Angeles. Last week, it started moving into a Beverly Hills office that will serve as a recruitment and training center. The company also announced the hiring of investor and former medical billing executive Steve Seigel as regional manager.
New space for Headspace
With seven million downloads and counting, venture-backed meditation app Headspace has ridden the wave of popularity in modern mind health the last few years, infiltrating Hollywood, Silicon Valley and corporate America.
Headspace recently ditched its Venice office and moved into new 19,000-square-foot headquarters in Santa Monica. The office interior was designed by Kelly Robinson, whose portfolio includes tech players such as Airbnb, Soundcloud and Couchsurfing.
Naturally, Headspace's new office includes large open spaces for group meditation as well as a handful of so-called meditation pods -- phone booth-sized blocks of wood with seating space carved out inside.
The space also features swings and gymnastic rings because, well, it's a tech start-up.
Headspace has raised more than $30 million, largely through the Chernin Group, a Los Angeles entertainment and media-focused investment firm.
The company counts celebrities Jessica Alba, Jared Leto and Ryan Seacrest among its investors.
In case you missed it...
Small and midsize start-ups are trying to outlast the downturn by cutting back on one of tech's trademark innovations: outlandish spending.
Snapchat and NBC struck a deal that will see the Venice app-maker feature some videos from the 2016 Olympics in August, with the two companies splitting revenue from ads running alongside the content.
Honest Co., a Santa Monica start-up co-founded by actress Jessica Alba that sells more than 100 consumer products touted as healthy and nontoxic, has been hit with another lawsuit challenging its product claims -- this time over an organic infant formula. Honest says it's "confident this lawsuit will be dismissed."
Elsewhere on the Web
Delivery start-ups that bring gas to your vehicle and fill it up for you are not allowed in Los Angeles, a city Fire Department spokesman told Bloomberg, but officials are exploring how the companies could safely operate. One start-up disagreed, saying it's up to code.
Snapchat is looking for office space in San Francisco, a tech-laden area the company specifically shunned in favor of Los Angeles' wealth of entertainment companies, according to Re/Code.
Snapchat's latest test of new ways to show ads involved allowing users to jump straight from a video ad to the online shops of Target and beauty products maker Lancome, according to Adweek.
Snapchat has hired several executives to start getting Australian advertisers onto its app, according to AdNews.
Snapchat Chief Executive Evan Spiegel told students at Columbia University that the Venice start-up's practice of waiting until employees have been around for four years to award them most of their stock options ensures the hiring of people who are thinking long-term, according to a TechCrunch contributor.
Untappd, an app for tracking beers you've tried that's used by 3.2 million people, was founded by two people, including one who lives in Los Angeles, according to CNBC. The two co-founders started working on Untappd full-time in February when they merged with Next Glass, a wine-and-beer recommendation app.
Dating app Tinder is testing a feature in Australia that matches up two separate groups of friends for a night out together, according to Gizmodo.
Dual:Lock, a start-up founded by college students in New York, plans to test its fingerprint-protected gun lock with the Los Angeles Police Department this summer, according to Albany Business Review.
Singer Will.i.am's tech operation i.am+ has developed a virtual assistant called Aneeda, according to Wired. It's installed on the second model of the Los Angeles company's smartwatch.
Online story publishing service Wattpad is launching a Studios division to partner with the entertainment industry on movies and other projects based off its library of books, according to TechCrunch.
Inc. runs through the upsides and downsides of restaurant chain Sweetgreen identifying itself as a tech company.
SleepBus is offering overnight transportation between San Francisco and Los Angeles in bed-equipped trucks, according to SFist.
KT Corp., a top telecommunications company in South Korea, opened a data center in Los Angeles earlier this year seeking a big share of the cloud computing market, according to the Korea Times.
ShipBob, a Chicago shipping company that services crowdfunded start-ups, plans to open a Los Angeles warehouse in June, according to the Chicago Tribune.
Coming up.
Riot Games co-founder Brandon Beck and executives from Twitch and Coca-Cola will discuss the future of eSports -- the entertainment industry developing around video game competitions -- at the Milken Institute Global Conference on Wednesday in Beverly Hills.
Twitter: @peard33