With music-making tools and one day live-streaming, Smule hopes to be the social network for music
Music app maker Smule doesn't want to be counted out of the battle of mobile live-streaming services.
Facebook, Twitter and Musical.ly — and likely soon YouTube and Snapchat — are among major mobile app brands that want people to broadcast video from their smartphones. Live video can attract a widespread and focused viewership, something that video advertisers covet but isn't yet easy to find on social networks.
Smule, which develops popular apps such as Magic Piano and Sing! Karaoke to make and share music videos, declined to go into details about potential live-streaming features. But during a recent vist to Los Angeles, Chief Executive Jeff Smith said going live is more than a fad.
Smule has sought to provide software tools that encourage any person regardless of musical talent to record a performance. About 50 million people take advantage each month, producing 500 million works of art. The San Francisco company's apps can turn users' normal speech into a rap, enable them to sound as if they're playing the guitar, or guide them through a duet with a pop star. On Sing! Karaoke, users record video of themselves while lyrics scroll by. There are tens of thousands of well-known songs to choose from.
Steering people into doing any of that live could be a challenge. But Smith says live streaming plays right into the company's goals. Live performances tend to be less polished, and the lower standard could reduce user inhibition. With the tools in hand, people actually could be more willing to perform live.
"Live can teach us it's OK to imperfect," he said.
Smith has made a second career out of studying why people engage in music and what can be done to bring inhibition to create to zero. After a string of Silicon Valley tech jobs and ventures, he earned a doctorate degree at Stanford University researching how different approaches to the pacing in piano songs traced back to certain cultures. Smule grew out of Smith's research.
"It could help bring more people together through art, give people a safe place to express themselves through art," he said.
The ultimate goal is to end up with what Smith describes as a social network for music where it's not just professionals that are doing the creating and posting.
"What you learn from Twitter is that one broadcasting to many won't draw the same engagement" as the more intertwined conversations found on Facebook, Smith said. So besides live features next year, the company could release new audio and video filtering features aimed at making people more comfortable on their virtual stage.
Smule still wants top-tier artists interacting with fans though. And it has two people in a Los Angeles office working on industry and artist relations.
But the masses are what the company needs for its business model to work. Smule currently collects about $25 million a quarter mostly from subscribers who pay a few dollars a month for special effects and additional songs.
The company has raised about $70 million from investors. Smith said the company could pursue an initial public offering as early as next fall.
Pathmatics acquires WhatRunsWhere
Online ad buyers sometimes have such a difficult time figuring out which websites their ads appear on that they pay other firms for tracking.
Pathmatics goes further, shedding light on where an ad buyer's competitors are placing ads and analyzing how much they're spending and what messaging they're using.
That competitive intelligence has turned out to be valuable to big-name advertisers, large ad agencies and even salespeople at online media companies wondering whom to target. Now, Pathmatics is betting that smaller advertisers and boutique agencies will find tracking data lucrative too.
The Santa Monica start-up announced last week the acqusition of WhatRunsWhere.com for an undisclosed amount of cash and stock. Both companies say they are profitable. WhatRunsWhere has more than 500 customers of the mom-and-pop shop variety. The Toronto start-up will retain its branding, separate office and all but one of its seven employees. It hadn't raised any money from investors, but Pathmatics has picked up about $5 million.
Pathmatics Chief Executive Gabe Gottlieb said the transaction came together after he and WhatRunsWhere counterpart Max Teitelbaum found themselves referring potential customers to each other. Together, they expect their distinct customer bases to benefit from new perspectives.
The smaller users desire different views of data because they're focused on different measures than advertisers with larger budgets and less tactile goals.
For example, Gottlieb noticed both Pathmatics and WhatRunsWhere have data about how many days a competitors' ad campaign lasted. But WhatRunsWhere's service provides an immediate ranking of campaign length, whereas Pathmatics users don't have simple sorting options. It's something they would likely welcome though.
"Marketers are overwhelmed with data, but it's up to tools like Pathmatics to help them make sense of it," Teitelbaum said.
Pathmatics has about 35 employees and analyzes data from more than 700 ad services.
Cloud9 e-sports gets fundraising start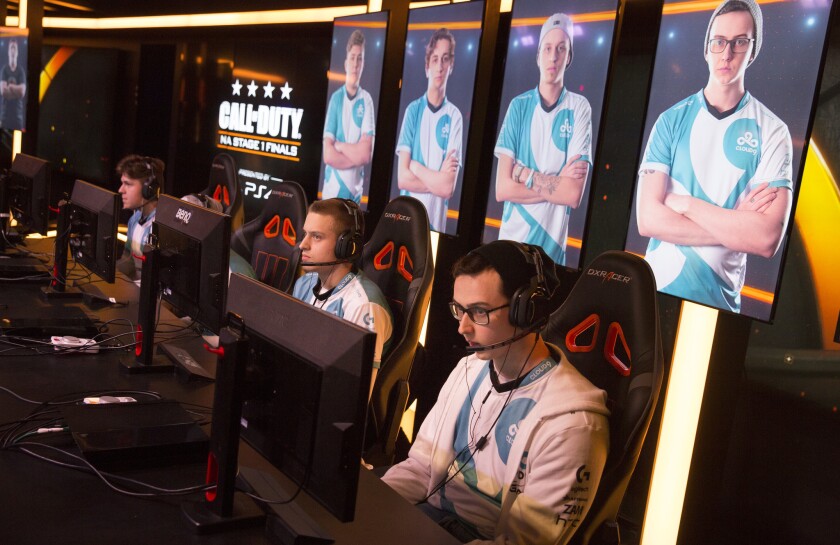 Leading e-sports franchise Cloud9 recently received about $2.8 million from 21 investors, according to a regulatory filing.
The Santa Monica company fields teams in professional tournaments for seven video games, including "League of Legends" and "Counter-Strike: Global Offensive." Founded in 2012, it's among North America's best-established franchises, with consistent performance and online media production fueling a globally recognized brand.
The latest financing likely values Cloud9 at well above $15 million, based on recent investments in other e-sports teams. It's also possible the company could continue to raise additional funds in the coming weeks.
Chief Executive and owner Jack Etienne, the former vice president of sales at anime streaming service Crunchyroll, hasn't responded to requests to comment.
Cloud9's paperwork with the Securities and Exchange Commission points to one of the potential investors. Daniel Fiden, whose LinkedIn profile describes him as chief strategy officer at mobile game maker Funplus, is listed as a Cloud9 board member. Earlier this year, Funplus said it planned to invest about $50 million into gaming businesses.
Fiden didn't respond when asked if he invested personally or if his company participated in the financing.
Elsewhere on the web
Santa Monica start-up Vrideo, a streaming service for 360-degree and virtual reality videos, shut down, according to VentureBeat. In an email to The Times, Vrideo Founder and Chief Executive Alex Rosenfeld said he had ideas on how to compete less directly with behemoth video apps including YouTube and Facebook. But Vrideo's early label as the "YouTube of VR" was hard to escape in conversations with investors. And many traditional venture capitalists remain hesitant about leading any virtual reality investments, Rosenfeld said.
An investor who says he helped a start-up that sold to Snapchat and laid the groundwork for the company's Spectacles sunglasses says he hasn't properly been paid back, according to Business Insider.
Pasadena business incubator Idealab is helping a company that wants to create a price-comparison tool for ride-hailing services, according to Geekwire.
Activision Blizzard Chief Executive Bobby Kotick lowered his salary, but he'll be eligible for tens of millions of dollars in stock awards based on performance, according to the Financial Times.
Real estate investment service PeerStreet received $15 million in a financing led by Andreessen Horowitz, according to L.A. Biz.
In case you missed it
Snapchat's top users have a strained relationship with the company, whose aloof behavior projects an elite image but can also come off as arrogant to users, employees and business partners.
Former Dodgers outfielder Shawn Green co-founded a tech company developing social media marketing software.
Chinese tech firm LeEco is using a pop-up shop at a popular Los Angeles mall to introduce itself to U.S. shoppers.
Coming up
An international drone conference comes to the Los Angeles Convention Center Dec. 9-10. Speakers include representatives from leading drone makers, start-ups, media companies and investment firms.
Twitter: @peard33
---