Former Dodgers star Shawn Green takes a swing as technology entrepreneur
In an event space packed with venture capitalists looking to invest in the next big thing, he did not stand out. He slipped a black jacket over a blue shirt, mingling with the hundreds of people enjoying hors d'oeuvres, an open bar and painfully loud music.
He could deliver a sales pitch for his startup company, but that did not distinguish him on this night. He was, however, the only person in this crowd who had hit 49 home runs in a major league season.
The typical baseball player hangs up his spikes and proceeds to coaching or broadcasting. Shawn Green had no interest in either one. In the decade since he last played, he has written a book, ventured into real estate and embraced technology.
"I've always loved tech," he said. "I've always been interested, even when I was in spring training.
"Every spring, I would go buy a book on coding. I would get through half a chapter and be so fried from long days in the sun that I never got around to learning any of that, but I've always had the passion for innovative technology."
Green, 44, is a founder of Greenfly, one of a seemingly endless number of technology ventures hoping to revolutionize some aspect of sports and entertainment.
The Dodgers, in partnership with New York ad agency R/GA, selected five promising startups from 700 applicants for this year's second edition of the Dodgers Accelerator. The business development program provides fledgling companies with a small investment — in exchange for a small ownership stake — and access to mentors and markets.
Dodgers President Stan Kasten told the venture capitalists that the program involves "taking a brand that is beloved in the sports world and starting to exploit it for its real value."
Said Kasten: "What our owners have concerned themselves with is not only building the team but reaching out for the future."
Sometimes, the Dodgers find technology they can use, as they did with two of last year's startups: Appetize, whose mobile electronics could shorten the wait for food and drink at Dodger Stadium, and Kinduct, which provides a data framework to help the Dodgers' baseball operations department "better manage the health of our athletes and keep them on the field longer," according to Tucker Kain, the team's chief financial officer.
In other cases, the Dodgers' owners see gold at the end of the investment rainbow, as they did in at least one of this year's startups. They have invested $5 million of their own money — not the team's money — into Renegade Brands, which makes a special detergent that can get pine tar, clay, painted field markings and general stink out of sports uniforms.
"We own stench," said Renegade Chief Executive Cathy Horton.
The Dodgers use the new detergent, and Dodgers contacts helped provide introductions within the sports world. Horton said the Boston Red Sox, Cleveland Indians and USC Trojans are among the teams that now clean their uniforms with Renegade.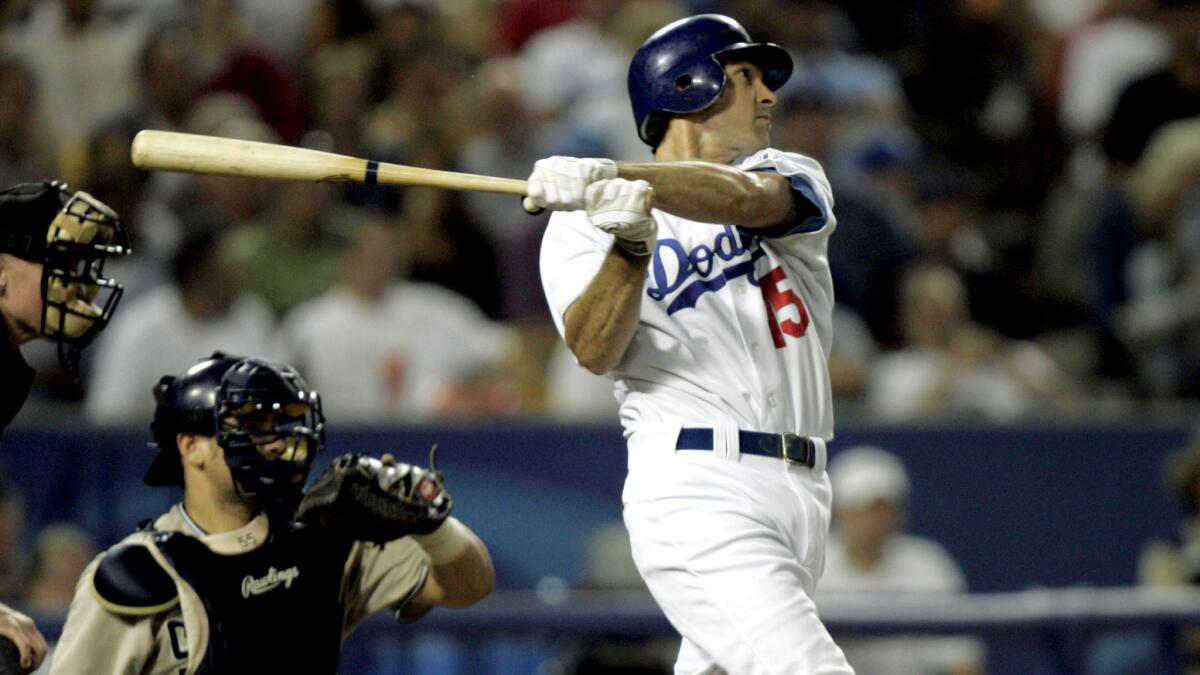 Green's 49 home runs in 2001 stand as the Dodgers' franchise record, but Kain said Green's company was not selected for the business development program because its founder once wore Dodger blue.
"It was a fantastic bonus," Kain said. "It just so happens that Shawn is a fantastic entrepreneur that has built an incredible company. Shawn being a former player is icing on the cake."
The company name, Greenfly, is a knowing wink to a popular and disparaging term players use to describe those they consider hangers-on, including fans and media. The Greenfly product helps teams collect words and images from those sources and spread them across the Internet.
When Matt Mesa, the Dodgers' social media coordinator, wanted to solicit fan videos before this fall's playoffs, Greenfly provided an app that Mesa said made it easy for fans to submit videos and easy for him to collect them in one place, review them and post them directly to Facebook, Twitter and elsewhere.
"If I were to do it all on my own, it would not have been as successful," Mesa said.
Green said the idea was his, after recalling how often fans interacted with players. He hired his cousin Daniel Kirschner away from Santa Monica-based Activision Blizzard — the company behind video-game franchises Candy Crush, Call of Duty and World of Warcraft — and said the two men launched a pilot program with some of Green's former Toronto Blue Jays teammates and the Canadian cable network Sportsnet.
"This is my big thing," Green said. "I've dabbled in some other early-stage companies, nothing that resulted in the kind of outcome I would have hoped. This is something that I am really enjoying. A lot of other people, like the Dodgers, are really excited about it as I am. And that's a good sign."
Twitter: @BillShaikin
Get our Dodgers Dugout newsletter for insights, news and much more.
You may occasionally receive promotional content from the Los Angeles Times.