Chinese tech firm LeEco uses Black Friday to introduce itself to U.S. shoppers
It wasn't a phone, a tablet or a laptop that most enticed customers at LeEco's Black Friday pop-up at the Grove shopping center in Los Angeles. Fittingly for a Chinese tech giant known for its far-reaching ambitions and at times out-there products, its most eye-catching gadget was one not in the repertoire of its American competitors: an electric bicycle.
The LeEco Super Bike is a window into the thinking of a brand that's a powerhouse in China but little-known in the U.S. The carbon fiber bicycle comes with a built-in Android touchscreen, allowing cyclists, with just the push of a button, to monitor their heart rate, track their location and even shoot lasers onto the road ahead of them to draw a safe path at night.
With its marquee placement in the shop, the bike drew plenty of attention — even from Grove security guard Jimmy Marshall. "That's what caught my eye, the technology they've got," he said.
The pop-up, which is open until Dec. 27, isn't a retail location — meaning that products aren't for sale. The goal, instead, is to introduce potential buyers to the LeEco brand and direct them to its online retail site. "What we're trying to do is bring people into our ecosystem," said Greg Belloni, director for LeEco smart devices.
Building a name for itself in the U.S. is something the company considers vital to its long-term prospects. The issue, though, is that LeEco's appetite has outpaced its stomach.
LeEco and other units in Chinese billionaire Jia Yueting's Leshi Holdings empire have struggled to fund once ceaseless ambitions.
Part of the cash crunch stems from a sputtering Chinese economy, which has limited opportunities to sell debt and stock. But Jia recently acknowledged that his companies have been trying to do too much at once. He reportedly apologized to employees for "blindly" speeding ahead while overtaxing bank accounts.
LeEco began as a China-focused online video streaming provider in 2004. Now it's taking on not only Netflix but also ESPN with a sports streaming business, Hollywood through a filmmaking division, Tesla with carmaking operations, Fitbit with wearables and Apple with phones and media apps.
When it comes to technology and entertainment, there's seemingly no business Jia hasn't set out to quickly conquer. And he wants to do it across the world, using a flashy event in San Francisco last month to tout his company's televisions, smartphones, virtual reality headsets, bicycles and self-driving concept cars to American media.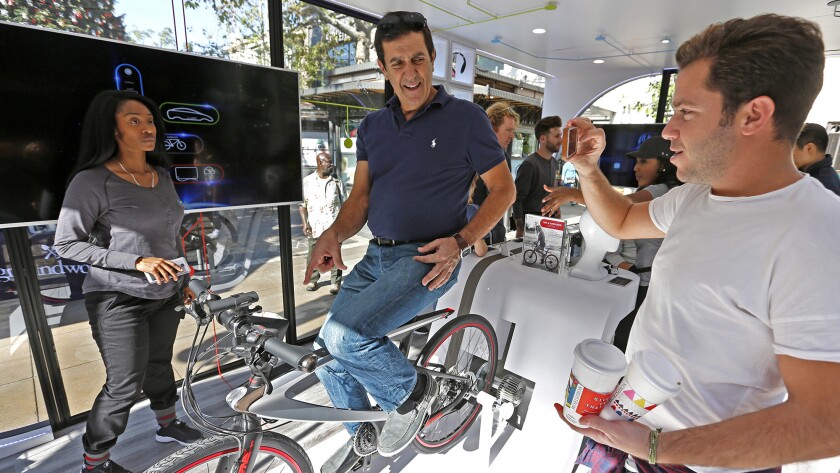 Leshi announced moves last week aimed at becoming more stable. A group of Jia's former classmates, led by an official at a Chinese clothing firm, agreed to invest $600 million in Leshi, including half upfront. Jia has vowed to be more disciplined about spending, starting by lowering his salary to pennies.
Still, technology analysts doubt that LeEco stands a chance with its current consumer electronics lineup in the U.S., where companies such as Apple, Samsung and Sony have built their brands and enormous marketing budgets over decades. LeEco hopes that its pending $2-billion acquisition of popular Irvine TV maker Vizio provides a foothold, but the financial troubles have raised concerns that the deal could collapse.
And it must overcome a major hurdle: U.S. consumer skepticism about Chinese technology products.
Nathanael Eisenberg, a shopper and tech entrepreneur, said the products looked nice but he didn't find anything "striking to me."
"And then I looked online to understand more about the brand and I see it's a Chinese manufacturer," he continued. "There's a few big brands in China and they're all doing the same thing."
Twitter: @peard33
---