To see why LeEco bought Vizio, look at the Chinese company's smartphones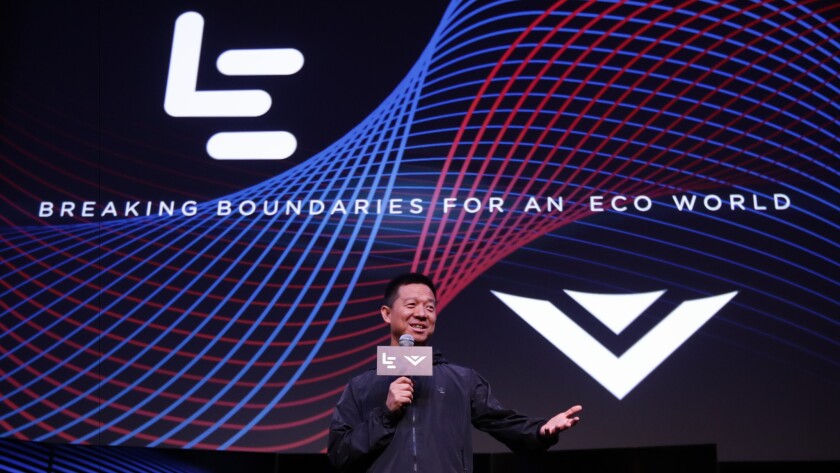 Reporting from Beijing —
To get a better sense of why Chinese technology company LeEco is buying Irvine TV maker Vizio for $2 billion, have a look at one of LeEco's smartphones.
The company's Le 2 pro handset retails for just $166 in China, but if you pay about $15 extra, you get a one-year subscription to the company's entertainment offerings — American films such as Disney's "Zootopia" and DreamWorks Animation's "Kung Fu Panda 3," TV shows such as "American Horror Story" and live sports broadcasts including Major League Baseball, NBA games and European soccer matches.
You can stream the programs directly on the phone, using pre-installed apps. But if you own one of the company's Internet-connected smart televisions — which start around $250 and go up to $2,275 for a 70-inch, 3-D-capable model — any shows you stream or bookmark on your phone will be queued up automatically on your TV (and vice versa). The phone also can be used as a remote control for the television set.
LeEco already has sold millions of phones as well as televisions in China and India, but its brand is almost unknown in North America.
With the Vizio acquisition, announced Tuesday and expected to close this year, LeEco gets a beachhead in the United States. The company says it aims to sell 20 million TV sets globally next year, and to start selling its smartphones stateside next quarter. Linking those handsets with a TV brand that U.S. consumers already know could prompt Americans to take a chance on a phone company they've never heard of.
Compared with the Chinese market, U.S. regulations on Internet streaming services are almost nonexistent, LeEco noted in a statement outlining its rationale for the deal. "There's much more space to operate in," it said.
Technology market research firm TrendForce said in a note Wednesday that established streaming apps in the U.S. such as Netflix and Amazon.com will make it difficult for LeEco's content strategy to gain traction here.
But it should at least be able to win over display purchasers.
"LeEco can still succeed in North America by selling TVs at extremely low prices," TrendForce analysts wrote, saying that the companies combined would move 14.5 million LCD TVs this year, surpassing Hisense and TCL to become the No. 3 seller in the world.
"On the whole, this deal has significantly altered the competitive landscape of the global LCD TV market," the analyst said.
But questions remain about the financial logic behind LeEco's strategy. The company, whose full name is Leshi Internet Information & Technology Corp., reported a profit of only about $15 million in the first quarter this year. Last year, it reported a profit of $88 million. Shares of the company listed on the Shenzen Stock Exchange fell 2% Wednesday, or about 15 cents, to $7.27.
LeEco could pipe in more revenue through another component of the Vizio purchase. Vizio co-founder, Chairman and Chief Executive William Wang plans to run a spin-off company, Inscape, that would commercialize real-time viewing data from Internet-connected TVs. LeEco plans to enter a 10-year licensing agreement with Wang's venture. The information could help LeEco solicit advertisers, who could then provide personalized ads based on a TV user's viewing history and location.
Wang told reporters Tuesday that Inscape would "modernize how brands advertise on TV."
Neil Shah, devices and ecosystems research director at Counterpoint Research in India, pointed to another possibility. Tracking what people watch could fuel a recommendation system across gadgets that lures people into buying and watching additional content. App makers, filmmakers and advertisers would benefit too. But keeping the data proprietary to LeEco would offer a "huge differentiator" from competitors, Shah said.
Executives declined to comment Tuesday on specific plans for Inscape, which got its foundation from Vizio's $50-million purchase last August of San Francisco software start-up Cognitive Media Networks Inc.
Still, LeEco Chief Executive Jia Yueting appears unconcerned about deriving immediate profits from the deal.
"LeEco has never been a profit-driven company," he told a Chinese reporter asking about the company's profit outlook, according to the Beijing News. "Maybe this answer will let down our investors, but I think the true value of a company is to contribute to society, the human race and customers."
The acquisition of Vizio adds to LeEco's rapidly growing presence in California, Jia said. After first setting up a branch of its film production division, LeVision Pictures, in Los Angeles several years ago, the company has chosen Silicon Valley for its U.S. headquarters. LeEco is also behind the secretive electric automobile upstart Faraday Future.
"LeEco has a very special affinity for the U.S., and especially Los Angeles," Jia said at a news conference Tuesday in Hollywood announcing the Vizio deal. "The LeEco acquisition of Vizio is another example."
If the combined company reaches its global TV sales goal next year, Jia said, that will give LeEco a base of more than 50 million television customers. Jia sees those customers as an almost captive audience for LeEco-produced movies, such as the China-set Matt Damon sci-fi film "The Great Wall," which it is jointly making with Legendary Pictures. The English-language movie, helmed by Chinese director Zhang Yimou, is set for a 2017 U.S. release by Universal Pictures.
Zhang, who is the marquee director for LeEco's movie division, appeared alongside Jia at Tuesday's Vizio announcement and explained why he had hitched his wagon to a technology company.
"We are entering the era of the Internet. We all have to face it," Zhang said. "I think the Internet will change the fate of the human race. Film has over 100 years of history, but the influence of the Internet might surpass film in the end."
Nicole Liu in The Times' Beijing bureau and Times staff writer Paresh Dave in Los Angeles contributed to this report.
Follow me on Twitter @JulieMakLAT.
MORE BUSINESS NEWS
By buying Yahoo, Verizon scoops up a rare prize: Silicon Valley real estate
What to expect from the Fed's first meeting since 'Brexit'
Piracy sites tempt users with free movies as malware lies in wait, report says
---
UPDATES:
3:20 p.m.: This article was updated with additional reporting and analyst comments.
10:35 a.m.: This article was updated to include analyst comments.
This article was originally published at 9:45 a.m.
---