Lyft gets $1-billion investment, led by Google's parent company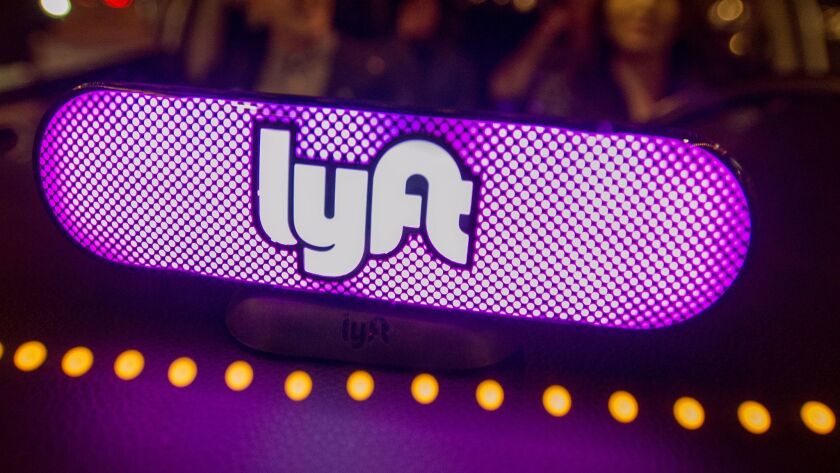 Reporting from San Francisco —
In the topsy-turvy world of tech, an investor can fund a company one minute and sue it the next. It also can turn around and fund a competitor, which is what Google's parent company did when it announced Thursday that its growth equity fund led a $1-billion investment in Lyft, four years after its venture capital arm invested in Uber.
The injection of cash increased Lyft's valuation to $11 billion, up from around $7.5 billion in April when it last raised $500 million from unnamed investors, and up further still from its $5.5-billion valuation last year.

For the record:
6:00 a.m. Oct. 20, 2017An earlier version of this story misstated the name of Greg Sichenzia's firm. It is Sichenzia Ross Ference Kesner LLP.
As part of the deal, David Lawee — a partner at Alphabet's CapitalG growth equity fund — will join Lyft's board of directors.
"CapitalG is honored to work with Lyft's compelling founders and strong leadership team," Lawee said in a statement. "Ridesharing is still in its early days and we look forward to seeing Lyft continue its impressive growth."
CapitalG is a separate entity from GV, Alphabet's venture capital arm, which invested in Uber in 2013. Where GV focuses on early-stage funding, CapitalG typically invests in late-stage companies such as Airbnb, Stripe and Snap Inc.
Uber's valuation, which is close to $70 billion, still dwarfs Lyft's. But the pink-mustachioed ride-hailing firm has been nipping at the heels of its much bigger rival. As Uber weathered a string of high-profile controversies this year, including allegations of a culture of harassment and bullying and the departure of its controversial chief executive, Lyft has taken the opportunity to raise money, expand its business and play the foil.
The company's latest funding round comes as Uber is fighting a costly legal battle against Alphabet-owned Waymo, which has accused the ride-hailing company of obtaining stolen autonomous vehicle technology.
Neither Uber nor Lyft is profitable, and past leaked financial documents have shown that both companies have spent heavily in marketing, offering driver bonuses and incentives, and ride subsidies. Both firms continue to rely on external funding.
Alphabet's investment in Lyft isn't necessarily a vote of no confidence in Uber, particularly since its two investment arms operate independently of each other. Rather, industry experts said it's a sign of Alphabet hedging its bets.
"It's uncommon, but there's nothing wrong with it, per se," said Greg Sichenzia, a founding member of Sichenzia Ross Ference Kesner LLP. "This is just an obvious way for Google, which has endless amounts of money, to hedge its bets. Now it wins either way."
Japanese telecom company SoftBank has been known to invest similarly. The firm invested in Uber's competitors in China and Southeast Asia and is reportedly mulling a significant investment in Uber itself. The Chinese ride-hailing incumbent, Didi Chuxing, also previously partnered with Lyft before buying Uber's China business.
Alliances in the tech world also have been known to switch as quickly as they form. GM, a major investor in Lyft, was slated to partner its self-driving car subsidiary, Cruise, with the ride-hailing firm. Since then, Lyft has diversified its partnerships and started working with Cruise competitors Waymo, Drive.ai, and nuTonomy. Sources with knowledge of the matter said Cruise is now in talks to work with Uber instead.
"This is a whole new world," Sichenzia said. "Back in the '60s, if a bank funded Mobil, they couldn't fund the next oil company because they'd lose Mobil's business. But all that's changed. Now, the money makes the rules."
Times staff writer Russ Mitchell contributed to this report.
Twitter: @traceylien
---
UPDATES:
2:35 p.m.: This article was updated to include context about Lyft's work with GM.
This article was originally published at 10:50 a.m.
---