With resignation, Uber co-founder Travis Kalanick finally found a battle he wasn't willing to fight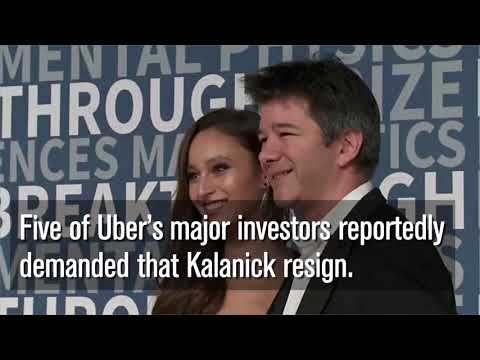 Travis Kalanick is out as CEO of ride-hailing service Uber. (June 21, 2017) (Sign up for our free video newsletter here http://bit.ly/2n6VKPR)
Reporting from San Francisco —
Travis Kalanick never ran away from a fight. When cities challenged the legality of his ride-hailing service, he ordered drivers to continue picking up passengers. When competitors complained about his tactics, he lowered prices and tried to poach their drivers. He even got into a spat — caught on video — with one of his own drivers who dared to question the company's fares.
But when it came to the ultimate fight to remain at the helm of the firm he built from a start-up to an industry behemoth that has upended the very way people get around, the brash co-founder and chief executive of Uber Technologies Inc. did the unthinkable: He backed down.
In a stunning reversal for one of world's most closely watched executives, Kalanick resigned as head of Uber on Tuesday, just a week into a leave of absence meant to quell concerns about his management style amid a torrent of scandals at the company.
His ouster was orchestrated by investors, led by the Silicon Valley venture capital firm Benchmark. They feared that Kalanick wouldn't evolve as a leader quickly enough — and that as long as he and his negative image was around, Uber would struggle to recruit strong candidates for a long list of high-ranking openings, people familiar with the discussions said. In effect, they lacked confidence in his ability to realize the full potential of a company he'd led to a valuation of almost $70 billion. Benchmark declined to comment Wednesday.
"It's long overdue," Steve Vassallo, general partner at Uber investor Foundation Capital, told CNBC on Wednesday. "There's a strong gravitational pull in the Valley to support founders as long as you possibly can. But the one thing you can't overcome is when you've lost the team. And I think it was clear Travis lost the team. If you have a culture that doesn't attract half the population of talent, it's hard to overcome."
Enough investors had signed on to the campaign to oust Kalanick by this week that they carried nearly 40% of the private firm's voting power. Uber's board of directors collectively had no intention of asking Kalanick to resign from his post, but the investor group went directly to the embattled CEO. Within hours, Kalanick told the board he would step down.
"I love Uber more than anything in the world and at this difficult moment in my personal life I have accepted the investors request to step aside so that Uber can go back to building rather than be distracted with another fight," Kalanick said in a statement sent to employees early Wednesday.
Kalanick's departure clouds the future of a company that had come to embody both the immense promise and hubris of the tech industry's biggest names.
Kalanick took on the entrenched taxi industry, local governments and rival start-ups to get his mobile app-driven service into as many cities across the globe as he could. But the win-at-all-costs ethos that fueled Kalanick's meteoric rise also spelled his ignominious fall.
The San Francisco start-up has been rocked this year by allegations of a corrosive culture that allowed bad behavior and sexual harassment to go unchecked for years.
Last week, the company announced that Kalanick, 40, would take an indefinite leave of absence — in part to grieve after the sudden death of his mother in a recent boating accident. But that apparently was unsatisfactory for investors, whose concerns prompted the resignation.
In a statement, the board of directors praised Kalanick's decision and noted he would remain on the panel — joining other former CEOs such as Starbucks' Howard Schultz who have kept a role on the boards of the companies they ran.
"Travis has always put Uber first. This is a bold decision and a sign of his devotion and love for Uber," the board said. "By stepping away, he's taking the time to heal from his personal tragedy while giving the company room to fully embrace this new chapter in Uber's history."
The company, which first launched its service in San Francisco in July 2010, now has more than 12,000 employees and serves more than 600 cities worldwide. Uber generated $6.5 billion in sales last year; its adjusted loss was nearly $3 billion. Because of its soaring valuation and growth, Kalanick was long seen by insiders and outsiders alike as being untouchable.
It's rare for investors to turn their backs on entrepreneurs who has pledged to work on their leadership approach, but Uber is an exceptional case because it could produce once-in-a-lifetime returns for some investment firms. For many, their stakes in Uber could be as legacy-defining as Sequoia's and Kleiner Perkins' early ownership stakes in Google.
Kalanick sought to delay an initial public offering of Uber stock as long as possible, but many investors wanted to lock in the gains of their early investments through an IPO sooner rather than later. Kalanick's viewpoint and the concerns swirling around him could have damaged the company's prospects of a successful stock market debut.
"Sometimes great leadership means empowering others to lead the task at hand, and that is what he has done here to help important and necessary changes at the company happen so Uber can reach its full potential," said Shawn Carolan, managing partner at Menlo Ventures.
Menlo Ventures was one of the five investors that had sought Kalanick's resignation. Others included Uber's first two institutional investors: "Shark Tank" judge Chris Sacca's Lowercase Capital and the San Francisco firm First Round Capital. The mutual fund giant Fidelity also signed on to the demand.
Bill Gurley, an Uber board member and a partner of Benchmark, tweeted Tuesday evening that there "will be many pages in the history books devoted to" Kalanick.
Others on the long list of Uber investors include Amazon.com CEO Jeff Bezos' personal investment fund, actor Ashton Kutcher's investment fund, Goldman Sachs, Microsoft, Alphabet's investment arm GV and Saudi Arabia's Public Investment Fund.
Mutual funds holding Uber shares include Vanguard's U.S. Growth Portfolio, Fidelity's Blue Chip Growth and BlackRock's U.S. Opportunities Portfolio.
Until now, Kalanick had been able to weather controversies — such as when he publicly referred to Uber as "Boob-er" because he believed running the company made him more desirable to women. He also rebounded from revelations that he and other Uber executives used a feature called "God View" to track the trips of individual passengers.
But Kalanick's reputation took another hit when video surfaced of him berating an Uber driver. That was compounded by allegations from a former employee that the company ignored or tried to cover up complaints of sexual harassment, and claims that Kalanick and other Uber executives mishandled a woman's medical files after she was raped by an Uber driver in India.
The company is also embroiled in a lawsuit filed by Google's self-driving car subsidiary, Waymo, alleging that a former employee who later joined Uber stole trade secrets.
One of the final public blows was the release of a report prepared by former U.S. Atty. Gen. Eric H. Holder Jr., who was hired by Uber's board to investigate the company's culture. The report, following a months-long inquiry, did not detail the problems it found, but the top recommendation was to reassess Kalanick's role. A concurrent investigation into complaints about sexual harassment, discrimination and bullying also resulted in the firing of 20 employees.
The scandals posed a threat to Uber's reputation among passengers and drivers — an opening that the firm's chief rival, Lyft, appears eager to pounce upon, welcoming drivers who believe Uber's smaller competitor is a kinder and more lucrative firm to work for.
Kalanick's resignation drew swift and mixed reaction across Silicon Valley. Mary Lou Jepsen, who led divisions at Google and Facebook, posted on Facebook that it was "about time" and that she hopes the move "wakes up other companies in Silicon Valley and beyond."
But Bradley Tusk, an early investor in Uber and founder and chief executive of Tusk Ventures, said it wouldn't be difficult to hire a general counsel to implement Holder's recommendations or other executives to facilitate an initial public offering. "But finding someone who can innovate the way Travis can is much, much harder."
Kalanick's departure will spark what's expected to be a high-profile search for a new chief executive — one of many C-level positions open at the firm.
"It's going to be very hard for them to find someone," said University of Richmond law professor Carl Tobias. "They are having so many legal difficulties, from trade secret thefts to sexual harassment claims to fighting with state and local governments. There's a lot of clean-up, and it's a daunting task."
It's also an endeavor that arguably could have been prevented had the board reined in the founder's behavior. Of course, that's easier said than done — or as Kalanick noted in his now infamous argument with Uber driver Fawzi Kamel caught on video: "Some people don't like to take responsibility for their own" problems, using a vulgarity.
Twitter: @traceylien
ALSO
Silicon Valley's acquisition targets aren't just in tech anymore
Uber's scandals test the patience of investors — and the public
At $18.08, Snap shares close at second-lowest price since IPO
---
UPDATES:
3:05 p.m.: This article was updated throughout with new reporting, including comment from Shawn Carolan, managing partner at Menlo Ventures.
9:15 a.m.: This article was updated with comment from investor Bradley Tusk and University of Richmond law professor Carl Tobias.
June 22, 7 a.m.: This article was updated with information about Uber's search for a new chief executive and its chief competitor, Lyft.
11:55 p.m.: This article was updated with reaction from Uber board member and investor Bill Gurley and others in Silicon Valley.
11:35 p.m.: This article was updated with a statement from Uber's board of directors.
11:26 p.m.: This article was updated with additional context.
10:55 p.m.: This article was updated with confirmation of Kalanick's resignation and additional details and background.
This article was originally published at 10:45 p.m., June 21.