Aside from investors, who else can cash in on the 'Pokemon Go' craze?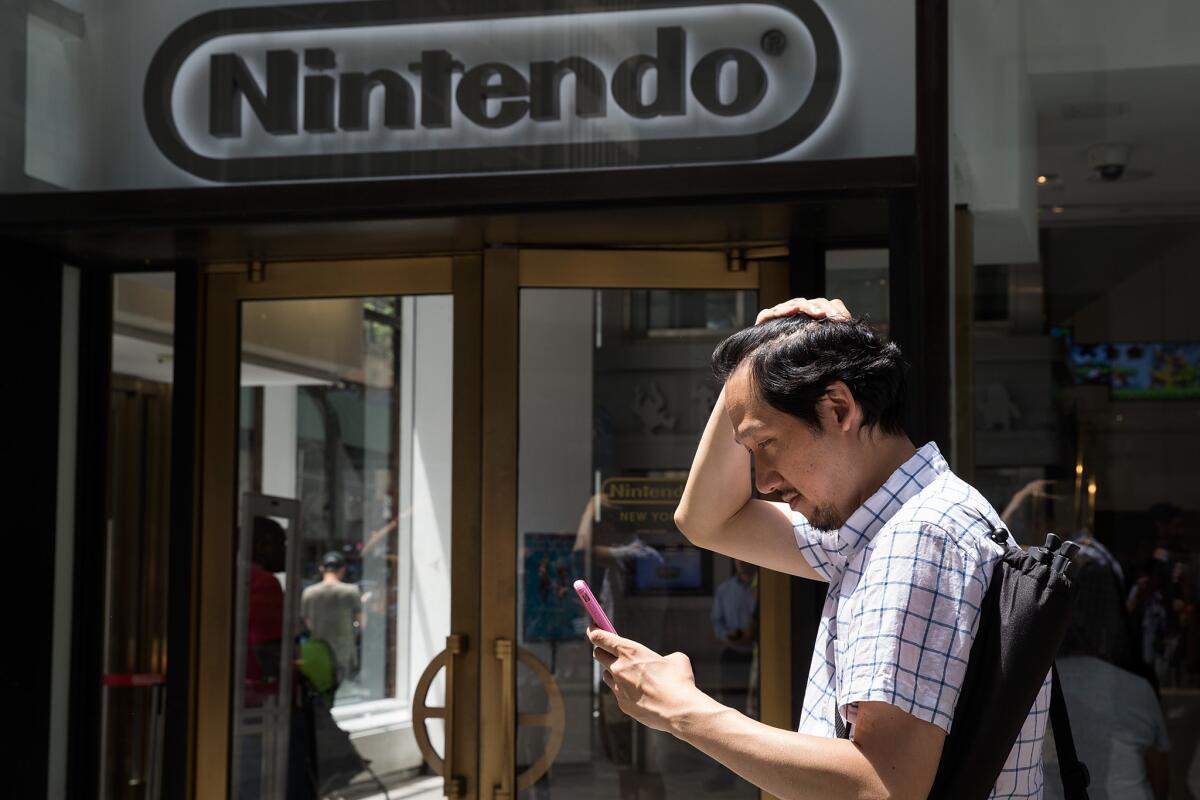 Almost overnight, "Pokemon Go" has become the nation's bestselling mobile game, lifting the outlooks for Nintendo and the small San Francisco gaming start-up that licensed the animated franchise. But it's also inspired a marketing frenzy, with Uber drivers, event organizers and other entrepreneurs seeking to capitalize on the game's success.
And mobile gaming experts see possibilities for stretching the initial bonanza.
The game is generating an estimated $1.6 million in revenue a day as players try to speed up their quest of wandering the world to amass animated characters. For example, $1 buys 20 Poke Balls -- virtual storage containers for the characters -- and saves the player the hassle of walking around to collect them for free.
It took 14 hours, or four times faster than any app before it, for "Pokemon Go" to top the revenue charts, according to app tracking firm Sensor Tower. The pace has excited investors, who have pushed up the price of Nintendo shares more than 50% in the last week. Nintendo collects about 10% of the app's revenue, according to analyst estimates. But it also owns about a third of Pokemon Co., which grabs an estimated 30% of sales.
Analysts attribute the newfound interest to more than "Pokemon Go" sales. For years, Nintendo had shied away from smartphone games, preferring to keep marquee franchises such as "Mario" and "Pokemon" on its own hardware such as the Game Boy and Wii. But it vowed to loosen up last year. Following through brought the sharpest rise in Nintendo shares since the Wii debuted almost a decade ago.
"It's a boom for a company that was initially quite reluctant," said Andrew Alvarez, an industry analyst at researcher IBIS World.
And this could be only the beginning for the gaming giant. Besides "Mario," the company also holds the rights to popular franchises such as "Smash Brothers" and the "Legend of Zelda."
"Pokemon" offered a good starting point though. In nearly every iteration since launching in 1995, whether movies, shows, trading cards or video games, the virtual realm of powerful creatures and their human caretakers has enjoyed smashing success.
Its popularity on Nintendo's Game Boy fueled an industry of Pokemon paraphernalia -- a bubble that burst in 1999. Still, no gaming-centric property has been more lucrative other than "Mario," some industry experts say.
The storied history is part of the reason game developer Niantic Inc. spun out of Google Inc. and partnered with Nintendo to begin making "Pokemon Go" last year. Pokemon characters allowed the start-up to give a new look to its existing game, "Ingress," which had recorded 14 million downloads in three years. "Pokemon Go" needed only a week to reach 15 million downloads in the U.S. alone, according to Sensor Tower.
Niantic, which has offices in Los Angeles, will need "Pokemon Go" revenue to sustain for a while before it begins to generate a return for investors who have put at least $20 million in the company.
In-app purchases have brought in billions of dollars for long-popular games such as "Candy Crush" and "Kim Kardashian: Hollywood." "Pokemon Go" could join the elite group because "people are ga-ga over it," said Mike Vorhaus, an industry analyst at Magid Advisors. About 20% of players are buying loot, compared with 3% for many mobile games.
But Niantic has options to accelerate sales. For one, data about people's movements as they search the real world for Pokemon could be sold to businesses for advertising purposes. Marketers could learn unique facts about consumer preferences, including frequently visited locations.
Another possibility is reportedly already in the works. Niantic plans to allow businesses to pay for promotion within the app, getting listed as a place where players can collect characters and other virtual items.
"There's plenty of opportunity for them to receive applications for businesses in underrepresented areas for Pokemon or hot spots for the game," Alvarez said.
See the most-read stories in Business this hour >>
Business owners are already finding unofficial ways to tap in. Reddit users have offered to drive gamers around, for a fee, while they collect Pokemon. Multiple Uber drivers have taken to social media to offer a similar service.
Restaurants, bars and cafes are trumpeting the fact that they are on the app as a PokeStop -- a real-world location where the app grants players necessities including Poke Balls.
After discovering its location was a PokeStop, DK Donuts & Bakery in Santa Monica bought a virtual item known as a Lure that briefly swarms the stop with Pokemon, giving players additional incentive to visit.
DK Donuts owner Mayly Tao said she bought two Lures for $1 each with plans to buy more. Though only 1 in 10 customers at the 24/7 shop have been coming in for the game, the new visitors are a welcome boost. She's started selling donuts decorated like Poke Balls to give gamers more reason to shop while nabbing things in virtual reality.
Culver City ice cream shop Coolhaus planned to activate Lures Wednesday evening. The store said it would give an extra cookie to customers who snatch a character there.
The stunts could be here to stay. Analysts expect Niantic and Nintendo to roll out new features and tie-ins to the game intended to keep players engrossed. Players eventually should be able to trade Pokemon, engage in more battles with other players and go deeper into the original lore.
Nintendo hopes to maintain engagement by giving players a way to take a break from staring at their phones. The company plans to ship as soon as the end of the month a small, $35 pin dubbed Pokemon Go Plus that vibrates when a Poke Stop is nearby. Demand seems to be high, with rights to pre-ordered units going for hundreds of dollars.
MORE ABOUT POKEMON GO
'Pokemon Go' leads players to California facility housing sex offenders
The good, the bad and the weird: Mayhem and meet-ups after 'Pokemon Go' release