Start-ups such as Postmates aren't just delivering food, they're opening kitchens too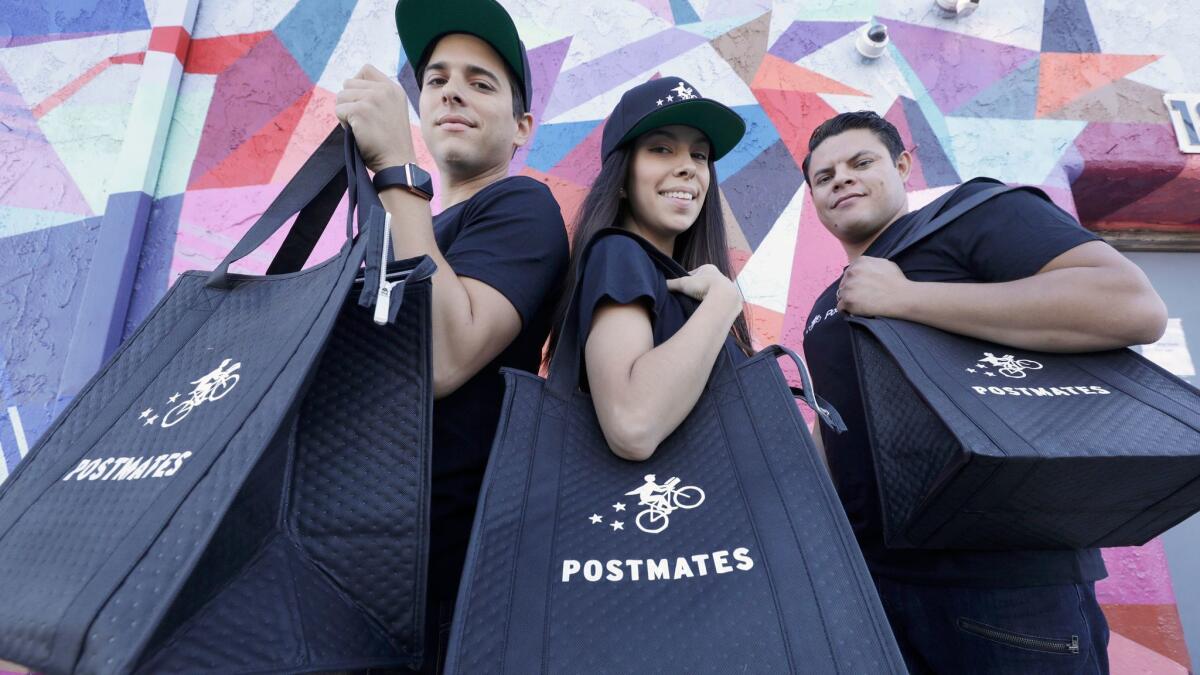 Reporting from San Francisco —
Last fall, the delivery start-up Postmates approached Los Angeles noodle house Tatsu Ramen with an offer: The start-up would rent a commissary kitchen just west of downtown in an area with a dearth of ramen restaurants. It would supply all the equipment needed to make steaming bowls of ramen. And Tatsu could use it, with no upfront charge, to prepare dishes for delivery.
The catch? Tatsu could use the kitchen only to prep orders for Postmates, and Postmates would take a larger commission from each sale.
"It was a no-brainer for us," said William Khoe, the owner of Tatsu Ramen, which has restaurants in Fairfax and the Westside. "It was a low investment on our end, and we could test the market fairly quickly."
San Francisco Bay Area delivery apps such as Postmates, UberEats, DoorDash and Caviar used to only be middlemen in the restaurant world. Customers logged on to the apps to find the food they were craving and the apps would deploy delivery drivers to pick up the meals from restaurants and drop them off at diners' doors. But being the middlemen also meant that they amassed a ton of data about restaurant popularity, consumer preferences and which neighborhoods are lacking certain cuisines — information that most restaurants struggle to collect on their own.
Armed with this valuable data, start-ups such as Postmates are reshaping their role in the restaurant industry to be less delivery dispatcher, more business planner.
"If we see a merchant being very successful on the platform, we can bring them to a new geographical area," said Vivek Patel, Postmates' vice president of business operations.
While Postmates declined to say how much it spends on the commissary kitchen, Patel said the kitchen has paid for itself and has done so well that Postmates plans to launch more commissary kitchens with other restaurants in the coming months.
Since the kitchen's opening, Tatsu's delivery orders have increased 50%. Tatsu needs only one cook to operate the commissary kitchen, which allows it to save on labor costs. And customers in the Pico-Union area can now get Tatsu Ramen delivered. "It's a win, win, win for the customer, merchant and Postmates," Patel said.
Other delivery apps are also using the data they've collected to help their restaurant partners expand. Last year, DoorDash tested its own commissary kitchen in San Jose with restaurant partner Little Star Pizza. Unlike the Postmates arrangement, DoorDash charged Little Star rent that was calculated as a capped percentage of gross sales, so that the restaurant took on less risk.
Instead of going all-in with a long-term kitchen, delivery company Caviar rented a catering space in Oakland for Chicago restaurant Honey Butter Fried Chicken to do a delivery-only pop-up restaurant. For one weekend, Oakland users of the Caviar app could order Honey Butter's famous fried chicken, prepared in an East Bay kitchen, and have it delivered to their doors. Caviar did the same for San Francisco restaurant Souvla, bringing the popular Greek sandwich shop to New York via its app. In both cases, the restaurants saw it as an opportunity to test new markets before deciding if it was worth expanding.
UberEats hasn't put up money for its own commissary kitchens, but it is helping restaurateurs launch "virtual" restaurants that exist only in the UberEats app that are serviced from their existing kitchens.
Say an Italian restaurant decided it wanted to sell matzo ball soup for delivery, but didn't want to risk confusing customers. It could launch a virtual matzo ball soup restaurant that exists only on the UberEats app. Customers could order the soup through the app and the restaurant would prepare it in the same restaurant in which it prepares pizza and pasta, all while dine-in and take-out customers are none the wiser.
Los Angeles chef Eric Greenspan launched his first virtual restaurant, Chino, which specializes in Latin-Asian fusion, with UberEats on Monday. Unlike his previous venture, Greenspan's Grilled Cheese, which had a physical restaurant in the Fairfax area and was rigid in its concept, he told The Times that a virtual restaurant lets him cook different cuisines under different brands in the same kitchen.
"With Greenspan's Grilled Cheese, if I wanted to open for breakfast, I would have to do a breakfast grilled cheese because that's what makes sense," Greenspan said. "Now with Chino, if I wanted to open for breakfast I can do a breakfast burrito that has nothing to do with Latin fusion."
For an industry with a notoriously high failure rate, the upsides of expanding via commissary kitchen instead of building out an entire restaurant are obvious, said Sharokina Shams, vice president of public affairs at the California Restaurant Assn. But if the trend gains enough traction, she worries what it could mean for communities that depend on restaurants for their vibrancy and culture.
"If no one is dining out, if everyone is ordering in, we'll have achieved a whole lot of convenience," Shams said. "But what do our communities look like 10, 15, 20 years from now?"
There could also be ramifications for what this could mean for the restaurant workforce, Shams said. If commissary kitchens need only a fraction of the labor required to run a restaurant, does the industry shed those jobs? As workers continue to be replaced by automation, customer-facing restaurant work remains one of the few avenues open to job hunters without college degrees. "To see that type of job go away would be really disappointing," Shams said.
Analysts such as Aaron Turner of Wedbush believe that predicament — in which communities lose restaurants and waiters lose jobs — is probably many years away, if it comes at all.
Turner characterized Postmates', UberEats' and Caviar's entry into commissary and virtual kitchens as "tests" to see whether running a restaurant without a physical store presence is a viable business. If it is, it could change the barriers to entry for restaurateurs: Those who want to have physical restaurants will have to up the ante when it comes to creating dining experiences, while those who just do food without the bells and whistles can launch a business without the overhead and go straight to the apps.
It's also a test in what Turner calls "vertical integration" in that delivery apps are not only delivering food but also playing a role in preparing it. The Postmates-Tatsu relationship has yielded positive results for both the restaurant and the start-up: The streamlined kitchen, which sold 2,500 bowls of ramen in its first month, has reduced wait times for delivery customers by 40%. And because Postmates has more control over the customer experience, customer complaints are also down.
Still, the growing influence of delivery apps is a cause for concern, Shams said, because the more popular they become, the more restaurants feel the need to work with them — even if it isn't to their benefit.
Postmates declined to say how big a cut it takes from Tatsu's sales, but Patel said it's higher than a typical Postmates commission because of the risk it takes on.
Some apps take a commission as high as 30%, which eats into most of a restaurant's profit. And what happens if restaurants become dependent on these delivery apps and the apps change the rules — increasing commissions or flooding the market with competition? The technology industry hasn't always been a reliable ally — publishers that got hooked on Facebook's ability to bring them traffic learned the hard way after the social network changed its algorithm. It's not hard to imagine a similar scenario befalling the restaurant industry.
"At the same time, how do you not do it?" Shams said.
Orders from delivery apps have become a growing part of restaurants' business, with chains such as Mendocino Farms going as far as modifying their restaurants and providing more parking to cater to increased delivery volume. As of last year, orders through the DoorDash app accounted for 6% of Mendocino Farms' business. Tatsu estimates that about 10% of its sales comes from Postmates orders. These numbers are growing, and it's this potential dependence on apps that worries Shams.
"If everybody is doing it, and this is the way of the future and food delivery is increasing, you can't afford to sit on the sidelines," she said.
Shams compared today's restaurant industry with the music industry when streaming services were first introduced. The product — whether it's music or food — might now be more accessible, but what does it mean for communities? What does it mean for the people who make a living from that industry? Who's really in control? And can there be a happy medium?
"These are the questions the restaurant industry will have to grapple with in the years to come," she said.
To read this article in Spanish, click here
Twitter: @traceylien
---
UPDATES:
11 a.m.: This article was updated with additional context about delivery apps.
This article was originally published at 5 a.m.