Qualcomm is accused of anti-competitive tactics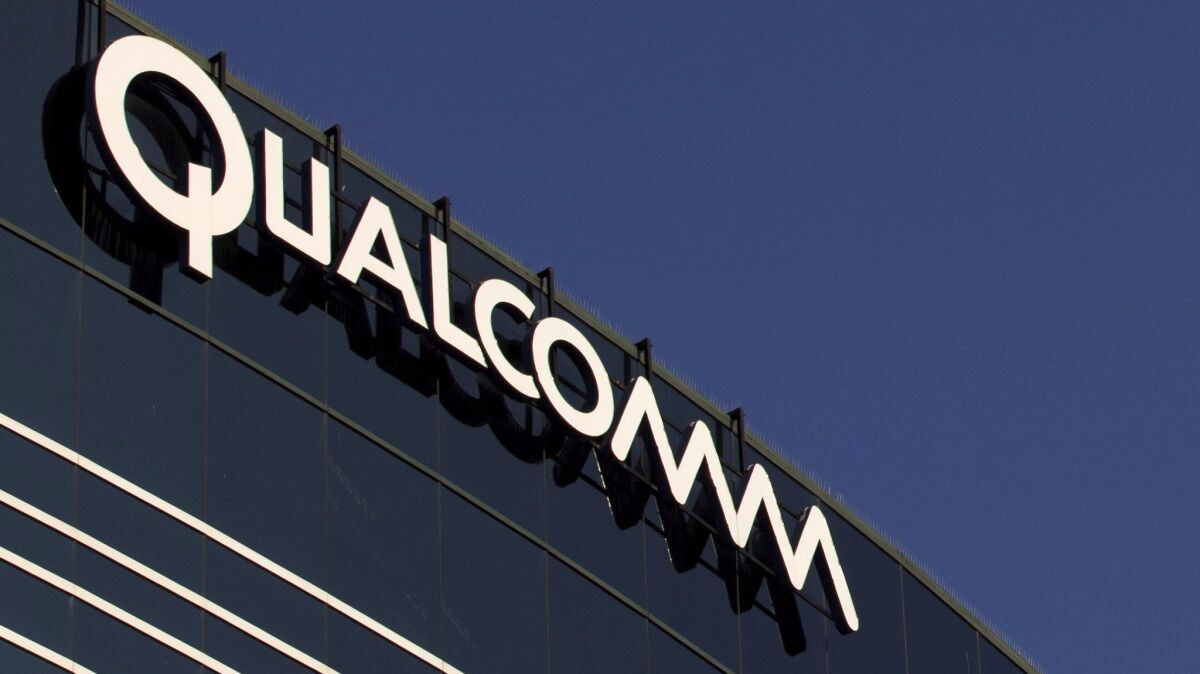 A U.S. regulator has sued Qualcomm over the way that it licenses cellular patents to smartphone makers — joining South Korea and potentially other governments in seeking to upend the San Diego's company's patent royalty practices.
The Federal Trade Commission filed the civil lawsuit Tuesday in U.S. District Court in Northern California. The company also faces investigations in Europe, Japan and Taiwan.
The FTC lawsuit comes a month after the Korea Fair Trade Commission fined Qualcomm $865 million over patent royalties. The company vowed to fight in South Korea's courts, calling the regulators' action inconsistent with the facts and a misapplication of fundamental tenets of competition law.
The FTC alleges that Qualcomm used its dominant market share in wireless chips to get excessive royalties on key, standard essential patents, which are supposed to be made available at reasonable rates under law.
The agency also says Qualcomm gave Apple rebates in exchange for being the exclusive supplier of cellular modems in iPhones from 2011 through 2015 — hurting competitors.
The FTC isn't seeking specific damages but asked the court to take steps to prevent Qualcomm's alleged anti-competitive practices from happening again.
The agency's governing board voted 2-1 to bring the lawsuit. Commissioner Maureen Ohlhausen objected on the grounds that the court action is based on a flawed legal theory, that it will undermine U.S. intellectual property rights worldwide and that it comes on the eve of a new presidential administration.
Qualcomm echoed those concerns, calling the FTC's lawsuit "midnight litigation" brought as Chairwoman Edith Ramirez leaves the agency and President-Elect Donald Trump takes over the White House.
"We have grave concerns about the two commissioners' decision to bring this case despite a lack of evidence supporting the allegations and theories in the complaint," Qualcomm General Counsel Don Rosenberg said in a statement.
Qualcomm makes money not only by designing mobile semiconductors but also by licensing its vast portfolio of wireless patents on key cellular technology.
In its complaint Tuesday, the FTC singled out Qualcomm's "no license, no chips" policy, which requires smartphone makers that buy the company's wireless semiconductors to also license its patents.
The FTC contends that the tactic forces cellphone manufacturers to pay higher royalties regardless of whether they buy chips from Qualcomm or rivals such Intel or MediaTek.
Because of its dominant market position, the risk of losing access to Qualcomm's cellular modems is too great for smartphone makers to not take a license, according to the complaint.
In addition, the complaint says Qualcomm gave Apple rebates to make sure it was the exclusive supplier of cellular modems in iPhones from 2011 through 2015.
"Qualcomm recognized that any competitor that won Apple's business would become stronger, and used exclusivity to prevent Apple from working with and improving the effectiveness of Qualcomm's competitors," the FTC said.
mike.freeman@sduniontribune.com
ALSO
CEO Thomas Tull resigns from Legendary Entertainment
How to fight back when an insurer denies your healthcare claim
Snapchat has changed Venice, and the neighborhood isn't changing back
---