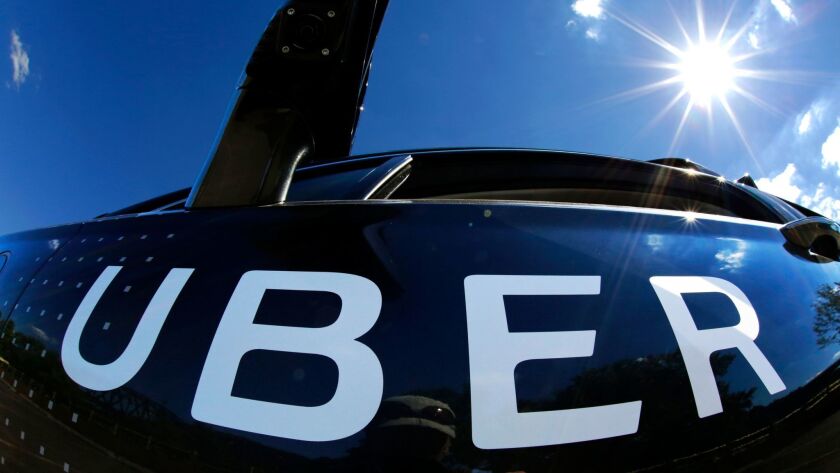 Reporting from San Francisco —
The executive exodus continued at Uber on Thursday, with the company's senior vice president of global operations, Ryan Graves, announcing he will leave the company in mid-September.
In an email to staff, Graves said he will remain on Uber's board of directors and focus on its search for a new CEO. He did not give a reason for his departure beyond his desire for change.
"In some ways my focus going forward will not actually change very much," Graves said in the email. "It remains all about people, and it's clear to me the stability of our board of directors, the selection of our new CEO, and the empowerment of our management team is what is needed most. So I will do everything in my power to deliver on those goals for the benefit of our organization and the millions of people — riders, drivers, eaters and couriers — and their communities that Uber serves every day."
Graves' departure comes at a tumultuous time for the company. After weathering months of scandals that culminated in the ousting of several high-ranking employees and the resignation of Uber's co-founder and chief executive Travis Kalanick, the $70-billion ride-hailing giant is without a chief executive officer, a chief operating officer, a chief marketing officer, a head of business, a head of engineering or a general counsel.
A longtime Uber employee who previously served as its chief executive and general manager, Graves worked hand in hand with Kalanick to recruit and train the company's first drivers seven years ago in San Francisco, according to "The Upstarts," a book about Airbnb and Uber. It was also Graves, the CEO at the time, who brought in the venture capital firm First Round Capital as Uber's first big investor.
Graves will not be going to another company, according to sources familiar with the matter. Uber is unlikely to replace Graves because many parts of the business under his purview, such as UberEats and UberRush, are managed by the company's head of Uber Everything, Jason Droege.
Uber's board has in recent weeks intensified its search for a new chief executive, with reports last week that it had narrowed the search to three candidates.
Uber has had a calamitous year, with Kalanick's resignation in June after facing pressure from investors, and the departure of other high-profile executives, such as its head of business, head of engineering and head of communications. An investigation commissioned by Uber's board of directors revealed a toxic culture that enabled discrimination, bullying, and harassment.
In his email to staff, Graves acknowledged that Uber itself was going through a bumpy transition, but he also framed the company's recent fall from grace as an opportunity to turn things around.
"Confucius said that reflection is the noblest method to learn wisdom," Graves wrote. "And fortunately, our new found reflection and introspection has become an asset to us, and we have evolved and grown considerably."
Times staff writer Paresh Dave contributed to this report.
Twitter: @traceylien
---
UPDATES:
11:20 a.m.: This article was updated to include more context about recent scandals at Uber.
10:40 a.m.: This article was updated to include comment from an email sent by departing Uber executive Ryan Graves.
This article was originally published at 10:15 a.m.
---