Changes to H-1B visa policy could have a chilling effect on the tech industry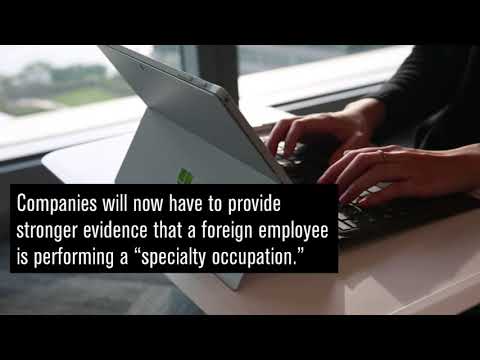 United States Citizenship and Immigration Services announced it will conduct more site visits to catch H-1B visa fraud. (April 5, 2017) (Sign up for our free video newsletter here http://bit.ly/2n6VKPR)
Reporting from San Francisco —
The first week of April is always a frantic time for technology companies. It marks the start of the hyper-competitive period when firms seeking to hire foreign workers can apply for the limited number of H-1B visas, which are awarded to high-skilled applicants in fields such as software development, architecture and academia.
But this last week was more frantic than usual after federal agencies signaled they would place increased scrutiny on the visa program and the companies that utilize it.
The Department of Homeland Security and its immigration processing branch issued a memo establishing a more rigorous vetting process for computer programmers. United States Citizenship and Immigration Services (USCIS) announced it will conduct more site visits to catch H-1B visa fraud, while the Justice Department warned employers seeking visas to not discriminate against American workers.
Immigration attorneys see the edicts as part of the Trump administration's efforts to deliver on campaign promises to put American workers first. But they worry the new measures may have a chilling effect on the nation's technology industry — which pads out its technical ranks with visa holders — and discourage firms from expanding their workforces within the U.S.
"This is definitely intended to be a deterrent for all companies," said Ayda Akalin, an immigration attorney whose clients include Silicon Valley start-ups and entrepreneurs. "We've already had clients asking whether they're affected by this. It creates an atmosphere of fear amongst the companies and immigrants."
Under the Homeland Security policy memorandum issued Friday, companies that want to sponsor a foreign computer programmer for an H-1B visa will now have to go to greater lengths to prove that the employee is performing a "specialty occupation." The memorandum states that the duties performed by computer programmers, such as writing or testing code, can be done by someone with only an associate's degree and, "as such, it is improper to conclude based on this information the USCIS would 'generally consider the position of programmer to qualify as a specialty occupation.'"
Under previous guidelines, which were published in 2000 and 2001 and relied on data from the 1990s, the USCIS did not make distinctions between different programming roles.
Computer programmers are the third-largest category of H-1B visa recipients, after computer systems analysts and software developers, so the ramifications could be wide-reaching. The U.S. issues 85,000 H-1B visas a year, all of which are typically snapped up in the first week of April. A Brookings Institute study found in 2012 that there were 17 H-IB visa requests for every 1,000 jobs in Silicon Valley.
Immigration lawyer Reaz Jafri said allowing government officials — who may not be well-versed in the needs of high-tech firms — to determine whether a programmer's role is "specialized" enough may lead to more visa denials.
"When I go to file a renewal or visa extension, [the USCIS] can today decide that a particular job is not specialized enough, even though three years ago it was," Jafri said. "It's going to be disastrous."
Technology website Recode reported that Google, which in 2013 hired 743 workers on H-1B visas, sent a memo to employees Monday saying it does not anticipate that the immigration announcements will affect its employees, presumably because they fall into the software development category, rather than the computer programming one.
Google did not immediately respond to a request for comment.
Tata Consultancy Services, a firm that places tech workers in information technology jobs and is one of the biggest annual recipients of H-1B visas, declined to speculate on how the recent announcements would affect its business. In a statement to The Times, a spokesperson said the company "has significantly reduced its use of high-skilled H-1B visas over the past few years, [and] in 2016, TCS used fewer than 1,500 of these visas, and we may use even fewer in the coming years."
Immigration attorneys said that in theory, the announcements themselves don't present significant material changes to the H-1B visa program. But how this all plays out will depend on the way they are enforced.
USCIS site visits are, for example, already a common occurrence at firms that hire employees on H-1B visas. USCIS officers typically arrive unannounced to confirm visa holders work for the company, and check that their job titles and duties match what appears on their labor certifications. Officers will occasionally interview workers at a company to find out what duties the visa holder performs, and if something is amiss, they will open an investigation.
H-1B visa fraud can take many forms, although one of the more common involves job misclassification, in which an employee is classified as a low-level graphic designer or programmer (and is thus paid an entry-level salary) but performs the functions of a product manager or a senior engineer.
In addition to more site visits, the USCIS also created a tips form for whistle-blowers to report alleged H-1B visa fraud.
"How is that going to work?" Jafri said. "You're going to have people reporting fellow workers based on their own suspicions and biases. It gets really problematic."
Proponents of H-1B visa reform such as Ronil Hira, a professor at Howard University who has researched H-1B visas, welcomed the changes, but said they don't go far enough to address the larger problem with H-1B visas, which is that the wage floors — particularly for computer programmers — are too low.
For H-1B applicants, the entry-level wage for computer programmers in Silicon Valley is $52,229, whereas the industry average for American workers is closer to $90,000, Hira said.
"Not surprisingly, 40% of H-1B applications are at [entry-level] wages, which is around 40% below the average wage," Hira said. "You've got to raise the wages so they're not used for cheap labor."
These measures, along with the suspension earlier this year of a program that let companies pay a fee to fast-track their H-1B visa applications, are designed to send a message, according to Jafri, that the new administration is looking out for American jobs by cracking down on firms that use the system to hire less expensive foreign workers rather than American employees.
But tech companies say there's a dearth of high-skilled talent that foreign workers help fill. If they're right, Jafri says the clampdown on H-1B visas could have an unintended affect.
"All it's doing is creating uncertainty for U.S. employers," he said. "You'll see more companies opening up centers and offices outside the U.S. It will have the complete opposite effect of what they intended to have."
Twitter: @traceylien