Justice Department, SEC investigating whether Snap misled IPO investors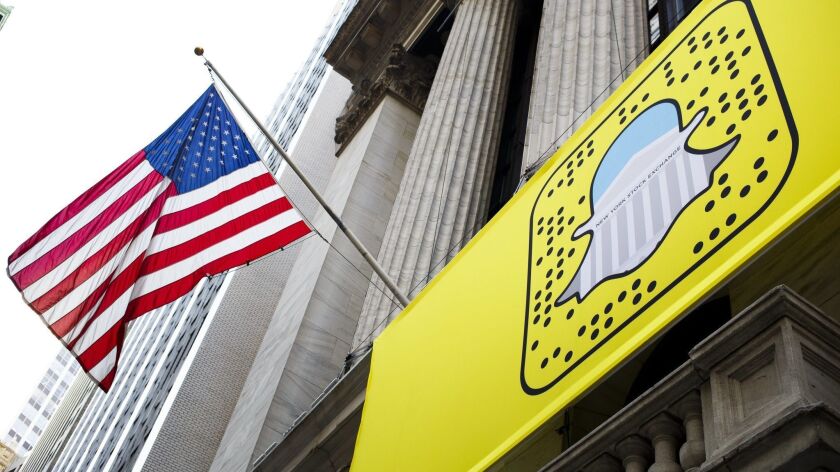 The Securities and Exchange Commission and Department of Justice are investigating Snap Inc. for potentially misleading investors, the latest concern for the Santa Monica company behind Snapchat, which has seen its stock crater since its much-hyped initial public offering.
In a statement Wednesday, the company said it has responded to subpoenas and information requests from the two agencies that center on disclosures about rival Instagram that Snap made in advance of its March 2017 IPO — an issue already the subject of a shareholder lawsuit.
That competition led to slower-than-expected user growth for Snapchat and, more recently, may be contributing to an overall decline in users. The company reported it had 186 million daily active users in the quarter that ended Sept. 30, down from 191 million in this year's first quarter.
"It is our understanding that these regulators are investigating issues related to the previously disclosed allegations asserted in the class action about our IPO disclosures," the company said in a statement. "While we do not have complete visibility into these investigations, our understanding is that the DOJ is likely focused on IPO disclosures relating to competition from Instagram."
The Justice Department and the SEC generally do not comment on or confirm ongoing investigations.
The statement sparked fresh concern among investors, who sent Snap shares down nearly 5% in early trading Wednesday. Shares recovered slightly, closing at $6.48, down 3.4% on the day — but down 76% from a post-IPO peak.
The company has struggled since raising $3.4 billion in Southern California's largest-ever IPO. The stock briefly soared as investors bet big on the young company and its social media app, Snapchat. Since then, though, the company has seen a string of executive departures and has struggled with weak ad sales and a redesign that was panned by many users.
Once valued at more than $30 billion, the company is now worth less than a third of that. In its most recent earnings statement, released Oct. 25, the company reported bringing in more revenue and burning less cash, but also fewer daily active users for the second consecutive quarter. What's more, executives said they expect users to continue to fall in the current quarter.
Michael Pachter, an analyst with Wedbush Securities, said Snap's stock woes have much more to do with those factors than the news that federal investigators are nosing around.
"The share price is not down because investors perceive a risk investigators are going to find something," he said. "It's down because subscriber growth declined and revenue isn't growing fast enough."
Still, the investigation and a related shareholder suit could be distractions for the company and its executives.
Peter Baldwin, a former federal prosecutor who is now a partner at law firm Drinker Biddle, said it's hard to predict what, if anything, might come of the federal inquiries. But he said authorities may be looking for potential securities fraud based on the shareholders' allegations or other information.
He also said the Justice Department's involvement suggests criminal — not just civil — charges could come as a result, though it's not clear any charges are forthcoming.
"The difference between civil and criminal is whether there was criminal intent on the part of the perpetrators," he said. "I think they're likely just trying to figure out if this is a criminal case or not. And it may well be there's no case that comes out of this."
If prosecutors were to bring criminal securities or wire fraud charges, Baldwin said, they might also pursue charges that relate to the adequacy of information in public securities filings.
Snap investors alleged in a securities lawsuit filed last year in federal court in Los Angeles that, before its IPO, Snap didn't reveal how much competition from Instagram, the photo-sharing app owned by Facebook Inc., was hurting its growth in the second half of 2016.
That's when Instagram launched "stories," a feature that, much like Snapchat, allows users to post disappearing slideshows of videos and photos. Instagram said in an August blog post that its stories feature has 400 million daily users — more than double Snapchat's user base.
Investors also say Snap failed to disclose a sealed whistle-blower lawsuit by a former employee who claimed inaccuracies in the company's calculation and reporting of daily active users.
In court filings, lawyers for Snap argue that investors were well aware of those issues in advance of the IPO. In Wednesday's statement, the company said: "We continue to believe the class action's claims are meritless and our IPO disclosures were accurate and complete."
A federal judge in June denied Snap's request to dismiss the shareholders' allegations. A hearing is scheduled for Dec. 10 on whether the case can proceed as a class action representing anyone who bought Snap shares between March 2 and Aug. 10 of last year.
The company's IPO was one of the most hotly anticipated of the last few years, thanks to Snapchat's young audience — customers that advertisers desperately want to reach — and to a relative dearth of public offerings in the tech sector, where many start-ups have sought to stay private for as long as possible.
Investors piled into the stock despite Snap's decision to grant no voting rights to new shareholders, a move that consolidated the power of Snap co-founder Evan Spiegel but has also kept the company's shares out of some stock indexes, eliminating some demand for shares.
Bloomberg was used in compiling this report.
---
UPDATES:
2:55 p.m.: This article was updated with more details on Snap's IPO and its rival Instagram, as well as comments from Wedbush analyst Michael Pachter.
9:10 a.m.: This article was updated with more background and details, and comments from former federal prosecutor Peter Baldwin.
6:40 a.m.: The article was updated with Snap's share price at the market open on Wall Street.
This article was originally published at 5:55 a.m.
---