Snapchat is making subtle changes to its redesigned app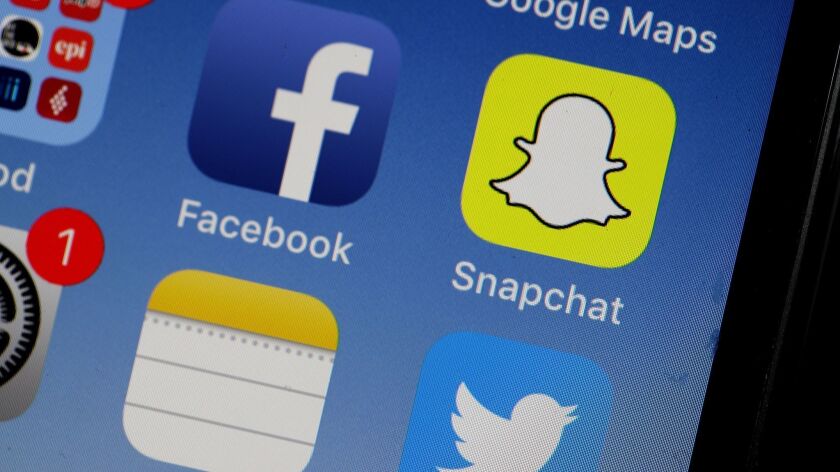 Snap Inc. is tinkering with the look of its video messaging app Snapchat months after introducing a massive redesign that drew scorn from some of its most loyal users.
The Venice company said Friday it was rolling out an update for iOS users that puts pictures, videos and chats back into reverse-chronological order, as they were before the redesign.
Stories from friends will also return to the right side of the app, though they will continue to be separated from professional content.
Snap's Chief Executive Evan Spiegel hinted at the tweaks during the company's first quarter earnings report May 1.
Snap has faced withering criticism for its redesign, sparking a Change.org petition that garnered 1.2 million signatories. A dismissive tweet about the overhaul by reality TV star Kylie Jenner has been attributed for triggering a sell-off of Snap shares.
The redesign was aimed at making the app more intuitive to a wider audience — addressing a long-held complaint that Snapchat was too difficult to navigate for anyone but the youngest users.
But some users said they didn't like having professional content separated from their friends' content.
The unpopularity of the new look is considered one of the reasons Snap missed Wall Street estimates for user growth the last quarter.
Nevertheless, Spiegel has largely stuck to his guns about the changes. During the earnings call with analysts, he said he was "doubling down" on the redesign, calling it the "foundation for the future of both our communication products and our media platform."
Snap shares were up less than 1% in afternoon trading Friday to $11.04. Shares were as high as $20.42 as recently as Feb. 16, two weeks before the company issued its disappointing first quarter results.
Follow me @dhpierson on Twitter
---