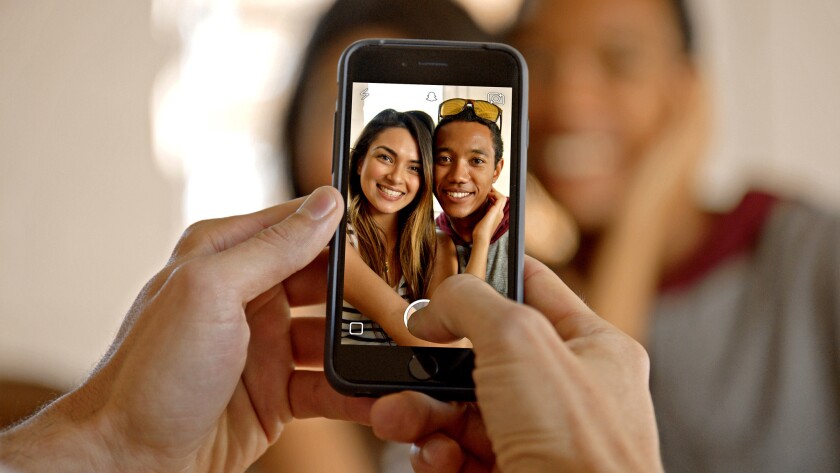 Teen favorite Snapchat Inc. is turning its app into a bigger hub for advertising, announcing Monday plans to place commercials in a new spot and simplify the process of buying an ad.
The moves, in effect, turn on the jets on Snapchat's ad business.
Investors have valued the Venice start-up at $16 billion and showered it with $2 billion in cash. But Snapchat only expects to generate a few hundred million dollars in revenue this year and isn't near profitability.
Though the 5-year-old company has built up its advertising business over the last year, its policies required a good deal of hand-holding with clients. Part of it has had to with unique ad formats, including vertically oriented videos and branded animation tools for selfies. But the company also has sought to keep tight control over the frequency and presentation of ads.
See more of our top stories on Facebook »
From the start, Snapchat hasn't offered much data on who had viewed an ad or flexibility on the demographics of users who would see campaigns.
It began addressing many of the issues in recent months, adding 10 firms as business partners to measure the effectiveness of ads on Snapchat and offering six subsets of users -- based on factors such as gender and age -- so advertisers can target particular markets.
On top of that, Snapchat said Monday eight companies can now connect to its ad system. It's a bit of automation that reduces the need for Snapchat to be heavily involved in the video-ad creation and buying process, though the company will still evaluate all video ads before they go live.
What users will likely notice is that commercials lasting about 10 seconds will now appear between Stories, which are compilations showing photos and videos that a user shared to followers over the last 24 hours.
In March, Snapchat began automatically playing Stories back-to-back. As users jump from one friend's story to the next, they'll now encounter ads from companies such as Hollister, Verizon and Warner Bros.
SIGN UP for the free California Inc. business newsletter »
Snapchat says more than 100 million people, including about 41% of adults under age 35 in the U.S., use its app each day for staying on top of their friends' lives and international news and gossip. They spend sometimes half an hour on Snapchat every day, giving the company plenty of untapped room to show ads.
Commercials on Snapchat can be skipped. But they do take up the whole screen when shown and that's helped them stand out more and generate a greater effect on consumers compared to ads on rival services including Facebook, according to studies.
ALSO
Facebook a bigger player at this year's VidCon
Electronic Arts gets into e-sports, with $1-million 'Madden' championship
Apple expected to let appmakers use Siri, though it may prove more frustrating than helpful
Twitter: @peard33
---