Snapchat reportedly declined $3 billion offer from Facebook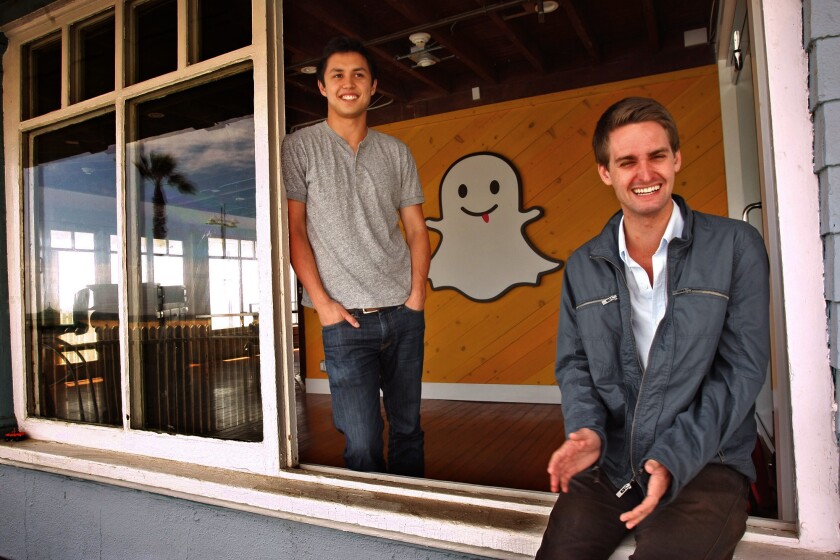 Snapchat has spurned a $3-billion cash offer from Facebook, holding out for a larger bid or an investment in the company, according to a report that cited unnamed sources.
The Wall Street Journal says the messaging service is currently entertaining a $200-million investment led by Tencent Holdings, a Chinese e-commerce company. The investment would value Snapchat at $4 billion.
This is the second time Snapchat has spurned Facebook, according to the report. The social network offered to acquire Snapchat for more than $1 billion late last year. After it was turned down, Facebook released an app to rival Snapchat but the app has not caught on and trails far behind Snapchat in users.
PHOTOS: Google barge to be 'unprecedented artistic structure'
Facebook's interest in Snapchat stems from its struggles to keep young users interested in its own social network. Those users have been flocking to other, newer social networks, including Snapchat.
The Snapchat app lets users send each other picture and video messages that disappear within seconds after they have been read or viewed by the recipient. Users can also share with their friends short picture and video collages that are visible for one day.
Snapchat has seen massive growth over the last year, and the company is not expected to accept an acquisition offer or investment until early next year. The startup is hoping that its growth will yield a better deal.
That's not a bad strategy with the upcoming holiday when millions of new smartphones are purchased and many more are handed down to younger users, which typically results in higher usage for apps like Snapchat.
Snapchat declined to comment, and Facebook couldn't be reached.
ALSO:
Fresh off IPO, Twitter announces custom timelines for tweets
Following disappointing Moto X sales, Motorola unveils $179 Moto G
IPhone, iPad beat game consoles as teens' preferred gift, survey says
---