SoftBank is poised to buy a chunk of Uber. Here's what that means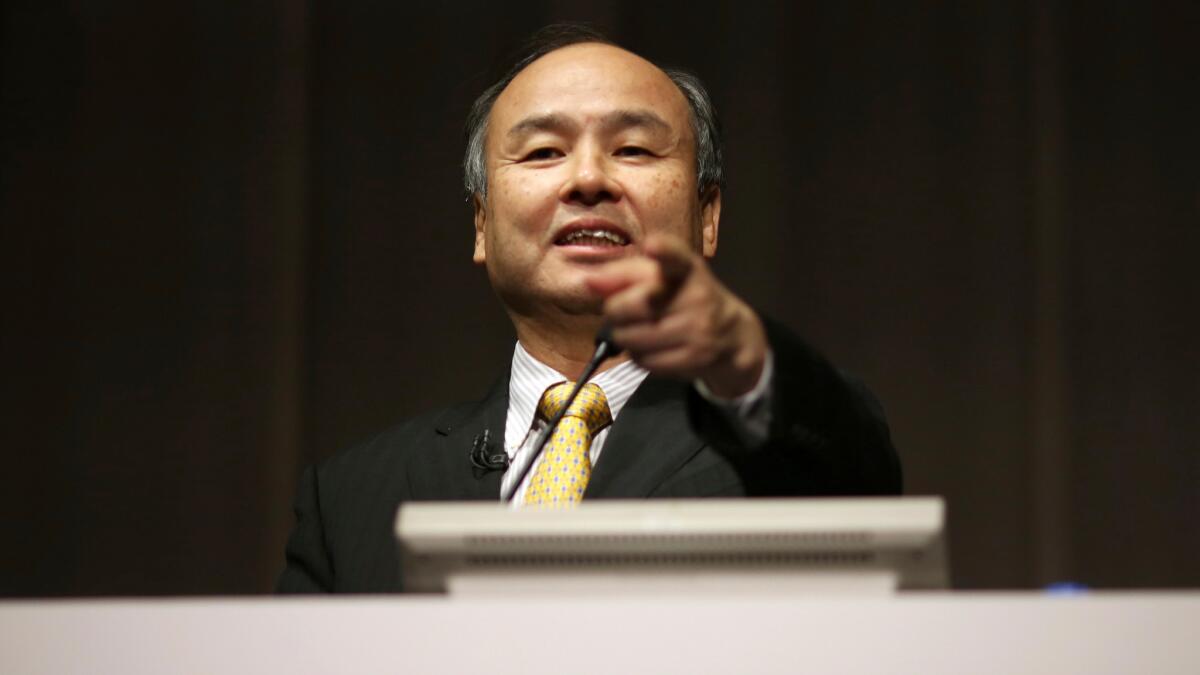 Uber said Sunday that it has struck a deal clearing the path for an investor group led in part by Japanese conglomerate SoftBank to buy a stake in the ride-hailing giant.
The deal could be worth as much as $10 billion and would include changes to Uber's board operations, according to a person with knowledge of the deal who was not authorized to discuss it publicly.
"We believe this agreement is a strong vote of confidence in Uber's long-term potential," an Uber spokesman said in a statement. "Upon closing, it will help fuel our investments in technology and our continued expansion at home and abroad, while strengthening our corporate governance."
Rajeev Misra, chief executive of SoftBank Investment Advisors and a board director of SoftBank Group Corp., said in a statement that the deal was months in the making, and it is still "by no means" done.
"We are interested in Uber but the final deal will depend on the tender price and a minimum percentage shareholding for SoftBank," Misra said.
The investor group — which along with SoftBank is led by San Francisco investment firm Dragoneer — plans to buy about $1 billion worth of newly issued shares and make a tender offer for about 14% of Uber's existing shares, the source familiar with the deal said. That tender offer could total about $9 billion, based on the company's current valuation of $69 billion.
If the deal closes, San Francisco-based Uber will in turn enact corporate governance changes that hew closely to an overhaul its board approved last month. A source with knowledge of the matter said the deal comes with a resolution to have an initial public offering of stock by 2019.
What's in it for Uber?
First off, the deal would bring in money, which Uber could use to help fund expansion and operations amid growing competition from U.S. rival Lyft.
Running a ride-hailing company isn't cheap. Low fares attract more passengers, but they force ride-hailing firms to dip into their fundraising hauls to subsidize drivers.
A hefty new investment could help persuade Lyft to stop challenging Uber on price, said Evan Rawley, an associate professor at the University of Minnesota who has followed the trajectory of both companies since their beginnings.
"They need the money in the sense that they need to be strong enough so Lyft isn't tempted to continue the price war," Rawley said.
"If they didn't have enough cash in the bank, Lyft might be tempted to continue fighting them tooth and nail."
But perhaps more important, the deal could help bring peace to a company defined in 2017 by scandal and infighting.
The long-anticipated SoftBank investment could soon be finalized because of an accord between former CEO Travis Kalanick and early Uber investor Benchmark.
Kalanick resigned as CEO in June after a string of controversies, including a lawsuit by Google self-driving-car spinoff Waymo alleging theft of trade secrets, a lawsuit by a woman in India who alleged Uber obtained her medical records after she was raped by one of the company's drivers and widespread allegations of sexual harassment at the firm.
Benchmark filed a suit against Kalanick in August, alleging that the Uber co-founder committed an act of fraud when he persuaded the board in 2016 to give him appointment power over three new board seats without first informing board members of scandals that would soon consume the company and lead to his forced resignation.
Benchmark has agreed to suspend a lawsuit it filed against Kalanick while the SoftBank investment is being hashed out, according to a person with knowledge of the matter who was not authorized to speak about it. In the event that the deal closes, Benchmark would drop its lawsuit entirely, the person said.
A spokeswoman for Benchmark did not immediately respond to a request for comment.
Putting to rest the spat between Kalanick and Benchmark could help Uber's new CEO, Dara Khosrowshahi, lead the company away from a period of tumult.
The deal could also give board members who are dissatisfied with the company's direction a way to cash out before an IPO. A sell-off could further ease tensions, which could allow Khosrowshahi to lead the company with less boardroom infighting.
A third benefit is that Uber would get connected with SoftBank — a hugely influential Japanese corporation that has a lot of money it wants to put into tech firms.
So what is SoftBank?
SoftBank is a Japanese multinational corporation best known as a domestic telecommunications company and internet service provider. But its founder and chief executive, Masayoshi Son, has also pushed it to aggressively invest in overseas companies across different categories. It bought Sprint in 2013 for $20 billion. It was an early investor in Yahoo and Alibaba. It put $4.4 billion into New York commercial real estate start-up WeWork in August. And it has invested in ride-hailing companies across Asia such as Didi Chuxing, Grab and Ola.
It's also in the process of distributing a $100-billion "Vision Fund" (with money from Apple, Foxconn and the investment funds of Saudi Arabia and the United Arab Emirates) and claims it will put together an even larger follow-up fund for global investments.
That seems … all over the place?
SoftBank isn't interested in being just a telecommunications company, according to analysts and business experts who have followed its evolution. Even though it got its start in 1981 as the mobile phone division of Japan Telecom and later bought Vodafone Japan, its chief executive has always had an eye on the rest of the world.
"SoftBank is an incredibly unique company in Japan in the sense that it is very aggressive, both domestically and internationally," said Jesper Koll, chief executive of WisdomTree Investments' Japan unit. "It's very much driven by Masayoshi Son."
Unlike Japan's conservative business leaders, the 60-year-old Son, who was born in Japan but is of Korean descent, is described by analysts as an outsider given to bucking trends. A UC Berkeley alumnus with an engineering background, Son was quick to embrace the "American venture capital and networking style."
"He's an upstart and he's completely not Japanese establishment," Koll said.
What's Softbank's goal?
"SoftBank wants to be a global leader in tech," said Kirk Boodry, an analyst with New Street Research who has covered the telecommunications industry in Asia. "And I don't mean just in internet. They look all the way up and down the value chain."
The company's investments span industries such as telecommunications, finance, media, e-commerce and transportation, with bets on companies that Son believes could be major players in the coming years, decades or even centuries.
"He's laid out a 300-year plan for SoftBank," James Moore, director of Georgetown's Business, Society and Public Policy Initiative, said of SoftBank's CEO. "That's one of the things that's been unnerving for some of the outfits that have put up money for him — he's not getting a return on investment in the next 24 hours. He takes the long view. Like with his investment in Alibaba, he's looking for opportunities he can invest in today, recognizing that their returns can be massive down the road."
Analysts see the acquisition of Sprint as one such investment. The U.S. telecom might be ranked fourth in the country, but with the right merger or acquisition, it could potentially give AT&T and Verizon a run for their money.
SoftBank's investments across multiple on-demand transportation companies — many of which are rivals — are also seen as part of a long play. In the event that ride-hailing turns out to be a winner-takes-all industry, SoftBank will at least have backed the winning horse. And if there's room for two, SoftBank wins, too.
Isn't it weird to invest in competitors?
"It's extremely unique," Moore said. "For American entrepreneurs, there's a certain competitiveness. Steve Jobs would not have invested in Bill Gates. We pit companies against one another and see who comes out."
That has been the case with the U.S. on-demand transportation industry, too. Venture capital firms that invest in Uber generally do not also invest in its rival Lyft.
For Son, though, investing is less about pride and more about getting the most value out of something, analysts said.
In Japan, the company has facilitated numerous mergers, and it's "always trying to figure out how to win through consolidation," said Hans Tung, managing partner at GGV Capital, an Alibaba investor that saw firsthand how SoftBank helped the Chinese e-commerce company grow.
Overseas, SoftBank secured itself a stake in China's largest taxi app by investing in Kuaidi Dache, which in 2015 merged with rival Didi Dache. The combined entity later acquired Uber's China business and renamed itself Didi Chuxing.
By investing in Uber, SoftBank would have a stake in the biggest ride-hailing players across Asia and the West.
Is SoftBank about to become a household name in the United States?
It's easy to forget that SoftBank owns Sprint. But the company was harder to ignore last December when Son was seen shaking hands with then-President-elect Trump in Trump Tower, promising to bring some 50,000 jobs to the United States and invest $50 billion from SoftBank's $100-billion Vision Fund in American businesses.
"When you're walking in the door with $100 billion, you're the 800-pound gorilla in the room," said Moore.
And though it's an impressive sum of money, analysts don't believe SoftBank will pose a threat to other major players in the United States anytime soon.
"When you look at SoftBank in terms of the global internet universe, it's not that big," said Boodry. "Amazon, Google, Facebook, Alibaba and Tencent all have market caps of more than $450 billion, whereas SoftBank's is around $100 billion."
What Son does have going for him is a strong investment track record, said analysts, many of whom are confident that the Vision Fund will at the very least make back its money.
Another thing he has going for him: Nobody else is bringing close to $100 billion to the private equity and start-up table, and few firms are investing as ambitiously around the world. It might not pay off right away, analysts said, but SoftBank is playing the long game — 300 years long, in fact.
What's are the details of the deal?
The group led by SoftBank and Dragoneer would buy $1 billion to $1.25 billion worth of new shares issued by Uber. The group also would issue a tender offer — expected in about two weeks — to buy about 14% of existing shares from current investors at a price that is not yet determined.
If that happens, the person said, the following corporate governance changes would kick in:
Uber would adopt a "one share, one vote" model to ensure parity in decision-making. The change would revoke "super-voting" rights, under which some shareholders have outsized power.
Uber's board would grow to 17 seats from 11. SoftBank would hold two of those six new seats. There would be three new independent seats and one independent chairperson.
Uber could not appoint a new CEO without approval from two-thirds of the board. This requirement would be lifted after the company's IPO.
Nobody could be appointed to any of the three board seats controlled by former CEO Kalanick without approval from a majority of the board. Under the deal, Kalanick "would not have a lot of power," Rawley said.
Uber would resolve to go public by 2019.
Twitter: @traceylien
Times staff writer Lauren Raab contributed to this report.
---
UPDATES:
Nov. 13, 4:50 p.m.: This article was updated to include comment from Rajeev Misra, CEO of SoftBank Investment Advisors.
Nov. 13, 12:25 p.m.: This article was updated to include a statement from an Uber spokesman.
Nov. 12, 6:05 p.m.: This article was updated with terms of the deal.
Nov. 12, 4 p.m.: This article was updated with Uber's confirmation of the deal.
This article was originally published on Nov. 12 at 2:15 p.m.