Our tech team put together a list of gadget gift ideas, and our resident grinch Tracey Lien told them why they're all terrible.
iRobot Roomba 980 (pictured above)
RRP: $899.99, Available: iRobot
David Pierson: I have two young children who have never come across a plate of crumbs that wasn't worth tipping on the floor. Beneath our dining table are rich deposits of crushed Doritos, dried bits of mac 'n' cheese and invisible slivers of juice box straw wrappers. I want to vacuum. I don't have time to vacuum. What I need is someone to splurge $899 on my family for the iRobot Roomba 980. Now you can control the part-hubcap, part-horseshoe crab-looking gizmo with your smartphone. Just tell it when to start and stop and where to go. The new Roomba uses sensors to map out your home. It has spinning side brushes to get those hard to reach corners. And when it's low on power, it chugs back to its charging station like an obedient child that doesn't need reminding.
Tracey: David. David, David, David. This vacuum cleaner costs almost $900 and, if you look at its underside, the brush bar isn't even the full width of the machine. That spinning side brush looks as if it's made of toothpicks. For your crumb woes, I recommend one of these.
Samsung Gear VR
RRP: $99, Available: Amazon
Paresh Dave: Just about every first-time wearer of a virtual reality headset is amazed by the feeling of spinning around and seeing new perspectives. Is that single bright smile worth $99? No. But there's enough content coming to virtual reality headsets, including sports, movies and games, that $99 is a small price to gift a Samsung Galaxy smartphone owner at least a year of amazing experiences.
Tracey: $99 for an Oculus-powered virtual reality headset ain't bad, but don't forget, it's only compatible with certain Samsung smartphones. For iPhone, Windows Phone and Blackberry users, a Gear VR would make a really unwieldy paper weight.
BB8 by Sphero
RRP: $149.99, Available: Sphero
Russ Mitchell: Are you the parent of a "Star Wars" fanatic? Do you have 150 bucks to spare? If so, this little robot is sure to please. It lights up in different colors. It makes cute sounds as it moves around the room. A kid can order it around with voice commands. And the box says "Star Wars."
Tracey: I am not sure what anyone is meant to get out of a $150 robot that doesn't do anything. Sure, the BB8 can recognize and react to your voice and be guided with your smartphone, but really now, what does it actually do? At least the overpriced Roomba vacuums.
Russ: Good point, Tracey. I passed on the BB8 and got our child a similar product from the same company: the Sphero SPRK. It's not just an expensive toy. With the SPRK, a kid can actually learn to program computers. And it doesn't look like anything from Disney, so there's one less piece of movie-promotion stuff in the house.
Fitbit Charge HR
RRP: $149.95, Available: Fitbit
Andrea Chang: I admit it's not fashionable or discreet, but the Fitbit Charge HR is the one wearable fitness tracker that has motivated me to get off my butt. I like that the wristband tracks my steps, heart rate, stairs climbed and workouts, and the app allows me to compete with my friends. The most unexpected surprise: The device emits a buzz on your wrist when you're getting an incoming call and the display has caller ID. Plus you get a satisfying buzz when you reach the recommended 10,000 steps a day. Battery life is just OK — typically about three days — and some features, like sleep monitoring, are useless.
Tracey: The problem I have with fitness trackers is that most of their features, as you said, are useless. As for the useful features, like the pedometer, they give those away for free in cereal boxes.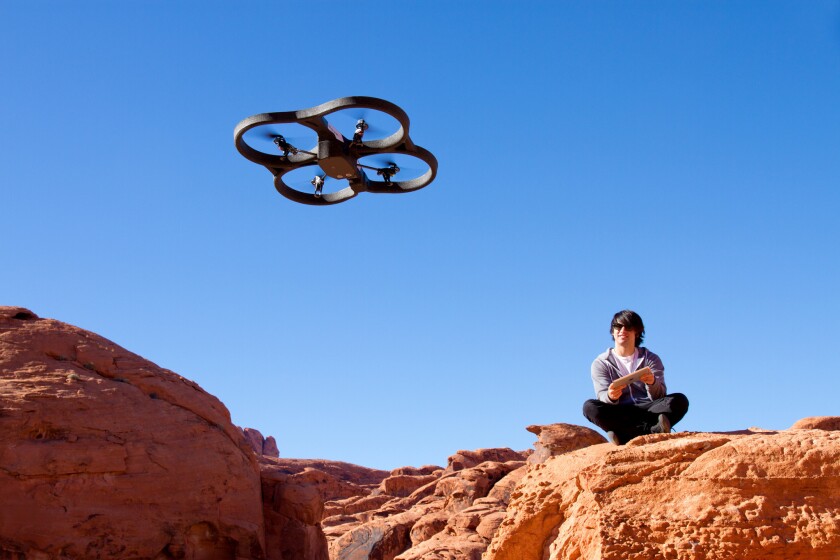 Drone (any kind)
RRP: $30-$1,175, Available: Amazon
Paresh Dave: Yes, the recipients will use it only a few times before they break it or get bored with it. But drones are today's remote-controlled car. You remember how fun those were? Even if it doesn't make sense now, there was something cool about plowing them into walls. Plus, would you rather your loved ones spend their time sitting with video games, or moving around chasing drones? Just don't buzz someone's hair off. (My roommates did that to me.)
Tracey: Paresh, thanks for making all my arguments for me.
---