Twitter stock jumps 12% after surprise sales growth and first real profit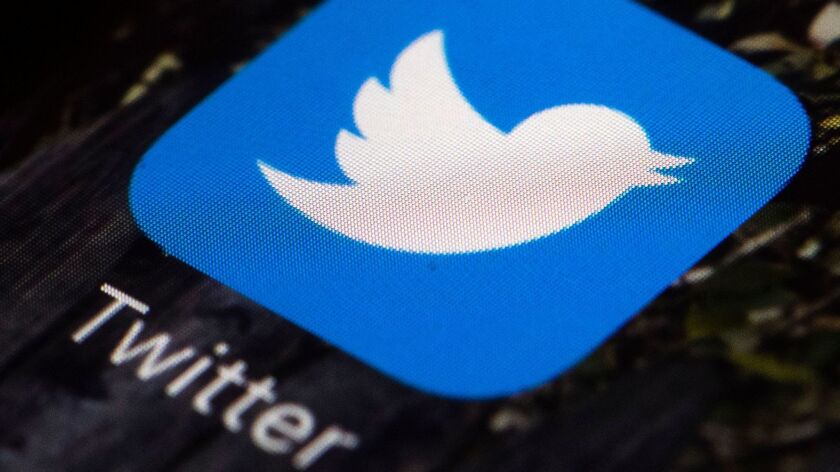 Bloomberg
Twitter Inc. stock soared the most since its market debut in 2013 after it posted the first growth in four quarters, driven by improvements to its app and added video content that are persuading advertisers to boost spending on the social network.
The San Francisco company topped analysts' average sales estimates in the fourth quarter and for the first time reported a real profit, a milestone in Chief Executive Jack Dorsey's turnaround effort. Monthly active users were little changed from the third quarter at 330 million, a lower-than-projected total that the company attributed in part to stepped-up efforts to reduce spam, malicious activity and fake accounts.
The report adds to positive momentum in recent months for Twitter, which spent the second half of 2017 explaining how Russian-linked accounts — including automated bots — influenced content on its platform around the 2016 U.S. presidential election. Dorsey, who also runs Square Inc., has been working to broaden Twitter from a microblogging site into a destination for users to see "what's happening now" by striking live-streaming partnerships with news outlets and sports leagues.
After aggressively slashing spending over the last few years, Twitter will invest in products this year that increase audience engagement, causing expenses to "more closely align with revenues," Chief Financial Officer Ned Segal said during a conference call.
Twitter shares soared as much as 30%, the most since Nov. 7, 2013, to $35 in morning trading. That brought gains over the last 12 months to 77%.
By day's end, the shares had pared some of those gains but were still up $3.27, or 12.2%, to $30.18 — an increase of 61% over the last 12 months.
Twitter's focus on video, as well as a new software algorithm that shows users what it determines to be the most relevant postings first, have led people to spend more time on the platform, said Richard Greenfield, an analyst at BTIG Research.
"I think they've come a long way," Greenfield said. "The product has dramatically improved. They're doing a better job of showing the right tweets to the right people at the right time."
Greenfield added that "consumer or user happiness is making advertisers want to be there."
Twitter will be doing more experimentation to make its timeline more "personalized and relevant" to people, Dorsey said. He also emphasized a focus on matching people with their interests as fast as possible. There will be "a much more cohesive strategy" around events, like seeing sports scores during live games, Dorsey said. New product tweaks, such as Twitter's decision to increase the character limit to 280 from 140, have increased engagement and minimized confusion, he said.
"The monetization and ad growth machine at Twitter is finally heading in the right direction after years of a 'one step forward two steps back' strategy," Daniel Ives, head of technology research at GBH Insights, said in a note to clients.
Still, Twitter isn't all the way out of the woods yet. Twitter's monthly active users in the U.S. — a key advertising market — declined by about 1 million in the fourth quarter compared with the third.
"Their user base has arguably been saturated," said James Cakmak, an analyst at Monness Crespi Hardt & Co. "I'm not sure how much more value Twitter can extract from existing users."
Twitter also hasn't fully addressed its problem of automated bots and harassment on the site, and the departure of Chief Operating Officer Anthony Noto could mean Dorsey's attention is divided as he also juggles leadership of Square.
Twitter's revenue last quarter rose 2% from a year earlier to $731.6 million, buoyed by data-licensing sales and video advertising. Analysts on average had predicted $686.4 million, according to data compiled by Bloomberg.
Net income was $91.1 million, or 12 cents a share, marking the first time the company reached profitability under generally accepted accounting principles. That compared with a loss of $167.1 million, or 23 cents a share, a year earlier. Profit excluding some costs was 19 cents a share, exceeding projections of 14 cents.
Analysts on average had estimated monthly users would rise to 333 million. Twitter said daily active users increased 12% from a year earlier, marking its fifth consecutive quarter of double-digit increases. The company doesn't disclose the specific number of daily active users, arguing that showing growth is more important.
The company gave a first-quarter outlook for adjusted earnings before interest, taxes, depreciation and amortization of $185 million to $205 million. Analysts estimated $188.3 million.
Twitter may stand to benefit from Facebook Inc.'s recent decision to shift its news feed toward content from family and friends and to focus less on posts from media outlets and businesses. The change is encouraging publishers and online advertisers to increase investment in Twitter, according to some analysts. Still, that may not be enough to move the needle for Twitter's overall share of worldwide digital ad spending, which is expected to shrink slightly to 0.8% this year, according to researcher EMarketer. That compares with Facebook's 18.4% and Google's 31.3%.
Bloomberg produces TicToc, a global breaking news service for Twitter's site.
Wang writes for Bloomberg.
---
UPDATES:
2:45 p.m.: This article was updated with Twitter shares' closing price and with comment from analyst James Cakmak.
9:50 a.m.: This article was updated throughout with additional details.
This article was originally published at 5:40 a.m.
---