Kalamazoo shooting: Here's how Uber does its background checks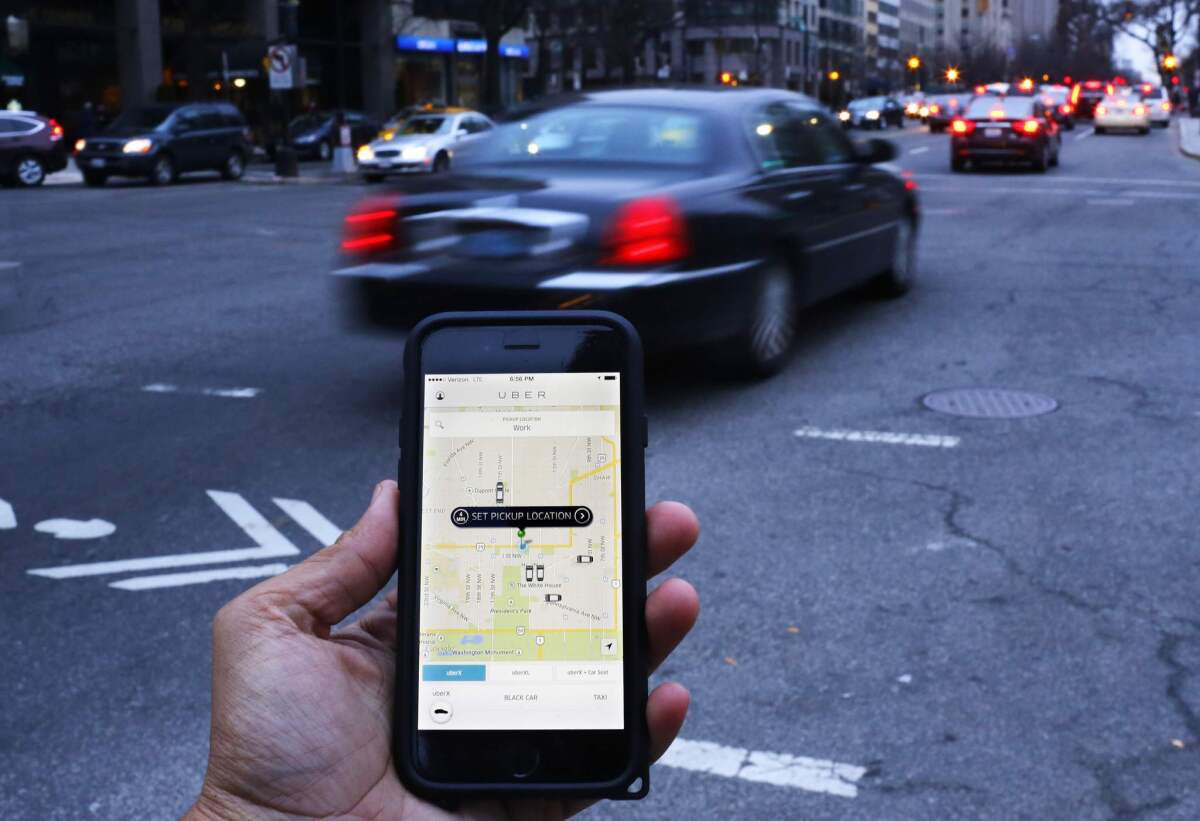 Reporting from SAN FRANCISCO —
After the revelation that an Uber driver is the suspect in this weekend's Kalamazoo, Mich., shooting rampage that left six people dead, attention has once again turned to how the ride-hailing service vets its drivers.
Jason Dalton, 45, was arrested Sunday. Kalamazoo County Prosecutor Jeffrey Getting said Dalton had no prior criminal record and had passed Uber's background check.
In a July post on Uber's website, the company's chief security officer, Joe Sullivan, detailed the screening process for potential drivers.
Collecting driver information: Before people can drive for Uber, they must provide information including their full name, date of birth, Social Security number, driver's license number, a copy of their driver's license, vehicle registration, insurance and proof of a completed vehicle inspection.
Third-party screening: Uber uses a third party called Checkr, which is nationally accredited by the National Assn. of Professional Background Screeners, to perform background checks on its prospective drivers.
Checkr runs the applicant's name, address and Social Security number against the Dru Sjodin National Sex Offender Public Website and other databases.
If a criminal record is identified, Checkr sends someone to review it in person at the relevant courthouse or pulls the record digitally.
"Verifying potential criminal records at the source … helps ensure the records match the identity of the potential driver, and that any arrest resulted in a conviction," the company said on its website.
The screening also includes pulling the motor vehicle registration file associated with the driver's license number.
What disqualifies a driver? A potential driver is automatically disqualified if he or she appears on the Department of Justice's State Sex Offender Registry or the National Sex Offender Registry or on any database that flags terrorism suspects.
Potential drivers also face disqualification if they have been convicted in the last seven years of DUI, fraud, reckless driving, hit and run, violent crimes, acts of terror, sexual offenses, felony, misdemeanor for theft, fatal accidents or resisting or evading arrest.
The look-back limit: In California, background check companies such as Checkr have a seven-year look-back limit on certain records, meaning they can't include any criminal records from more than seven years ago.
"These laws are designed to give people the chance to rehabilitate themselves," Uber said.
The fingerprint issue: Uber does not use Live Scan, a company that takes a person's fingerprints and runs them through FBI and state databases looking for a match. Unlike Checkr, it does not have a look-back limit.
Taxi companies in most California cities use Live Scan to screen drivers.
Uber has come under fire for this, with critics — including district attorneys in Los Angeles and San Francisco — calling its driver-screening process "completely worthless" because it lacks fingerprinting.
Uber has pushed back, arguing that Live Scan is not 100% accurate because if a person's prints are smudged (the original prints weren't properly taken) or smoothed (fingertips can become less defined with age and use), the person may pass a Live Scan background check even if he or she had been arrested and fingerprinted in the past.
Uber has also argued that Live Scan is flawed because FBI and state databases contain fingerprints of people who were never charged or convicted of crimes, which means innocent people may be flagged.
"Ultimately, when it comes to understanding what criminal record someone had, I think we do a good job," Joe Sullivan, Uber's chief security officer, said in a call with reporters on Monday.
Uber's main competitor in the U.S., Lyft, also does not use Live Scan.
Nothing is 100% accurate: Uber has admitted that even its own background check system is not 100% accurate, saying "a potential driver may have a stolen or fraudulent identity [or] an illegally obtained but valid Social Security number that cancels his or her true identity."
Twitter: @traceylien
ALSO
Apple doubles down on idea that helping unlock iPhone would be dangerous
Snapchat allowing geofilters for any party, event or company for as little as $5
Are tech stocks a bubble about to pop? So far, they're defying predictions
---