Uber's board meets to discuss CEO Travis Kalanick's future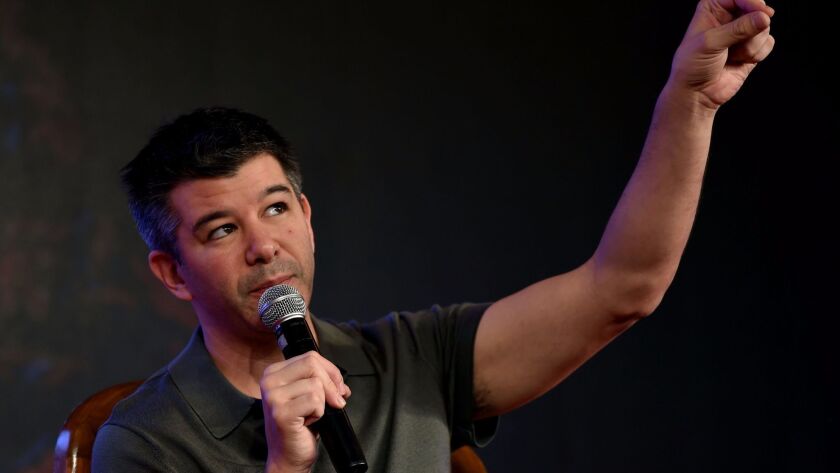 Reporting from San Francisco —
Uber's board of directors met in Los Angeles on Sunday to discuss potentially far-reaching changes to the ride-sharing company and the future of embattled Chief Executive Travis Kalanick.
The company's seven-person board was expected to vote Sunday on a series of recommendations from a report prepared by former U.S. Atty. Gen. Eric Holder, said a person familiar with the matter who was not authorized to comment.
The recommendations could include the firing of top managers at the San Francisco-based company, and the board was expected to discuss whether Kalanick should take a leave of absence.
The Wall Street Journal and technology news site Recode first reported on the meeting, which was held in the L.A. offices of Holder's law firm, Covington & Burling.
The Journal reported that Uber's chief business officer, Emil Michael, is expected to resign Monday.
Uber did not immediately respond to a request for comment.
The developments would represent a startling turn for a company that has long stood by its CEO and his right-hand man in spite of behavior that has repeatedly landed Uber in hot water.
Kalanick has been at the center of many of Uber's crises, including accepting (and later relinquishing) a role on President Trump's business advisory panel, being caught on video arguing with an Uber driver, and sending a recently surfaced company-wide email that advised employees to not have non-consensual sex with each other.
Michael, widely seen as Kalanick's closest confidant, was also at the center of an Uber scandal in 2014 when he told a BuzzFeed editor at a party that the company should spend millions of dollars to investigate journalists who were critical of the company.
Both executives, once seen as untouchable, are now more vulnerable because of a barrage of scandals. Their future could be determined by Holder's recommendations.
Uber hired Holder and his law firm in February after former employee Susan Fowler published a blog post alleging she had experienced sexual harassment at the company that was covered up by the human resources department.
A separate investigation conducted by the law firm Perkins Coie examined 215 employee complaints, including allegations of sexual harassment, discrimination, bullying and retaliation. Of those, 20 resulted in terminations announced last week, 31 resulted in employees being ordered to undergo training, seven received final warnings, and 57 are still under review.
Holder's investigation looks more broadly at Uber's culture. The Journal reported that its findings could include evidence of harassment and bullying, and its recommendations could address new human resources processes and training.
Though recommendations are just that, one employment attorney said Uber's board should take them seriously.
"It's clear that they have a significant employee relations and morale problem," said Stephen Hirschfeld, a partner at Hirschfeld Kraemer LLP who has not viewed the findings of Holder's report. "They need to send the message that this is not going to be business as usual."
Parts of the report are expected to be published Tuesday. People with knowledge of the matter told The Times that the report was delayed because Kalanick had to attend the funeral of his mother last week. She died in a boating accident in Fresno in late May.
Uber has spent the first half of the year dealing with a string of scandals. Those include a recent customer backlash over Kalanick's involvement with Trump's business advisory panel (he has since left the panel); a poorly timed tweet just after the president's first ban on travel from a number of majority-Muslim countries that spurred the #DeleteUber movement, which resulted in some 200,000 customers deleting the Uber app from their phones; video footage of Kalanick berating an Uber driver; a lawsuit from a Google-owned self-driving car start-up alleging that Uber stole the company's trade secrets; and a string of high-profile executive departures.
After months of turbulence, Kalanick pledged to get "leadership help" by hiring a chief operating officer. Uber has not yet said whether it has filled the role, but the company announced two separate high-profile hires this week, including former Apple executive Bozoma Saint John, who will work on branding; and Harvard Business School professor Frances Frei, who will serve as Uber's senior vice president for leadership and strategy.
Twitter: @traceylien
---
UPDATES:
12:15 p.m.: This post has been updated with comments from an employment attorney and additional details.
This article was originally published at 11:35 a.m.
---
Your guide to our new economic reality.
Get our free business newsletter for insights and tips for getting by.
You may occasionally receive promotional content from the Los Angeles Times.