Judge rejects Uber's $100-million class-action settlement, calling it unfair to drivers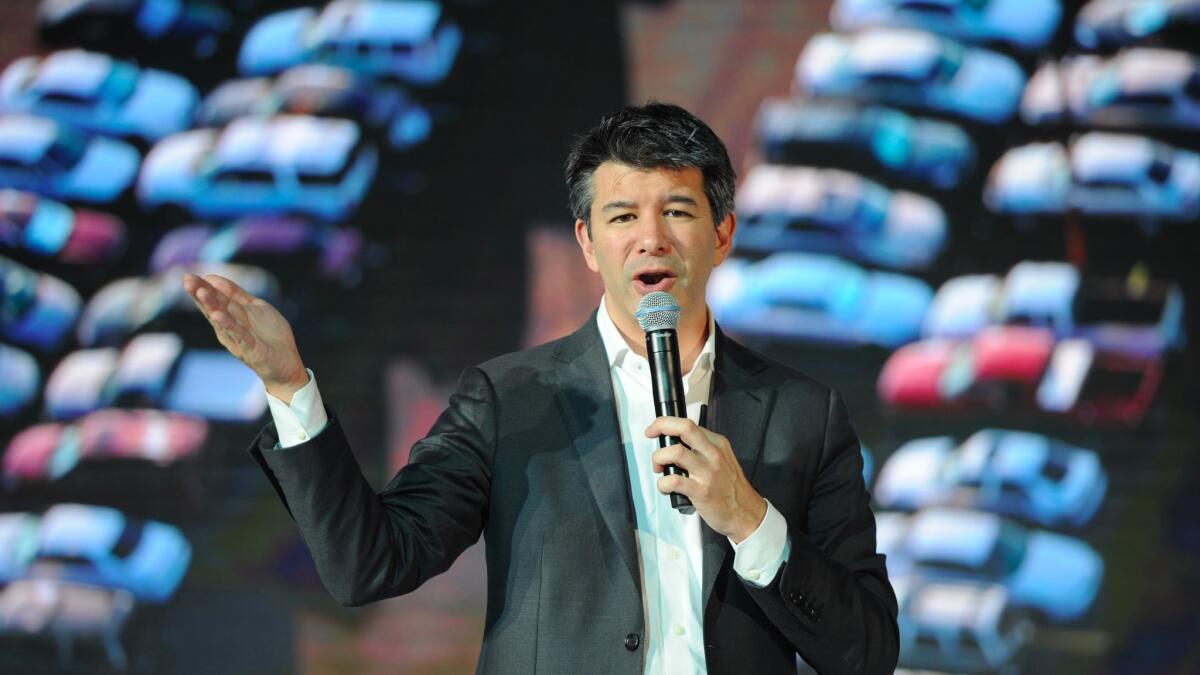 Reporting from San Francisco —
A federal judge rejected Uber's proposed $100-million bid to settle a class-action lawsuit involving the employment status of drivers, describing the sum as "not fair, adequate, and reasonable."
The San Francisco ride-hailing company had offered to pay drivers $84 million and an additional $16 million if the firm goes public rather than classify them as employees — a shift that would make them eligible for benefits such as expense reimbursement and overtime.
In a court order issued Thursday, U.S. District Judge Edward Chen of the Northern District of California said this would amount to only 10% of what the plaintiffs' attorneys estimated to be the full value of drivers' claims.
A chart included in the order showed that drivers can potentially lay claim to $700 million in mileage reimbursement, $122 million in tips, $2.4 million in overtime and $30 million in phone reimbursements.
"The settlement, mutually agreed by both sides, was fair and reasonable," Uber spokesman Matt Kallman said in a prepared statement. "We're disappointed in this decision and are taking a look at our options."
Plaintiffs' attorney Shannon Liss-Riordan also expressed disappointment at the judge's order, but said it was possible that both sides could return to the drawing board and arrive at a new proposed settlement. That's what Uber rival Lyft did after a judge rejected its proposed $12.5-million settlement in a similar suit. Its proposed settlement of $27 million was approved in June.
But legal experts who are not involved in the case said the judge's order could make a settlement unlikely.
"I don't want to say the settlement is dead, but it's pretty darn close," said Todd Scherwin, an employment attorney at law firm Fisher Phillips. "I'm not sure what dollar amount the court would be satisfied with."
If Uber and the drivers cannot agree on a new sum, the case could proceed to trial. If plaintiffs win at trial, it could be a huge blow to the ride-hailing company, which may be forced to stop treating drivers as independent contractors and face a statutory penalty exceeding $1 billion. If Uber wins, the plaintiffs could get nothing.
Or, if the U.S. 9th Circuit Court of Appeals overturns Judge Chen's certification of the class — a decision expected soon — then the vast majority of the class would have to go to individual arbitration.
The class currently includes some 240,000 drivers from California and Massachusetts. If the arbitration agreements are enforced, the class could be reduced to 8,000 people.
Twitter: @traceylien
---
UPDATES:
6 p.m.: This article was updated to include reaction from plaintiffs' attorney Shannon Liss-Riordan.
This article was originally published at 4:40 p.m.