Britain's Daily Mail considers a bid for Yahoo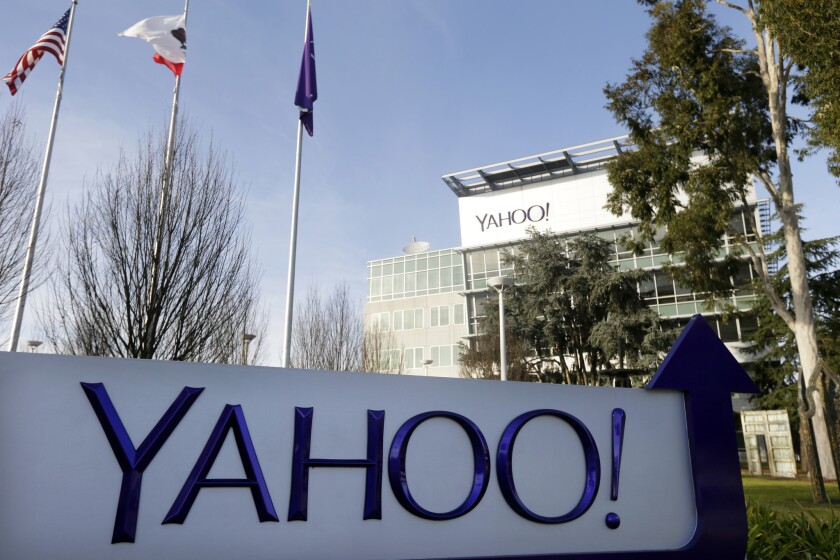 Tech firms and telecoms have shown interest in snatching up Yahoo. But with one week until bids are due, a new name has emerged that few were expecting: British newspaper and online tabloid the Daily Mail.
A spokesman for DailyMail.com confirmed that the company was "in discussions with a number of parties who are potential bidders" for Yahoo, but said it was still early and "there is no certainty that any transaction will take place."
The spokesman declined to comment further.
Yahoo, based in Sunnyvale, Calif., did not respond to a request for comment.
Interest from the British tabloid may seem an anomaly among those rumored to be bidding, namely broadband and mobile provider Verizon and technology companies such as Google and Microsoft. But media analysts say it could be an opportunistic move for the firm, which has shown promising growth in the U.S.
Last year, a quarter of the Daily Mail's revenue came from the U.S., and its annual earnings report showed 38% year over year growth in North America.
Despite those gains, only 47% of the Daily Mail's revenue comes from digital -- the remainder still comes from its declining print business. In an industry with slim profit margins, that puts the company in a precarious position.
"It needs to digitize more quickly as its print sales in the U.K. continue to fall," said Richard Broughton, research director of British data and consulting firm Ampere Analysis. "The U.S. is a market where the Daily Mail group has been doing well, and this could be a springboard for them."
By snagging Yahoo, analysts say the Daily Mail would buy itself a huge audience in North America (Yahoo attracts 1 billion users to its websites each month). It would also secure technology that could help bolster its digital and mobile presence, and a diverse content library to sell ads against.
Analysts have noted that despite Chief Executive Marissa Mayer's attempts to make Yahoo a hub for high-end, magazine-style content — it famously signed a $10-million contract with Katie Couric and hired David Pogue away from the New York Times — its offerings share many similarities with the Daily Mail's tabloid fodder.
Though its headlines are shorter and there's far less coverage of British royals, Yahoo's homepage is dotted with the same types of must-click crime stories, scintillating celebrity gossip and self-help items.
"They're targeting relatively similar audiences with this," Broughton said.
Any acquisition would be about a "digital transformation," said Peter Csathy, chief executive of business consulting and legal services firm Manatt Digital Media.
According to Csathy, Yahoo has the video, Web and mobile chops that the Daily Mail wants, so an acquisition could be a logical move for the media group.
"The Daily Mail is still primarily a print media company, so the private equity guys may see it as an undervalued asset with an increasing need to be in the digital world," Csathy said. "On the Yahoo side, it has a massive customer base and a powerful sales force, but it hasn't been put together well, so it's arguably an undervalued asset, too."
Together, the two could reach their full potential, Csathy said.
Yahoo is under intense pressure to revive its revenue growth, and activist investor Starboard Value, a big stakeholder, is pushing for a change in leadership.
Last month, Starboard announced its intent to overthrow Mayer and the company board, nominating nine alternative candidates ahead of the company's annual shareholder meeting in June.
Yahoo's business has declined under Mayer even as advertisers pour more money into digital marketing, with most of it flowing to rivals Google Inc. and Facebook Inc. This year, Yahoo cut 15% of its workforce -- 1,700 employees -- along with branches of the company Mayer deemed unworthy of continued support. It pulled the plug on an online video hub that once had been envisioned as Yahoo's answer to Netflix and YouTube.
Shares of Yahoo have fallen about 30% since the end of 2014, increasing pressure on Mayer to take more drastic measures.
Yahoo is believed to be accepting bids for its business until April 18. The company will hold a first-quarter earnings meeting April 19.
The Associated Press was used in compiling this report.
ALSO
Despite the hype for Tesla's Model 3, electric car sales are far from robust
Travel group, lawmaker call for investigation of airlines over new booking policy
Why one of the world's top flavor makers keeps visiting UC Riverside for inspiration
---