FTX founder Sam Bankman-Fried arrested in Bahamas after U.S. authorities file criminal charges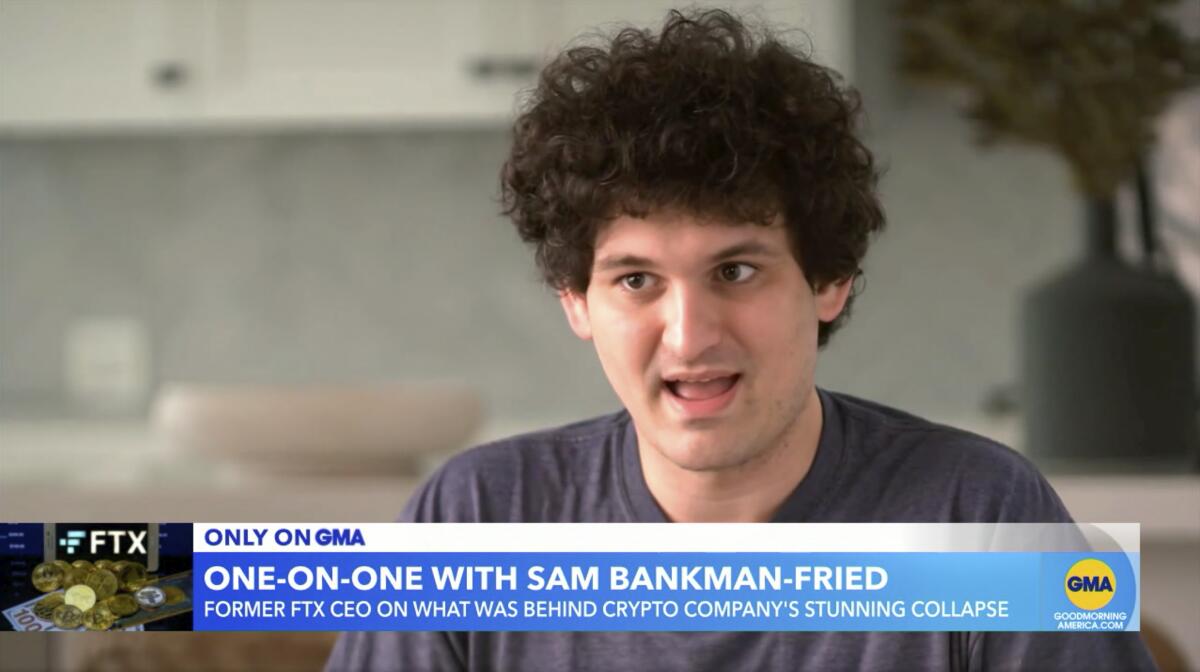 Disgraced FTX founder Sam Bankman-Fried has been arrested in the Bahamas and will be extradited to the U.S. to face criminal charges stemming from the sudden implosion of his cryptocurrency exchange last month.
Authorities in the Bahamas made the arrest after receiving notice from the U.S. that it had filed charges against the 30-year-old and probably would request his extradition, the nation's government said Monday afternoon.
"The Bahamas and the United States have a shared interest in holding accountable all individuals associated with FTX who may have betrayed the public trust and broken the law," Prime Minister Philip Davis said in a statement.
The arrest caps off a stunning fall from grace for Bankman-Fried, who was, until very recently, considered the golden boy and white knight of the crypto world. At one point, he was estimated to be worth $26 billion; now he claims to have just $100,000 left.
As chief executive of FTX, Bankman-Fried grew the cryptocurrency exchange he founded in 2019 into one of the largest in the world, with more than 1 million users at its peak last year. He was hailed as a positive force and trustworthy spokesperson for the emerging industry, especially as he rescued several failing crypto firms this year.
But FTX collapsed in spectacular fashion last month when users, worried about the exchange's solvency, began pulling out their money en masse. That led to a catastrophic fiasco for FTX, which filed for Chapter 11 bankruptcy protection on Nov. 11. At least $1 billion in customer funds has disappeared, according to estimates, and the collapse has triggered a surge in outflows across other global crypto exchanges.
In a court filing submitted a few days later, its newly installed chief executive, John J. Ray III, a longtime insolvency expert, detailed the disastrous state of financial affairs at the once-heralded company.
"I have been the Chief Restructuring Officer or Chief Executive Officer in several of the largest corporate failures in history," Ray wrote in his declaration. "Never in my career have I seen such a complete failure of corporate controls and such a complete absence of trustworthy financial information as occurred here."
Sam Bankman-Fried's $16-billion fortune was always a myth. The mystery is why venture firms and the financial press thought it existed.
FTX and Bankman-Fried are now facing investigations in the U.S. and the Bahamas, where the company is based, into a range of possible fraud.
One key inquiry concerns whether customer funds were lent to trading firm Alameda Research, which Bankman-Fried also founded. Prosecutors are also examining whether hundreds of millions of dollars were improperly transferred to the Bahamas around the time of FTX's bankruptcy filing.
The arrest was made based on a sealed indictment, said Damian Williams, the U.S. attorney for the Southern District of New York.
"We expect to move to unseal the indictment in the morning and will have more to say at that time," Williams said in a statement posted on Twitter.
Shortly afterward, the U.S. Securities and Exchange Commission said it had authorized separate charges against Bankman-Fried "relating to his violations of securities laws, to be filed publicly tomorrow."
Bankman-Fried was scheduled to testify before the House Financial Services Committee on Tuesday. But he declined to appear for a hearing with the Senate Banking Committee the day after, prompting lawmakers to condemn his "unprecedented abdication of accountability."
Congresswoman Maxine Waters (D-Los Angeles), chairwoman of the House Financial Services Committee, said she was "surprised" to hear of Bankman-Fried's arrest given his scheduled appearance the next day.
"Although Mr. Bankman-Fried must be held accountable, the American public deserves to hear directly from Mr. Bankman-Fried about the actions that've harmed over one million people, and wiped out the hard-earned life savings of so many," Waters said in a statement. "The timing of this arrest denies the public this opportunity."
Bankman-Fried had been on a media blitz in recent weeks, doling out numerous interviews in an effort to explain what happened at FTX.
Earlier on Monday, during an interview on Twitter Spaces, he said he was going to testify before the House remotely, instead of in person, on Tuesday because "the paparazzi effect is quite large."
"Are you worried you might be detained if you stepped foot into the U.S.?" one of the panelists responded.
"I don't believe I would be," Bankman-Fried said.
Bloomberg was used in compiling this report.