California's latest tobacco ban isn't just cutting sales. It's cutting funding for kids
Good morning. It's Wednesday, Sept. 20. Here's what you need to know to start your day.

Declining tobacco sales threaten First 5's child programs
Why are people so drawn to the happiest place on Earth?
And here's today's e-newspaper
Sign up for Essential California for news, features and recommendations from the L.A. Times and beyond in your inbox six days a week.
You may occasionally receive promotional content from the Los Angeles Times.
California is now home to fewer smokers. But there's a catch for children
Hi, I'm Jenny Gold, a reporter on The Times' early childhood education team. This year marks the 25th anniversary of Proposition 10, a hefty cigarette tax that has generated billions of dollars for early childhood programs in California.
Back in 1998, voters passed — by a slim margin — a great experiment promoted by actor-director Rob Reiner: Slap cigarettes with a "sin tax" to discourage smoking, and use the revenue to fund a network of agencies to help young families. The First 5 groups were named for the first five years of life.
Over the years, about $11 billion in tobacco tax money has funded preschools, pediatric healthcare, literacy projects — and among the most successful services, maternal home care visits.
But with tobacco revenues falling fast, the agencies are now facing an existential crisis, as I reported this week.
What's the issue?
Thanks in part to higher taxes, there are far fewer smokers in 2023 — a public health success story. But the downside is that there's less money to distribute to programs for kids.
Funding peaked in the first year of the First 5 program and has been declining steadily since then. Now that decline is accelerating under Proposition 31, the flavored tobacco ban passed by voters last year.
Over the next two years, First 5's revenue is expected to take a 20% nosedive and the agencies are already feeling the hit, especially those in smaller counties. Some, such as First 5 Butte County, have already started cutting services.
Bigger regions, such as First 5 LA in Los Angeles County, are slimming down their offerings, and hoping to shift some of the programs they once funded to county agencies. In the case of L.A.'s early preschool expansion, the work has largely been done. The state is in the process of creating a year of free public education for all 4-year-olds called transitional kindergarten.
But there's a disagreement within the network of First 5s, which includes a state agency that gets 20% of the tobacco funding, and 58 agencies serving each individual county: Should they scale back further, or should they ask the state for new sources of revenue?
What programs are at stake?
Home visits are one of First 5's most widespread and popular programs throughout the state.
First 5 LA spends $32 million on the Welcome Baby home visiting program, which served 15,000 families last year throughout the country.
A few weeks ago, I climbed into parent coach Alba Mariscal's car, and rode along with her to visit two new mothers. We started out at a single story apartment complex in Compton, where Ilse Ochoa lives with her family. Mariscal has been visiting Ochoa for more than a year, since she was pregnant with baby Brianna.
Every few months, Mariscal stops by with diapers, toys, nursing tops and occasionally a little donated makeup. She also conducts a developmental assessment, offers breastfeeding support and teaches parents about the importance of safe sleep.
"These moms are overwhelmed, tired, sleep deprived," Mariscal said. "Having someone come to them in the comfort of their own home is a game-changer."
What will become of First 5s?
Several county agencies I spoke with said their home visiting programs would be the last services to go.
Unless new revenue sources are found, some of the smaller First 5 agencies may close up shop. But First 5 is unlikely to disappear entirely. One possible direction is transitioning programs to a policy role, lobbying the state to invest more and scale up the most successful First 5 programs.
"What we know about tobacco is that it's addictive," said Jackie Thu-Huong Wong, executive director of First 5 California, the statewide agency. "I hate to sound so dark. But I don't foresee a future without First 5."
You can read more about the challenges facing First 5 here.
Today's top stories
Climate and environment

Political stories

More big stories

---
Get unlimited access to the Los Angeles Times. Subscribe here.
---
Commentary and opinions
Today's great reads
Column: Thanks to Drew Barrymore, striking writers are in their most powerful position yet. In just seven days, Barrymore highlighted the new rules and high stakes of this year's 4½-month-long writers' strike — and wound up handing the WGA a very powerful weapon just in time for what one hopes will be a near-final round of talks with the Alliance of Motion Picture and Television Producers, which represents the studios, this week.
"The guild should be sending her flowers and some very nice fruit baskets," The Times' Mary McNamara writes.
Other great reads

---
How can we make this newsletter more useful? Send comments to essentialcalifornia@latimes.com.
---
For your downtime
Going out

Staying in

And finally ... a great photo
Show us your favorite place in California! Send us photos you have taken of spots in California that are special — natural or human-made — and tell us why they're important to you.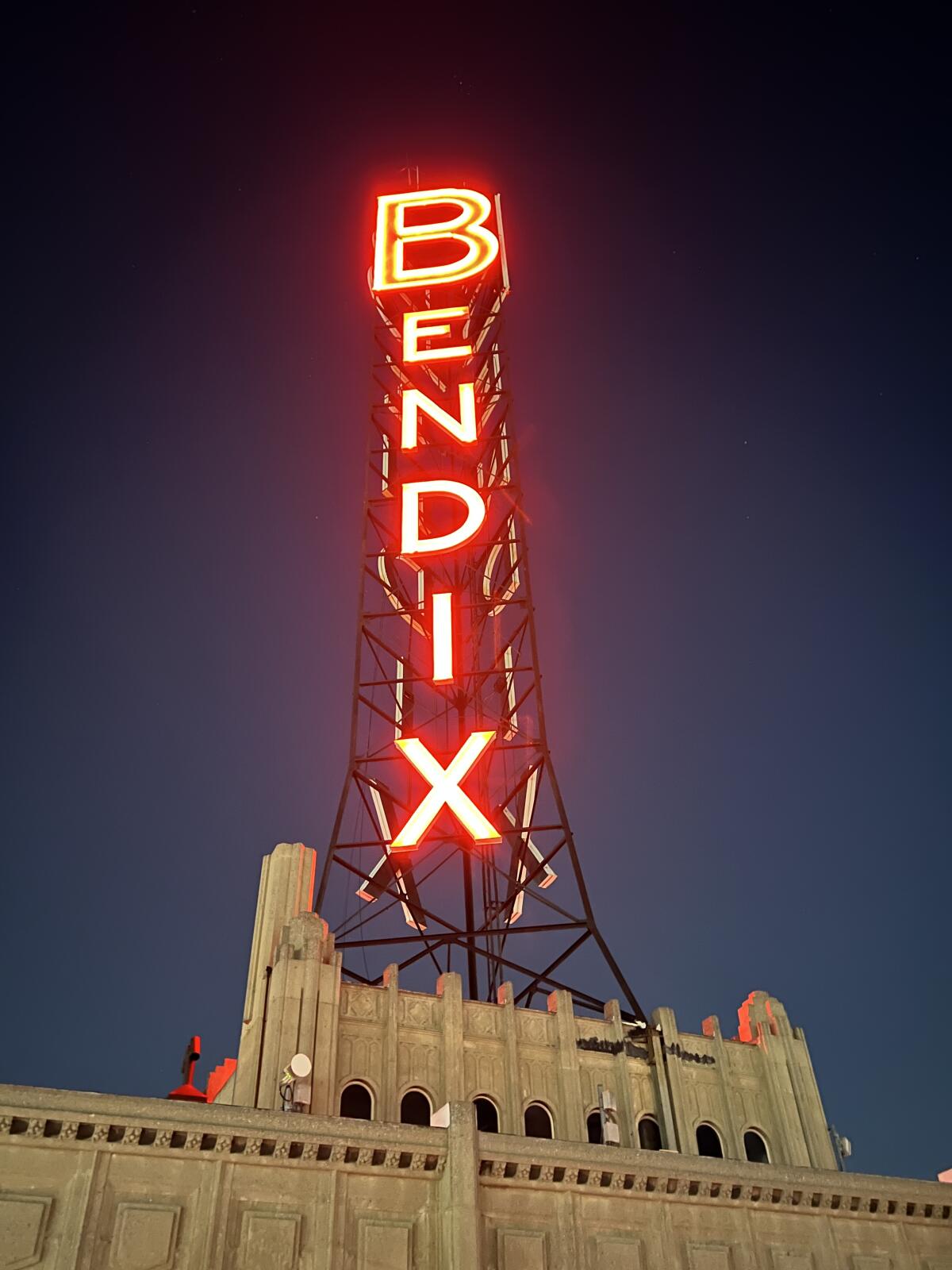 Today's great photo is from Genie Davis of Redondo Beach: The Bendix neon sign in Downtown L.A. Genie writes:
Built in 1929 for Bendix aerospace, the distinctive neon sign on the roof was originally designed to guide planes around it. Today the building holds art studios, small galleries, and designers. Rooftop views — when opened for events — show off all the jeweled city lights below and the still shining red Bendix sign towering above.
Have a great day, from the Essential California team
Elvia Limón, multiplatform editor
Kevinisha Walker, multiplatform editor
Laura Blasey, assistant editor
Check our top stories, topics and the latest articles on latimes.com.
Sign up for Essential California for news, features and recommendations from the L.A. Times and beyond in your inbox six days a week.
You may occasionally receive promotional content from the Los Angeles Times.