California vaccine bill exemption rules agreed to by Newsom and lawmakers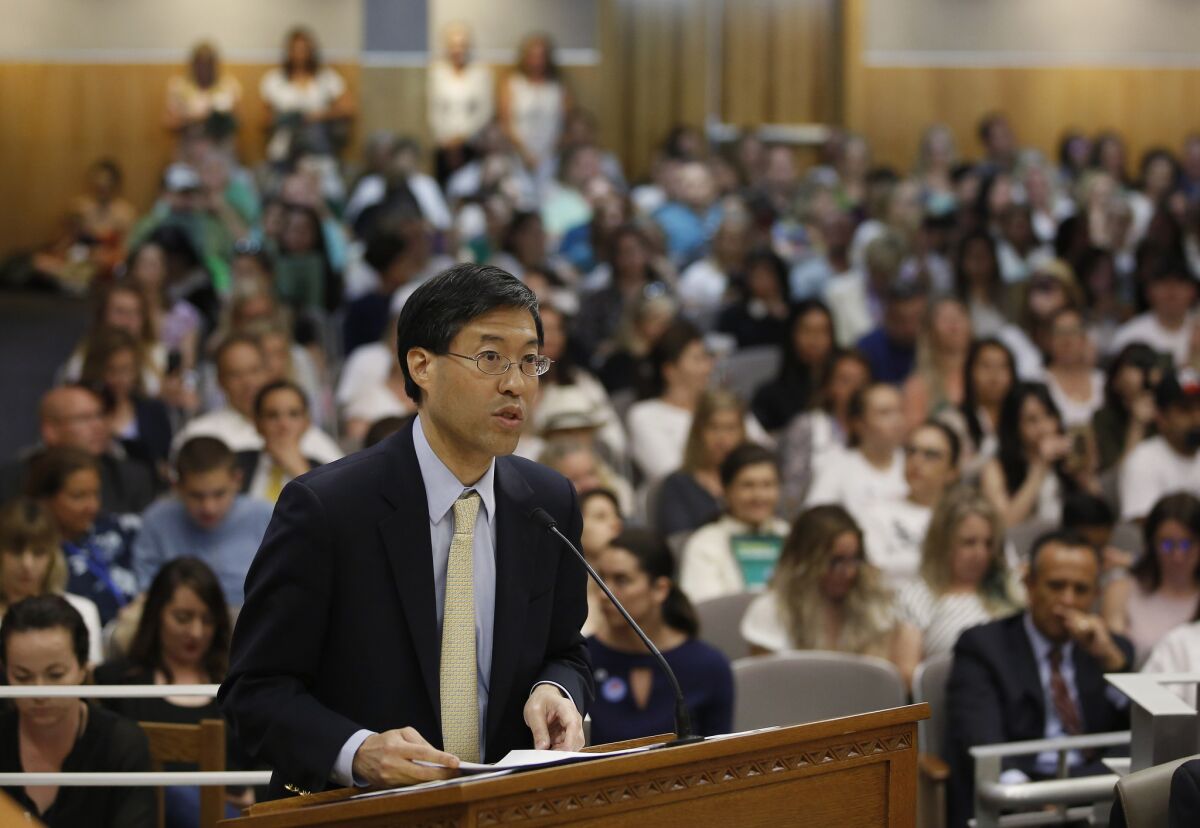 SACRAMENTO —
The author of a bill to clamp down on school vaccine exemptions agreed to scale back parts of it under a deal reached Friday with Gov. Gavin Newsom following a chaotic week of negotiations. But their pact was quickly met with fierce opposition from protesters who had hoped the governor's apprehension signaled trouble for Senate Bill 276.
While aspects of the amendments sought by Newsom would significantly weaken the bill, other changes would bring new scrutiny to exemptions written by doctors who have faced disciplinary action, including prominent Orange County pediatrician Bob Sears, whose practice caters to parents who want to delay or skip immunizations. The new provision would have the potential to invalidate hundreds of vaccine exemptions from such practitioners.
The agreement between state Sen. Richard Pan (D-Sacramento) and Newsom calls for the governor to sign SB 276, which has passed the Legislature, and for revisions to be placed in separate legislation, SB 714, which requires approval by the Assembly and Senate by Sept. 13. Newsom's office said the governor will sign SB 276 once the Legislature passes SB 714 with his changes. Legislative leaders said Friday that they support the new changes under the deal.
"As the latest measles outbreak threatens the country's elimination status, California acted to keep children safe at school by abolishing non-medical exemptions," Pan said in a statement. "I appreciate the Governor's commitment to sign SB 276 with amendments contained in SB 714 that we both agree upon to ensure we maintain the community immunity needed to protect our kids."
SB 714, which is also written by Pan, would invalidate any medical exemption from a doctor who has faced disciplinary action by the state medical board.
Sears, who is currently subject to a 35-month probation order issued by the medical board in a vaccine case that did not involve school medical exemptions, expressed disbelief over the amendments released Friday.
"[This bill would] mean that any exemption written by a doctor who has been disciplined by the board for any reason, even one unrelated to vaccination, will be subject to revocation," Sears said. "So the hundreds of patients I've written exemptions for over the past four years after having a severe vaccine reaction will lose their exemptions. This seems like a broad overreach from a government that is supposed to protect its medically fragile children."
Other opponents of SB 276 also said the new bill is unacceptable.
"We are very disappointed in this effort to placate the opposition and continue to urge Gov. Newsom to veto SB 276," said Stefanie Fetzer of the opposition group Parents United for Kids.
The changes under SB 714 include Newsom's proposal to grandfather in all existing medical exemptions before Jan. 1, causing concern among critics that such a move would prompt a rush for new vaccine exemptions.
However, Newsom's amendment contains a key caveat: New medical exemptions would be required when a child enters kindergarten, seventh grade or changes schools. By adding that provision, permanent medical exemptions would no longer be valid throughout a child's K-12 education. A similar approach was used when the state eliminated personal belief exemptions in 2015 under another bill by Pan that allowed immunization waivers to remain valid until a child reached kindergarten, seventh grade or changed schools.
Under the deal reached Friday, temporary medical exemptions that currently allow a doctor to use his or her discretion as to the length of time they remain valid would be limited to one year.
SB 714 will also remove a provision called for in SB 276 that would have required doctors to certify that medical exemptions are accurate, under penalty of perjury.
"We are confident that we have legislation that will close enormous loopholes in California's existing vaccination law, protect community immunity and crack down on physicians who are practicing outside the accepted standard of care," said Dr. David Aizuss, president of the California Medical Assn., the lobbying arm of doctors in the state.
The deal caps a chaotic week for SB 276, which grew more tense after Newsom unexpectedly withdrew his pledge to sign the bill, instead floating a major overhaul of the legislation that his office called "technical — but important."
"These amendments clarify legal and administrative processes in SB 276 in order to ensure medical providers, parents, school administrators and public health officials know the rules of the road once it takes effect," Newsom's spokesman Nathan Click said Friday in a statement. "The Governor will sign SB 276 once the companion legislation has passed both houses."
The bill comes amid the worst measles outbreak in more than 20 years, with more than 1,200 people diagnosed with the disease this year.
California has some of the nation's tightest childhood immunization laws, requiring vaccinations to attend public or private schools, as well as day care. A doctor can excuse a child, either temporarily or permanently, from some or all vaccinations if there is a medical reason.
But the bill's supporters have alleged that some doctors are profiting off unnecessary exemptions, prompting lawmakers to introduce SB 276 to create state oversight of the process. Hundreds of parents have protested the bill since it was introduced this year, arguing that it would interfere with the doctor-patient relationship and that the restrictions will make doctors hesitant to write new medical exemptions.
"Today's agreement is a victory for science over fear and for sound public health policy over conspiracy and misinformation," said Leah Russin of Vaccinate California. "No parent should have to make the choice to pull their child from school to protect them from vaccine-preventable illness."
---
The stories shaping California
Get up to speed with our Essential California newsletter, sent six days a week.
You may occasionally receive promotional content from the Los Angeles Times.