Paramount Ranch's majestic Witness Tree to be cut down, a victim of Woolsey fire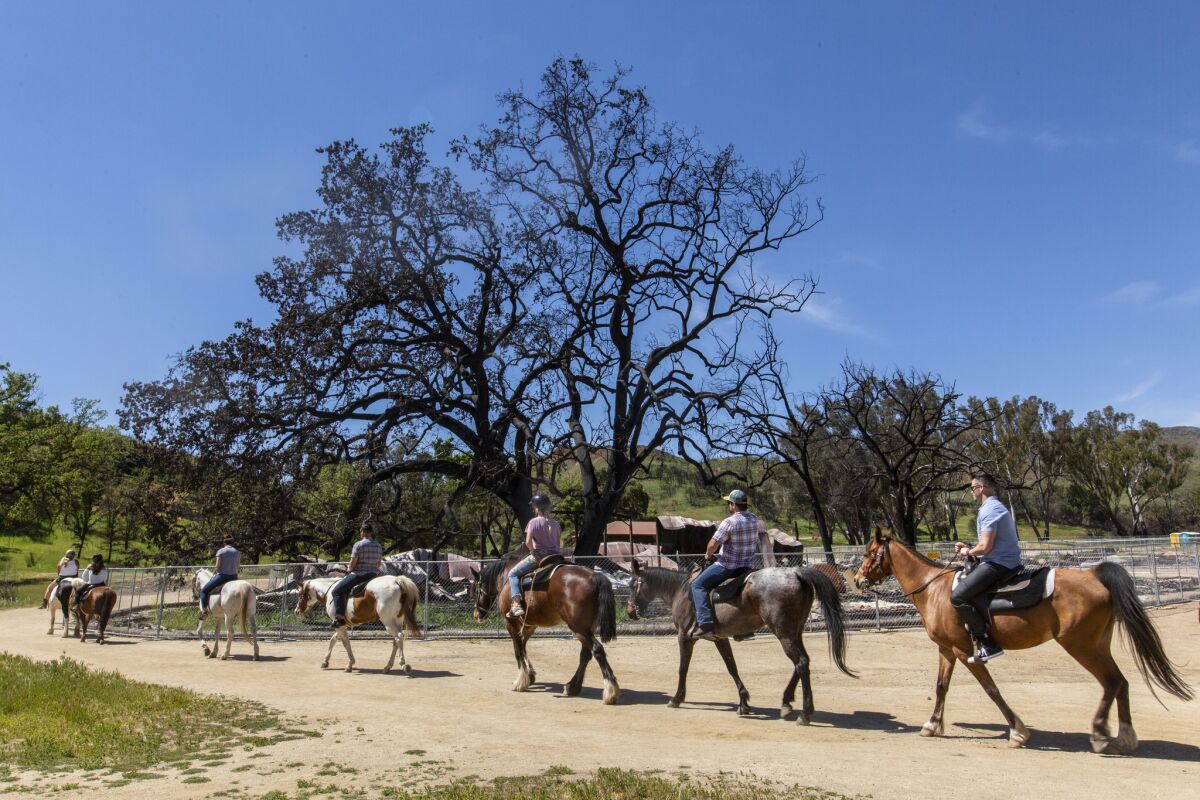 A majestic oak tree at Paramount Ranch in Agoura Hills that experts believe could be more than a century old will be cut down this month, a victim of the destructive Woolsey fire, which charred more than half of the Santa Monica Mountains in 2018.
The venerable tree with its sprawling branches was given more than a year to show signs of recovery and life after the fire swept through the area, but decay set in and fungi took hold, park officials said.
The dead tree will be cut down by the end of the month due to fears that it could pose a safety hazard.
The iconic Valley oak is known as the Witness Tree, a name given to trees that have been present during key events in history. The tree has served as a backdrop for countless weddings, family photos and special occasions, and even appeared in television shows.
Visitors' last chance to say goodbye to the Witness Tree is Saturday from 2 to 4 p.m. at a formal farewell. The public was invited to bring their photos of the tree to display during the gathering. Staff and volunteer historians were to be present to answer questions. There is also a contest to guess the tree's age, which will be determined by counting its rings after it's cut down.
"We're trying to take what is otherwise a pretty sad event for the community and instill a little bit of fun into it," said Beatriz Cholo, spokeswoman for the National Park Service. As of Saturday morning, she had received over 100 responses from as far away as Switzerland.
"A lot of people, I imagine, grew up here and they moved on, but the tree has remained a fixture in their memories," she said.
Park staffers believe it's at least 100 years old because it can be seen in photos from the early 1920s, Cholo said.
The tree once stood in the center of Paramount Ranch's Western Town, used for movie and TV shoots. The collection of rustic buildings doubled as the Colorado mining town in the television show "Dr. Quinn, Medicine Woman" and more recently served as the backdrop for HBO's "Westworld."
All of the buildings were destroyed in the Woolsey fire. A barn next to the Witness Tree burned for hours, and heat from the flames is believed to have contributed to the intense damage the tree sustained.
"It's already kind of leaning a little bit," Cholo said. "It has twin trunks, so we don't want to take any chances on it hurting anyone."
The tree will be cut down in mid-February and its wood will be used for items such as hitching posts, signs and benches for Paramount Ranch's planned reconstruction of Western Town.
---
Life is stressful. Our weekly mental wellness newsletter can help.
You may occasionally receive promotional content from the Los Angeles Times.