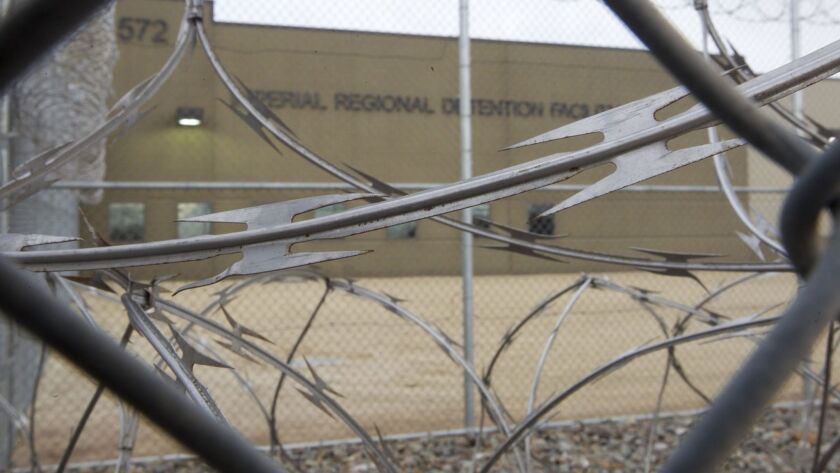 Four people in Immigration and Customs Enforcement custody have tested negative for the new coronavirus, according to the federal agency.
There are thousands of detainees held in detention facilities across the country, and there have been no cases of confirmed coronovirus among them, according to ICE. The four detainees met the criteria for being tested.
ICE epidemiologists have been tracking the outbreak and "regularly updating infection prevention and control protocols, and issuing guidance to ICE Health Service Corps staff for the screening and management of potential exposure among detainees," according to an agency spokesperson.
"The health, welfare and safety of ICE detainees is one of the agency's highest priorities," an agency spokesperson said in a statement.
Of 20 detention facilities run by ICE Health Services Corps, 16 of those have airborne-infection isolation rooms, which will be used to house detainees "with epidemiologic risk" for COVID-19 and who have a fever and/or symptoms of respiratory illness, according to the agency.
ICE also has instituted screening guidance for new-arrival detainees, which includes isolating those who meet Centers for Disease Control and Prevention criteria for a risk of coronavirus infection and observing them for a specified time period.
Asymptomatic detainees being observed in isolation can attend appointments, the agency said, and detainees in isolation who have symptoms can attend medical appointments while wearing a mask.
Asymptomatic detainees at risk of having an infection, as well as those with mild illness, may be placed in airborne-infection isolation rooms, which are designed to contain biological agents. Individuals with moderate to severe symptoms will be taken to hospitals with expertise in high-risk care, according to ICE.
"ICE continues to incorporate CDC's COVID-19 guidance, which is built upon the already established infectious disease monitoring and management protocols currently in use by the agency," the spokesperson said. "In addition, ICE is actively working with state and local health partners to determine if any detainee requires additional testing or monitoring to combat the spread of the virus."
---