McFarland City Council votes to convert two prisons into immigrant detention facilities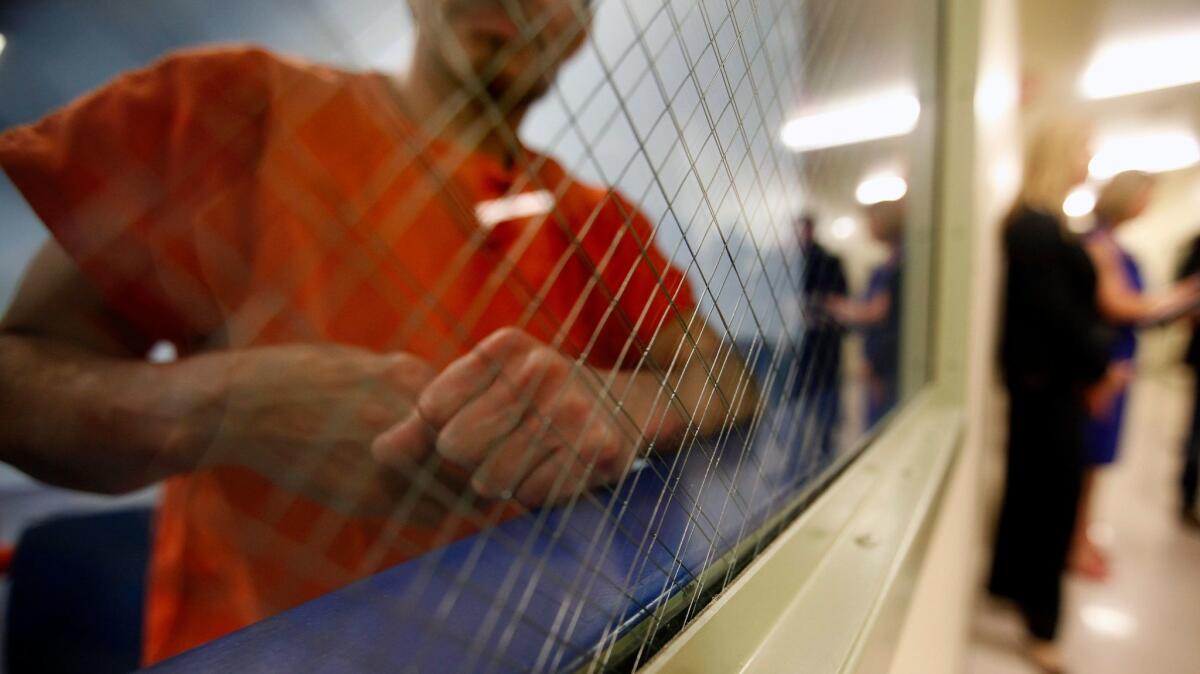 Officials in the Central Valley city of McFarland voted unanimously Thursday night to convert two prisons into annexes for a nearby federal immigrant detention facility, adding 1,400 beds to the state's current capacity of about 4,000.
After the vote, Mayor Sally Gonzalez noted that the coronavirus pandemic has exacerbated the city's already precarious finances and thanked her fellow council members for making a tough decision.
"Ultimately we have to do what's best for the city," Gonzalez said. "With all these deficits, we have to clear them and find a way to move forward."
The approval marks the latest turn in a long-running fight over immigration policy between California and the federal government and effectively rebukes attempts by Gov. Gavin Newsom, state legislators and human-rights advocates to reduce the population of immigrants detained in the state.
U.S. Immigration and Customs Enforcement contracts with private companies to manage most of the facilities in which the agency holds immigrants for deportation. One of the largest, Florida-based corrections corporation GEO Group, Inc., runs 14 ICE facilities around the country, including the 400-bed Mesa Verde ICE Processing Center in Bakersfield, which is 25 miles from McFarland.
Cash-strapped municipalities like McFarland — which until 2019 oversaw the management of the Mesa Verde center under a contract with ICE and GEO — and the high desert community of Adelanto northeast of Los Angeles have become battlegrounds in the policy struggle between the federal government and the state.
Last October, California became the first state to ban private prisons and privately run immigrant detention facilities when it passed Assembly Bill 32. But within weeks, U.S. Immigration and Customs Enforcement had pushed back by soliciting offers for new detention center contracts before the law took effect in January.
If privately operated detention centers closed, that would leave one facility in the state for ICE to hold detainees: Yuba County Jail, which has 220 beds.
In December, federal officials signed contracts worth nearly $6.5 billion with GEO and the other two companies that run California's four existing privately run detention centers, a move denounced by critics as an attempt by the Trump administration to circumvent the ban. The contracts have terms of 15 years, inclusive of two five-year extensions, ending in 2034.
This year, ICE has considered ways to expand its holding capacity. GEO had appealed an earlier denial of its prison-conversion plan by the McFarland Planning Commission, leaving the final determination to the City Council on Thursday.
The Adelanto City Council had been set to vote Wednesday on a similar proposal to convert the 750-bed Desert View Modified Community Correctional Facility into an annex for the Adelanto ICE Processing Facility. But with two council members absent and one planning to recuse himself over a potential conflict of interest, there weren't enough votes and the resolution was tabled for a future meeting.
About 31,000 immigrants are detained by ICE nationwide. As of Thursday, 297 detainees and 35 ICE employees at detention centers have tested positive for COVID-19.
On Tuesday, the American Civil Liberties union filed a class-action lawsuit seeking the release of detainees at Mesa Verde and at Yuba County Jail. Detainees at Mesa Verde and other facilities launched hunger strikes in recent weeks over the lack of protective gear and adequate distancing. Federal judges have ordered the release of dozens of medically vulnerable detainees in California.
Human rights groups and federal inspectors have identified thousands of health and safety violations at ICE's contracted facilities, including those operated by GEO. One report in 2018 found nooses made from bedsheets in cells and that detainees waited months to see a doctor at the GEO-run Adelanto facility.
Opponents of the McFarland proposal said virtual meetings provide insufficient public access for an issue of such public importance, especially because many residents don't have access to the internet, and argued that the council should postpone the vote until after social distancing restrictions were lifted. They said GEO was exploiting the majority-Latino farming community, where a third of residents live in poverty, according to the U.S. Census Bureau.
More than 800 people submitted public comments ahead of the vote. Dozens of people were unable to participate in the meeting, which was held via Zoom, when the virtual conference room reached its maximum of 100 participants. But Gonzalez pushed on, noting that City Hall wouldn't hold that many people either.
GEO previously managed the Central Valley and Golden State modified community correctional facilities under contracts with the California Department of Corrections and Rehabilitation, which ended in September 2019 and last month, respectively.
Under its new plan, the company will pay McFarland $511,000 per year in combined fiscal mitigation payments for public services like police and fire protection. Together, the facilities will provide 346 jobs plus contracted healthcare positions. Average annual salaries for entry-level positions will increase from $34,000 to $98,000.
GEO and ICE have maintained that expanding the Mesa Verde facility would keep detainees close to their families and lawyers.
The Planning Commission vote in February brought out hundreds of community members and activists, who stood outside the packed City Hall. Mayor Manuel Cantu resigned the next morning, telling the Palm Springs Desert Sun, "If the people would rather not support the growth of McFarland because of their concerns with ICE, I can't blame them."
GEO appealed the decision to the City Council. Earlier this month, the council filled the position left by Cantu with Eric Rodriguez, a former GEO Group employee, according to his Linkedin profile.
Another council member, Stephen McFarland, recused himself from the vote Thursday because he is a GEO employee.
City Manager Larry Pennell said the city is in "desperate financial condition," with pothole-riddled streets, four police officers and delayed water and sewer infrastructure upgrades. Pennell said he had been reprioritizing city spending to avoid bankruptcy when the coronavirus pandemic hit.
Losing GEO would mean losing $500,000 in property taxes, the city's largest water and sewer customer and its second largest employer
"While this approval will not solve all our problems, it will provide the city with some time to focus on development in other parts of town," Pennell said.
In exchange for a unanimous vote, David Venturella, GEO's senior vice president for client relations, offered yearly $1,000 scholarships for all graduating seniors of McFarland High School. He pointed out that the tripled entry-level salaries would benefit McFarland residents.
"This is a life-changing amount of money," he said. "Folks will be able to purchase homes and send kids to college and take care of extended family."
Javier Lopez told the council that he worried about the city's finances and said his fellow residents shouldn't deny the city the opportunity to grow.
"This would really help us better McFarland," he said.
Resident Esmeralda Gonzalez, a widowed mother of five, said that city leaders were adding a new source of fear to a community already terror-stricken by the pandemic.
"Now people won't even be able to live in peace," she said. "Why didn't they listen to us?"
Sign up for Essential California for news, features and recommendations from the L.A. Times and beyond in your inbox six days a week.
You may occasionally receive promotional content from the Los Angeles Times.