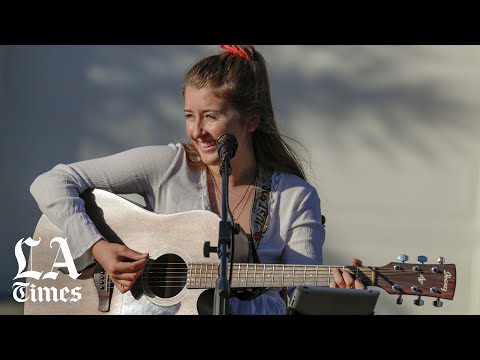 Singer Alexa Cappelli, 20, performs at a weekly get-together in Upland. Cappelli, a former contestant on 'The Voice,' began singing in the cul-de-sac after neighbors, heeding the coronavirus orders, craved some social interaction. (Irfan Khan / Los Angeles Times)
Alexa Cappelli doesn't usually perform in the middle of the street. But drastic times call for drastic measures.
So there she was on a recent afternoon, perched on a chair, guitar in hand, outside the Upland home where she was raised. A handful of people formed a wide semicircle around her.
The 20-year-old leaned into the microphone. Her waist-length blond hair tumbled forward.
"Hi neighbors," she said. And the COVID-19 cul-de-sac concert began.
Three little birds sat on my window
And they told me I don't need to worry
Two years ago, Cappelli was a contestant in the 14th season of NBC's Emmy-winning singing competition show, "The Voice." She spent hours on a TV stage before she was eliminated. It was an inspiring experience, she said, where she was able to spend time with Kelly Clarkson off-camera.
On this afternoon, Cappelli performed on a circle of asphalt so she could comfort her neighbors. The al fresco audience included a nurse and other healthcare professionals, teachers and an engineer.
Her voice — described by "Voice" coaches Adam Levine and Clarkson as "soulful" — carried on the breeze; her lyrics were reassuring.
The gathering was an unusual departure for this planned community, where neighbors tend to know each other by face, not by name, and communicate primarily through waves and smiles.
Southern California is a place where stereotype and reality frequently merge, where people are more likely to join together on a traffic-choked freeway than in their neighborhoods. Driving from place to place to hang with a select group of friends, that's normal. Chilling with the neighbors, let alone the whole pack of them? Not so much.
"I guarantee you, as much as I like everybody here, if we didn't have the COVID thing going — this would not have happened," Tony Cappelli, Alexa's father, said, gesturing around the circle. "I think it gives us a little bit of time to not get so caught up in our busy California lives."
Boulevards lined with soulless apartment buildings and suburban homes designed to celebrate the backyard don't help the situation. But during this pandemic, some people have discovered that communing with folks who live across the street or across the hall — from a safe distance — is a source of comfort, that what was once unconventional might be a lifeline.
Cappelli's neighbors knew the drill. They'd positioned a carton of Clorox wipes on a nearby brick ledge and bottles of wine near their camping chairs. One of them had used a tape measure to ensure there was at least six feet of distance between them. They didn't share snacks and at times rearranged chairs to separate themselves even farther.
Some of them pulled masks under their chins so they could sip from wine glasses and bottles of Shock Top in beer koozies while listening to Cappelli belt out Clarkson's "People Like Us."
And hey, yeah I know what you're going through
Don't let it get the best of you, you'll make it out alive
It was the song she'd used to audition for the Orange County School of the Arts about six years ago, a bit of history she shared with Clarkson during her audition for "The Voice." The superstar then asked the novice to perform it, and as Cappelli sang, Clarkson joined in, harmonizing with her.
"You know you just sang with Kelly Clarkson," her dad told her afterward.
Cappelli grinned as she recounted the story to her neighbors, many of whom had watched her grow up — from a distance. She had been on Clarkson's team, which she recounted during the concert. The singer was as bubbly and conversational off-screen as she was onscreen.
When Cappelli's audition aired, her parents invited about a hundred people to watch her on TV.
On this afternoon, as if in tribute to the show, Cappelli sang some of the songs made famous by its coaches: Levine, Clarkson and Alicia Keys. She covered hits by One Republic, Bonnie Raitt and Bruno Mars, reading the lyrics off the iPad in front of her. And she sang some of her own creations, including one she wrote with a friend after a breakup.
"It's called 'Better Off Alone,' so you can kind of assume how things ended," she said, prompting laughter from her neighbors.
The cul-de-sac gatherings started in March, with a text. Angie Atkins asked a couple of neighbors to meet her outside for some fresh air and conversation, craving the social interaction.
When other residents saw them, Atkins — who has lived on the cul-de-sac since 1989 — invited them to join.
"I feel like we all understand how important social contact is," the 55-year-old said. "Especially during this uncertain time."
Many of the neighbors are essential workers, continuing to leave the neighborhood throughout the week. Atkins works as a pediatric therapist. Her husband is in law enforcement.
For the first few get-togethers, the neighbors listened to 1970s music on a boombox and caught up on life from six feet apart. They ordered takeout.
"People you didn't really sit and talk to before, you're now knowing more about them," Atkins said. "We've grown closer as a neighborhood because of being able to share our fears, our concerns and do some normal stuff in an abnormal time."
After a couple of evenings, Cappelli's mom suggested that her daughter perform. She loved the idea. She'd been recording songs for her church and trying to focus on her songwriting. She was teaching beginner vocal lessons before the coronavirus outbreak.
This, Cappelli thought, might be another way to connect.
"More recently, definitely been thinking about and praying about how can I get to know my neighbors more, love my neighbors more," said Cappelli, who wore two crosses around her neck. "Especially in a season like this."
Oh, people like us we've gotta stick together
Keep your head up, nothing lasts forever
The sun beamed down on Cappelli, as she rested her black and white Adidas sneakers on her chair. Occasionally, she sipped water from a Mason jar beside her.
"How are you guys doing?" Cappelli asked, smiling at her fans.
"Highlight of the week, Alexa," Jennifer Turner shouted, chardonnay in hand.
Turner, who manages a general and vascular surgery group, said her hours had been cut. Her husband, Kendall, who worked as an X-ray technician, had been laid off and applied for unemployment for the first time.
Their 23-year-old daughter, a teacher in Boston, got a stimulus check, but they are still waiting for theirs.
Despite living on the cul-de-sac for 23 years, the couple had never really spoken to the Cappelli family. They normally just waved and smiled.
"That was the extent of it until this," Turner said. "This was the most amazing thing to come out of this."
Said Kendall: "You get to meet people you always kind of knew, but you didn't."
That afternoon, the Turners shared their anxieties with Cappelli's parents, who have lived on the cul-de-sac since 1998. The Cappellis are concerned about their own employment, unsure if they'll be able to keep their nonprofits, Steven's Hope for Children Inc. and A Lot of Good, afloat.
Column One
A showcase for compelling storytelling from the Los Angeles Times.
Steven's Hope for Children was inspired by the couple's son, who died from heart complications only 32 hours after birth. The organization provides financial support to families with seriously ill or injured children.
Sandy Cappelli temporarily closed the A Lot of Good thrift store because of the lockdown.
"I've just got to get back to work," she said.
Jennifer Turner announced that Kendall "has a job interview next week."
"Maybe next week. Hopefully. We're praying about it."
Around the semicircle, there were other stories of hardship.
Peter Kwon, an independent contractor, hadn't worked in three weeks. He applied for pandemic unemployment assistance, but hasn't heard back. His wife, a Kaiser Permanente nurse, was asked to help in the intensive care unit and told she would be trained in COVID-19 protocols.
Anna Flores, who has lived on the street for just six months, worried about the risk if she or her husband, both 66, contracted the virus.
The couple sat several feet back from their neighbors, in what her husband jokingly dubbed "the cheap seats."
It isn't the first time a disaster has pulled a neighborhood together.
In 1993, after fires and mudslides in Laguna Beach, neighbors learned one another's first names and designated one home as their command post. The following year, after the Northridge earthquake, residents across the San Fernando Valley said hello for the first time as the gates that separated them literally came down.
Amid the pandemic, something similar is happening across Southern California. Neighbors have launched networks to help with grocery runs, meals, pharmacy pickups, check-in calls and other errands. They're offering up surplus supplies.
Will these newfound friendships last when life begins to get back to normal? No one knows.
But for now, it's working. During the cul-de-sac concert, neighbors got up from their seats and danced as Cappelli sang Whitney Houston's "I Wanna Dance With Somebody (Who Loves Me)." Analise Kusleika, 17, span around with her sister, kicking up her cowboy boot-clad feet.
"How's everyone doing on their toilet paper?" Atkins called out.
"One ply, baby," Jennifer Turner joked. "I will pay premium for Bounty."
Their children roller-skated, rode their bikes and squirted one another with water guns.
When a woman stopped to take in the concert, the neighbors invited her to join. She had to finish sewing masks, she said, but "this is so beautiful."
Liani Bawitlung, her mouth covered by a cheetah print mask, rose from her red Tommy Bahama beach chair to record the performance. She and her husband, who wore a gray bandana, snacked on trail mix and Lay's chips.
"It's kind of hard to reach out to your neighbors, but this is the time," Bawitlung said.
In an hour, she would start a 12-hour night shift at L.A. County-USC Medical Center — where she's worked as a nurse for over 10 years — and she was scheduled to do it again the next night.
But at this moment, Cappelli's sweet voice rose above the neighborhood with an original song that resonated in these troubled times.
So why don't we stop worrying about wanting to make change and just be changed in the light of love
Enough to smile over your shoulder to someone at the gas station
Or say a thank you to those fighting with their lives for ours
Give and give and give until it's all we want to do
That is change
::
Times staff photographer Irfan Khan contributed to this story.
Sign up for Essential California for news, features and recommendations from the L.A. Times and beyond in your inbox six days a week.
You may occasionally receive promotional content from the Los Angeles Times.