3 Beverly Hills residents, including a doctor, arrested in U.S. Capitol attack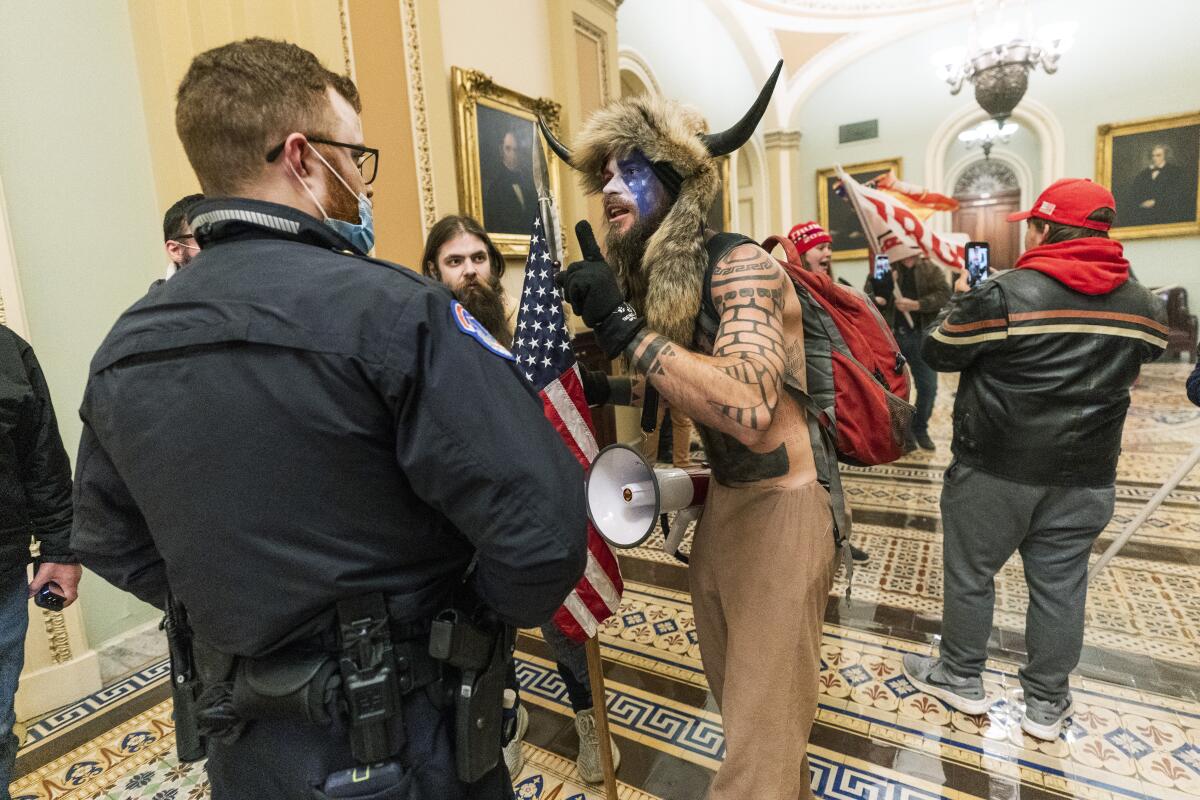 Three Beverly Hills residents have been arrested on federal charges alleging they were part of the mob that stormed into the Capitol earlier this month.
Gina Bisignano, 52, was taken into custody by FBI agents Tuesday morning and John Strand, 37, and Simone Gold, 55, were arrested on Monday, according to a spokeswoman for the FBI's Los Angeles office. The arrests all occurred without incident, and the three made court appearances Tuesday afternoon, the spokeswoman said.
Federal prosecutors charged Bisignano with civil disorder, destruction of government property, aiding and abetting, obstruction of an official proceeding and violent entry. Gold and Strand are both charged with entering a restricted building and violent entry. Attorneys for the three could not be reached for comment.
Bisignano was ordered released to home detention on a $170,000 bond. A preliminary hearing for her was set for Feb. 4 in Los Angeles.
Gold was ordered released on a $15,000 bond. Her next court date is a virtual hearing Thursday in Washington.
Strand's bond was set at $20,000, but he remained in custody. Once released, Strand also will be subject to home detention. Future court hearings for him have not been scheduled.
The arrests are part of an ongoing effort by authorities in Southern California and across the U.S. to identify and charge people who participated in the Jan. 6 assault on the Capitol. On Monday, FBI agents searched the Huntington Beach home of a known far-right activist and supporter of President Trump, who claimed in social media posts to have been part of the riot at the Capitol. And a Glendora man was charged last week on suspicion of smashing a window and entering the Capitol.
In all, more than 100 people have been charged with federal crimes related to the violent incursion into the Capitol building, which left five people dead. Scores more are under investigation, authorities have said.
Bisignano, the owner of a skin care and eyelash store, was captured on video that showed she "physically entered the Capitol in at least two separate locations and encouraged other rioters to enter as well," an FBI special agent wrote in a court filing.
In one video, Bisignano is seen in a "crowd of rioters struggling with police officers in a sallyport in an attempt to gain entry to the Capitol," according to the FBI agent's court filing. The agent added that Bisignano can be seen using a "red aerosol spray on the officers, striking or attempting to strike the officers, and physically pushing the police line in an attempt to gain entry to the Capitol."
The agent noted that in the video featuring Bisignano, the scrum of rioters pinned a police officer against a door while trying to rip off the gas mask he wore. Bisignano, the agent wrote, was "in the first few ranks of the tightly-packed rioters and is seen on video struggling with a police officer attempting to expel her" and raising her fist in apparent defiance.
The agent said that Bisignano is also caught on video shouting into a bullhorn, "We the people are not going to take it anymore." The agent said that as she spoke, officers were being attacked right next to her.
In another video, Bisignano appeared to enter the Capitol through a small opening and tell others outside, "We need Americans. Come on, guys. We need patriots! You guys, it's the way in. We need some people, we need some people," according to the agent's statement.
The description of the videos contradicts an account Bisignano gave the Beverly Hills Courier last week. In it, she acknowledged she entered the Capitol but said she was experiencing a panic attack and needed to find somewhere safe.
"I couldn't breathe. I was having a panic attack. I needed air," she told the newspaper. "Every time I opened my eyes, they were burning. My mouth was burning. Everything was burning, and I couldn't breathe.
"I was caught up, I was scared, I was excited," Bisignano told the Courier. "A guy said to say that over the megaphone. I don't even remember saying it."
It is not the first time that Bisignano, who has played a lead role in organizing weekly protests in Beverly Hills in support of Trump, has found herself in trouble.
In December, a neighbor recorded her repeatedly using a homophobic slur while ranting about the stay-at-home order and other measures in place in Los Angeles to stem the spread of the coronavirus. After news outlets around the world picked up the viral video, Bisignano apologized.
In an affidavit written in support of the criminal charges against Gold and Strand, an FBI agent said a review of footage from security cameras showed the pair entering the Capitol and walking through various parts of the building.
Footage recorded by a CNN reporter showed them "walking with a companion through National Statuary Hall, which is located inside the Capitol," while in another video Strand is seen recording Gold as she gives a speech inside the building, according to the affidavit.
Gold, a physician, was among a group of doctors who in July appeared in front of the U.S. Supreme Court to decry pandemic lockdowns. She has advocated unproven treatments for COVID-19, the illness caused by the coronavirus, such as the use of hydroxychloroquine.
After the attack on the Capitol, she offered various explanations for her participation, the affidavit said. She told a Washington Post reporter, "Where I was, was incredibly peaceful," and she also said that she had followed others inside thinking it was allowed, the agent wrote. She added that she now regrets the decision.
Strand is the self-described communications director for the Beverly Hills Freedom rallies in support of Trump and in opposition to California's efforts to slow the spread of the coronavirus.
The charges follow the search Monday morning by FBI agents of the apartment of Kristopher Martin, a Huntington Beach hairstylist known for extreme-right views.
Laura Eimiller, a spokeswoman for the FBI's Los Angeles field office, would not confirm the identity of the resident of the apartment, but public records show the address is associated with Martin, also known as Kristopher Dreww, and his hairstyling business, Hair by Kristopher Dreww.
One unidentified person was at the residence and was cooperative, Eimiller said. She said the search resulted in unspecified items being removed, but no arrests were made.
Martin posted videos on social media the day of the Capitol attack, bragging about being part of the mob and having encouraged other people to join.
"I just got back from storming the Capitol," Martin said in the video. "It was successful. For all you b— on Facebook going crazy right now talking about it was antifa, and saying it wasn't us, it was us. We proudly took back our Capitol."
Sign up for Essential California for news, features and recommendations from the L.A. Times and beyond in your inbox six days a week.
You may occasionally receive promotional content from the Los Angeles Times.