Natural gas leak that disrupted Downey and caused evacuations will extend overnight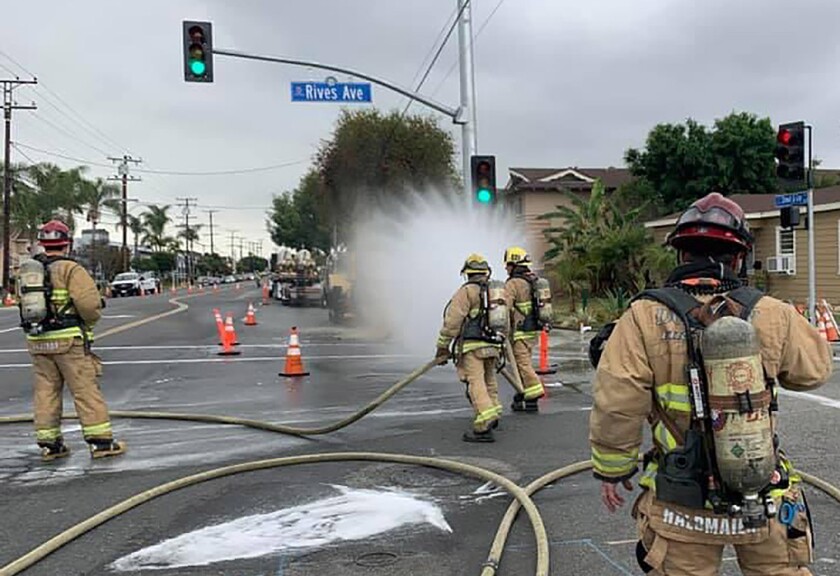 Downey residents affected by a natural gas leak Thursday should expect evacuations to continue overnight, officials said.
The leak prompted a small evacuation but a wide warning alert after a contractor cut a gas main in a residential area, authorities said.
Downey's fire and police departments arrived at Stewart and Gray Road and Rives Avenue at 10:32 a.m., said Tracy Gonzales, the Fire Department's supervisor of communications. Southern California Gas responded shortly after and have worked with first responders to stop the flow of gas from the severed 6-inch main line.
At 3 p.m., SoCalGas estimated it would take four hours to cap the leak, said Juddy Montenegro, Downey's public information officer. At about 8:30 p.m., the fire officials said repairs would take another eight hours.
Police have secured the area and road closures are in place on Stewart and Gray Road from Paramount Boulevard to Rives Avenue.
A 300-foot evacuation zone was set up around the leak. Montenegro said about 40 households were affected by the evacuation orders.
No injuries have been reported, but the department is providing shelter for those evacuated to shield them from the light rain, Gonzales said. Residents in the area may smell a natural gas odor while crews work, SoCalGas said in a statement.
As of 1 p.m., Los Angeles County's large vaccination site in Downey was still open and unaffected by the leak.
SoCalGas' Playa del Rey storage field may pose a far greater threat than Aliso Canyon, site of a record-setting gas leak.
An emergency alert was issued about 12:35 p.m., notifying L.A. County residents to avoid the area. Montenegro said the city was "testing a new system" but the alert was only intended for residents near the area.
"Unfortunately, it went out to more people," she said.
Michael Jerrett, a professor of environmental health sciences at UCLA's Fielding School of Public Health, said that the short duration of the evacuation order and the size of the evacuation zone signaled that there wouldn't be a high concentration of air toxins that could endanger returning residents. But he did advise that residents open windows to increase the air flow in their homes.
"I wouldn't be concerned about going back to my own house if it was the same circumstances," he said.
SoCalGas was responsible for the largest gas leak in U.S. history in 2015, at the Aliso Canyon storage field in the San Fernando Valley. Clean-energy advocates and members of the nearby Porter Ranch community, who reported nosebleeds, headaches and other symptoms during the months-long leak, have continued to call for the facility's closure.
More recently, the Los Angeles City Council unanimously passed a resolution urging state officials to shut down another SoCalGas storage field on the city's Westside. The Playa del Rey facility has a long history of leaks, although nothing as bad as the Aliso Canyon blowout.
Natural gas is one of the main fossil fuels driving the climate crisis. It's used for about one-third of California's electricity generation and most of the state's space and water heating. A growing number of cities have banned or discouraged gas hookups in new housing, a campaign that has prompted aggressive pushback from SoCalGas.
Jasmin Vargas, an organizer with Food & Water Watch, said in a statement that "SoCalGas has a lot to answer for on Earth Day, and now we can add another accidental leak to its roster."
She said the accident highlights the need to move away from fossil fuels. "No form of natural gas is safe," she added. "Pipelines leak, frequently with disastrous consequences."
Staff writer Leila Miller contributed to this report.
---
The stories shaping California
Get up to speed with our Essential California newsletter, sent six days a week.
You may occasionally receive promotional content from the Los Angeles Times.