Athletic trainer at L.A. schools charged with sexually assaulting 10 female students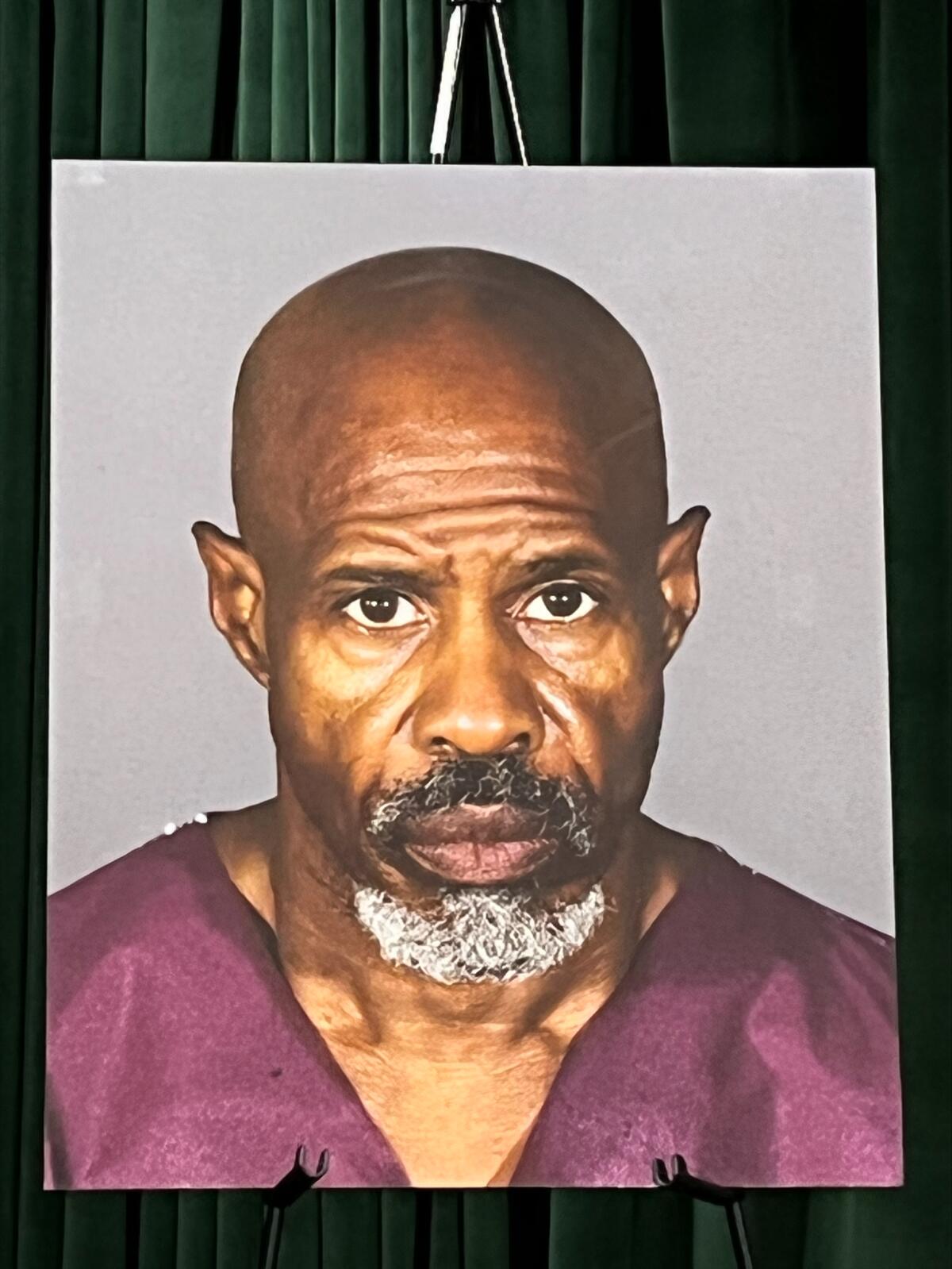 An athletic trainer has been charged with sexually assaulting at least 10 girls at two Los Angeles high schools since 2017, authorities said.
Richard Alexander Turner, 64, was charged with 18 counts of rape, sexual battery, sexual assault of an unconscious person and forcible oral copulation against female students he worked with from 2017 to 2022, according to a criminal complaint made public Tuesday.
Turner, who has served as an athletic trainer at Van Nuys High School and Birmingham Community Charter High School, was arrested last week on suspicion of sexual assault, a day after a Birmingham student accused him of touching her inappropriately, according to Los Angeles Police Dept. Capt. Jeff Bratcher, who leads the agency's juvenile division.
Police released Turner's name to the public and asked additional victims to come forward. In less than a week, nine other students contacted police and accused Turner of abuse that stretched back five years, Bratcher said.
All of the victims ranged in age from 15 to 17, according to Los Angeles County Dist. Atty. George Gascón, who said some of the assaults happened outside of school but declined to elaborate on where or how they occurred. All of the victims were attacked while receiving treatment for sports injuries. Some victims reported that Turner became violent, while others did not initially realize they had been assaulted, Gascón said.
"It is crushing for the victims, their families and all of us that, in our education systems, someone would take advantage of our youth," he said.
A student at Van Nuys High School reported Turner to police in 2017, but prosecutors declined to file charges due to a lack of sufficient evidence, according to Bratcher. Los Angeles Unified School District officials were notified of the allegations, he said.
Britt Vaughan, a spokesman for the district, did not respond to questions about Turner's tenure at Van Nuys High School or the prior allegation against him, citing the ongoing law enforcement investigation. Dates of hiring and termination for school district employees and contractors are public record, and Gascón specifically referred questions about Turner's tenure to the LAUSD.
In a statement, the district described Turner as a "contract vendor" who worked in the district on a "limited basis." It offered no specifics.
Birmingham Community Charter High School, an independent school unaffiliated with LAUSD, issued a statement after Turner's arrest, calling his alleged conduct "reprehensible."
"Our deepest sympathies go out to the student and student's family who have been impacted by this," the statement said. "As always, our focus is on providing our students with a safe learning environment and the academic and developmental support they need to be successful students at Birmingham and beyond."
It was not immediately clear why Turner left LAUSD or if Birmingham officials knew of the prior sexual assault allegations. Birmingham Principal Ari Bennett did not respond to a detailed list of questions submitted Tuesday by a Times reporter.
Turner was expected to be arraigned Tuesday afternoon in a Van Nuys courtroom. It was not immediately clear if he had retained legal representation.
All but four of the assaults that resulted in criminal charges happened between May and September of this year, court records show. The counts stem from allegations levied by 10 girls, according to the complaint.
Questions about what school officials knew of past allegations against Turner or how he was allegedly able to assault so many students over several years will likely loom for some time.
School administrators are expected to act with caution in responding to sexual assault allegations against staff, even when charges are dropped or never filed at all. But the LAUSD has failed to meet that responsibility before.
Not long before Steve Thomas Rooney was named the assistant principal at a Watts middle school in 2007, police warned LAUSD that they suspected him of having a sexual relationship with an underage former student at a different school in the district. Police also had arrested Rooney for allegedly waving a gun at the father of a girl, but prosecutors dropped the charges out of doubt that they could obtain a conviction.
Months later, police arrested Rooney on suspicion of molesting students at his new school. He was later convicted.
In January 2012, Miramonte Elementary School teacher Mark Berndt was arrested on suspicion of lewd acts with dozens of children. Berndt had previously been accused of acting strangely with students. He was sentenced to 25 years in prison, and the district lost $200 million in lawsuits related to the scandal.
In the wake of the Miramonte abuse scandal, the LAUSD took unprecedented steps to better protect students: Hundreds of teachers were removed from classrooms, an investigative team took over probes from principals, and officials lobbied for state laws to make it easier to fire instructors. School officials scoured personnel records and reported numerous cases of potential misconduct to law enforcement authorities and the state teacher credentialing agency.
Sign up for Essential California for news, features and recommendations from the L.A. Times and beyond in your inbox six days a week.
You may occasionally receive promotional content from the Los Angeles Times.