California parents describe horror of losing 5-year-old son swept away by floodwaters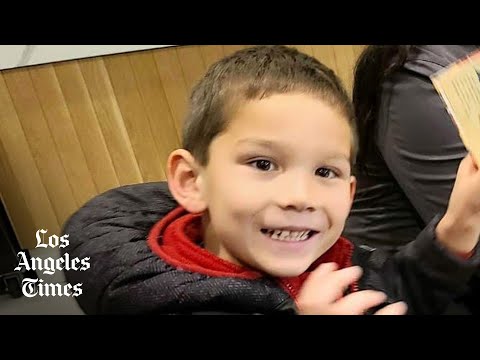 Lindsy Doan speaks about her 5-year-old son Kyle, who went missing Monday after their car was swept away by floodwaters in San Luis Obispo County.
Just as she did any other Monday, Lindsy Doan was driving her 5-year-old son, Kyle, to Lillian Larsen Elementary School in San Miguel, where she works as a special education teacher and her son is a kindergartner.
The Doans have driven through the intersection of San Marcos Road and Wellsona Road near the San Marcos Creek countless times before, according to Brian Doan, Kyle's father and Lindsy's husband. They were there Sunday, during the storms that have continued to batter California for more than a week, and it seemed fine.
And when Lindsy Doan got there Monday morning, there wasn't any signage indicating the road was closed, her husband said. By the time she realized the crossing had been flooded, the Chevrolet Traverse she and Kyle were in started to get swept away by the floodwaters into the creek.
The car hit a tree and started to fill with water. Lindsy Doan couldn't open Kyle's door and told him to unbuckle and come to her seat and leave his stuff behind.
"He was calm. He was trying to say, 'Stay calm, Mom,'" Brian Doan said, his voice breaking. "She was doing her best."
In an age of extreme weather whiplash, deadly storms are testing the state's flood infrastructure and its emergency response systems.
The pair jumped out of the car, but the current was too strong, and they got separated. Lindsy Doan found herself near the banks of the creek and started screaming for help. Some nearby property owners managed to get a rope and rescue her from the waters, but Kyle was too far down the creek at that point.
Kyle was still missing Wednesday night.
"I just want parents to give their own children an extra squeeze," Lindsy Doan said. "We missed that opportunity with Kyle. It's hard seeing kids going back to school today knowing Kyle was supposed to be there too. Hug your kids extra hard and just be thankful that you guys have them because in any minute, they can disappear."
"My wife feels very terrible surviving this and not him," Brian Doan said. "She did the right thing getting him out of the car. San Miguel Fire told me they saw the car had moved and it was pushed upside down in the creek."
The San Luis Obispo County Sheriff's Office resumed its search for Kyle on Wednesday, using air operations and drone and underwater teams, according to a news release. More than 100 members of the California National Guard joined the search effort, which was temporarily suspended Monday afternoon due to unsafe weather conditions but started again Tuesday morning.
Kyle is 4 feet tall and 52 pounds, according to the Sheriff's Office. He has short dark blond hair and hazel eyes; he was wearing blue jeans, a black puffer jacket with red lining and blue and gray Nike sneakers.
Monday was going to be Kyle's first day back from holiday break, and he had been looking forward to going to school for the first time since he got a metal rod taken out from his femur in November. A year ago, an injury left Kyle with a splinter fracture in his leg, and the family had anxiously waited months for the rod to be removed.
"We thought we had got through that, so this is just really bitter and upsetting in a lot of different ways," Brian Doan said.
Astonishing rainfall in L.A. County caused mudslides, flooding and a massive sinkhole.
The family had gone on a cruise in Los Angeles shortly before Kyle was set to return to school. They weren't allowed to disembark because of the weather, but Kyle had enjoyed the trip and liked the water slides.
"It was a good trip and something we did as a family before going back to school," Brian Doan said. "You hold on to those moments."
Kyle is the youngest of three children, with his older sister in high school and older brother in college. He is very outgoing and likes to dance, according to his family. He was just starting to play soccer.
"He was a goofy guy," Brian Doan said. "He tried to negotiate stuff [with us] and push boundaries. He was very energetic, but he'd been through a lot with the injury last year and he was very resilient and overcame that."
Above all else, the Doans want some kind of closure for Kyle.
"People struggle, like we all have in various ways over the last few years," Brian Doan added. "You try to make progress and something like this hits you."
Sign up for Essential California for news, features and recommendations from the L.A. Times and beyond in your inbox six days a week.
You may occasionally receive promotional content from the Los Angeles Times.