State Bar charges John Eastman, lawyer who advised Trump on overturning the election, with ethics violations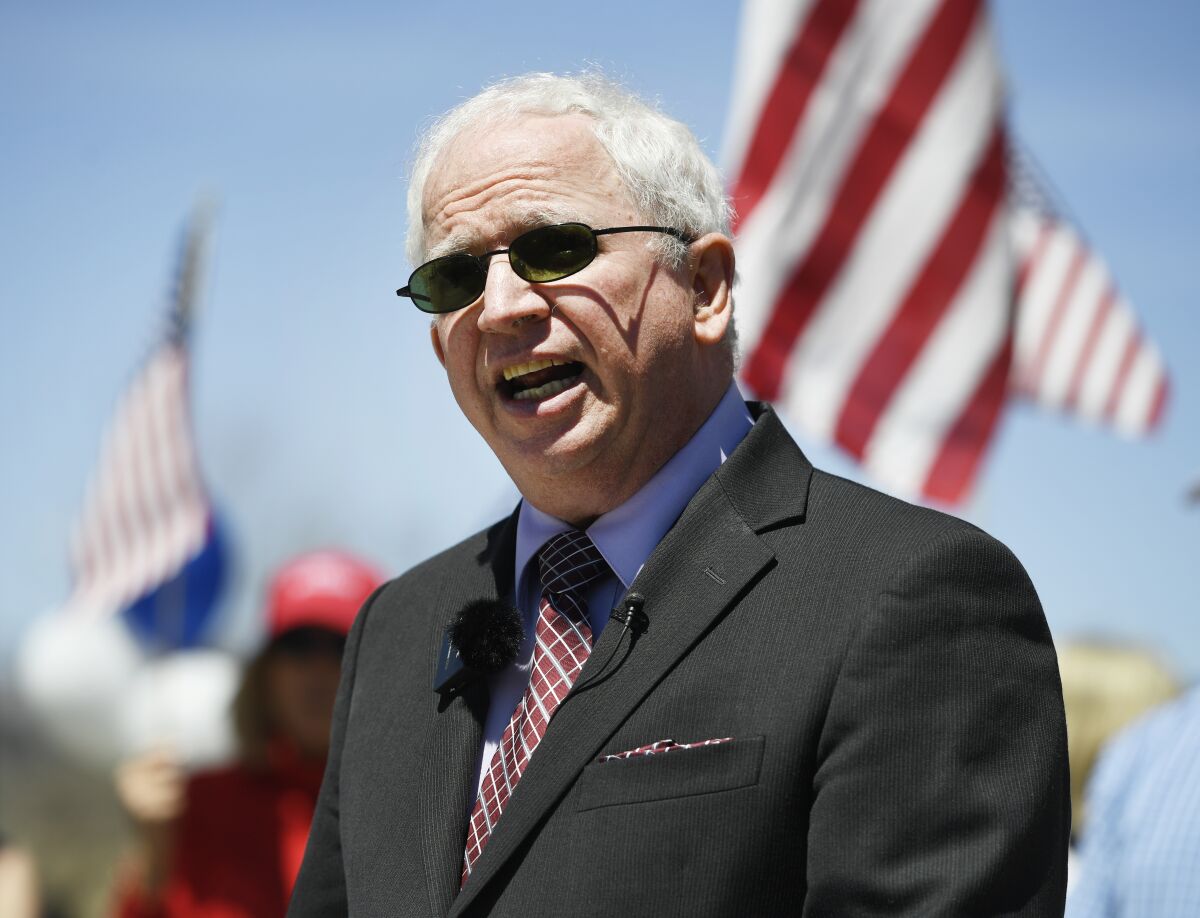 The State Bar of California filed disciplinary charges Thursday against Orange County attorney John Eastman, accusing him of multiple ethics violations stemming from his actions while advising then-President Trump on how to overturn the 2020 election.
The charges could be the first step to Eastman losing his California law license.
Eastman, a former professor and dean at Chapman University's Fowler School of Law, emerged as a key legal advisor to Trump in the weeks after Joe Biden won the presidency.
Eastman helped develop a legal and political strategy promoting the false claim that the results were tainted by fraud and misconduct by election officials, according to a 35-page charging document filed by the State Bar.
In the months that followed, the U.S. attorney general and others told the Trump campaign that there was no evidence of widespread fraud that could have affected the outcome of the election. Dozens of courts dismissed cases alleging fraud.
Still, the State Bar alleges, Eastman continued to work with Trump to promote the lie of a stolen election.
Eastman must be held accountable for his role in "an egregious and unprecedented attack on our democracy," George Cardona, the State Bar's chief trial counsel, said in a statement.
An attorney's highest duty is abiding by the federal and state constitutions, and Eastman violated that duty, Cardona wrote.
The 11 disciplinary charges against Eastman include failure to support the Constitution and laws of the United States, misrepresentation, seeking to mislead a court, and making false and misleading statements that constitute acts of "moral turpitude, dishonesty and corruption."
State Bar officials said they intend to seek Eastman's disbarment before the State Bar Court.
In a Substack post, Eastman said the State Bar filing is "filled with distortions, half-truths and outright falsehoods." In the post, which seeks funds for his legal defense, he also asks for prayers.
Eastman's attorney, Randall A. Miller, said in a statement that his client "disputes every aspect of the action that has been filed against him by the State Bar."
"The complaint filed against Eastman that triggered today's action by the State Bar is part of a nationwide effort to use the bar discipline process to penalize attorneys who opposed the current administration in the last presidential election," the statement said. "Americans of both political parties should be troubled by this politicization of our nation's state bars."
The State Bar alleges that Eastman wrote legal memos — one in December 2020 and another on Jan. 3, 2021 — advising Vice President Mike Pence that he could declare that election results in seven states were in dispute. This would have led to electoral votes going uncounted and could have opened the door for Trump to remain president.
In the second memo, Eastman asserted that the "election was tainted by outright fraud (both traditional ballot stuffing and electronic manipulation of voting tabulation machines)," according to the state bar filing.
Eastman knew or should have known that the assertion was "false and misleading," the State Bar filing said.
The Jan. 6 investigation marks the confluence of key figures and influences in Eastman's life, including his decades in California's political scene.
In a speech to tens of thousands of Trump supporters at the National Mall in Washington, D.C., on Jan. 6, Eastman said that "dead people had voted" and that electronic voting machines made by the Dominion company had altered the election results.
Eastman's comments constituted an "act of moral turpitude, dishonesty and corruption," were "false and misleading" and helped provoke the crowd to attack the Capitol, the filing said.
Eastman has a long history in California's conservative legal circles. He was hired by Chapman's law school in 1999 and was dean from June 2007 to January 2010, then continued to teach courses in constitutional law, property law, legal history and the 1st Amendment.
He retired in early 2021 after more than 100 Chapman faculty and others affiliated with the university signed a letter calling on the school to take action against him for his role in the Jan. 6 insurrection.
Thursday's charges are the result of a lengthy investigation into Eastman's actions that began in 2021. In October of that year, the nonpartisan legal group States United Democracy Center filed an ethics complaint calling on the State Bar to investigate Eastman's Jan. 6 actions.
Christine P. Sun, a senior vice president at the States United Democracy Center, said in a statement Thursday that Eastman "abused the legal system and violated the oath he swore as an attorney, in an attempt to block the will of the people and prevent the peaceful transfer of power."
The level of detail included in the filing indicates that the State Bar is taking the allegations against Eastman seriously, said UC Berkeley Law Dean Erwin Chemerinsky.
"John Eastman was part of a concerted effort to overturn the election, and I think it's so important that we not lose sight of how exceptional and disturbing those events were," he said. "They've never been seen before in this country. This is a reminder that it's not about partisanship — what went on then was inconsistent with democracy."
The stories shaping California
Get up to speed with our Essential California newsletter, sent six days a week.
You may occasionally receive promotional content from the Los Angeles Times.