As California student housing crisis deepens, solutions face roadblocks at UC and elsewhere
As California's student housing crisis deepens, plans to build more campus apartments and dorms are facing myriad roadblocks that could delay construction of thousands of urgently needed beds across the state's three public higher education systems.
Litigation blocking student housing projects, a potential delay in state funding and escalating construction and labor costs are posing formidable challenges to easing what students say is one of their most pressing needs. An estimated 417,000 students lack stable places to sleep, according to surveys conducted across the three systems, representing about 5% of undergraduates at the University of California, 10% at California State University and 20% at California Community Colleges.
At the same time, student activists say, their housing needs are growing as inflation drives up rents and competition increases for apartments, particularly in the expensive communities where many UC campuses are, including Santa Cruz, Santa Barbara, La Jolla, Westwood and Berkeley.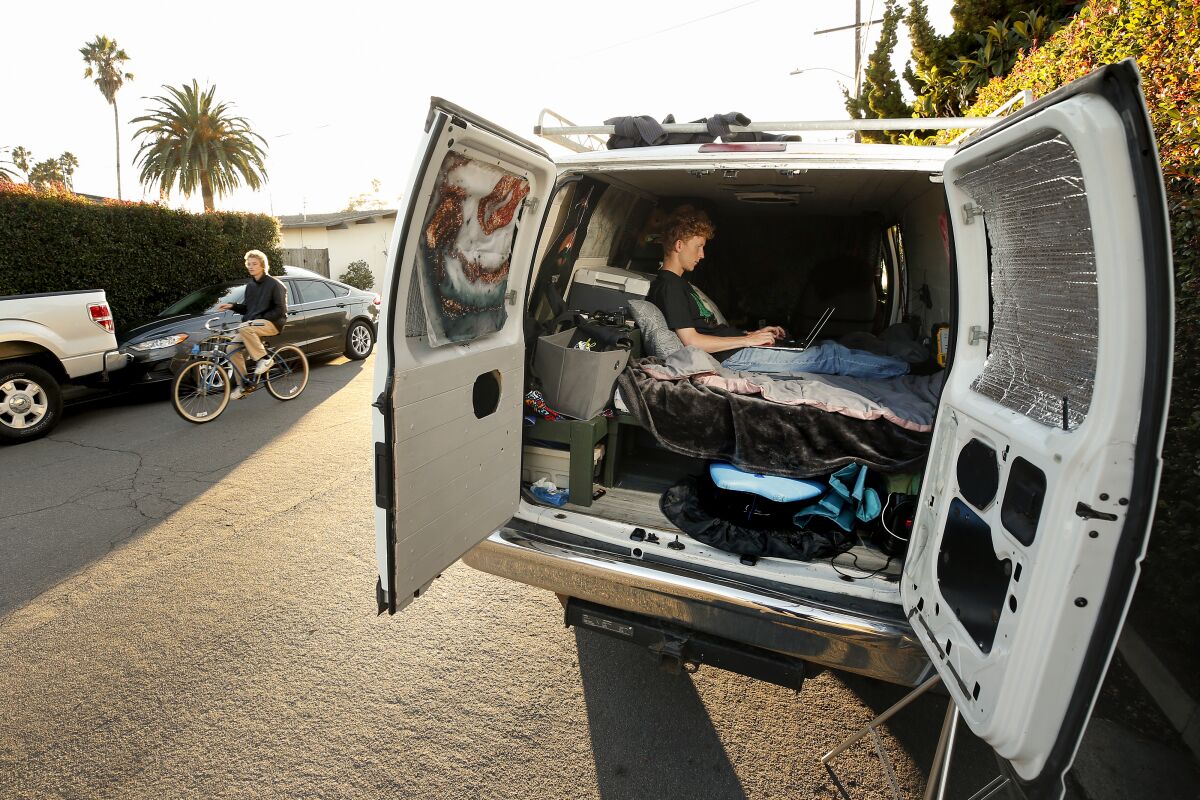 "What we've seen across the board is that students are starting to make different choices about where to go to school" based on housing costs, said Zennon Ulyate-Crow, a UC Santa Cruz student who heads a new housing advocacy coalition of peers from the three public higher education systems.
The issue was highlighted this week in several public forums, including the UC Board of Regents meeting, a state Assembly budget hearing and the unveiling of proposed state legislation — the Student Housing Crisis Act of 2023 — to ease barriers to construction near campuses.
Nathan Brostrom, UC chief financial officer, said the demand for campus housing has escalated. UC has added 34,000 beds since 2011 for a total of 113,000 systemwide, but because enrollment also has increased, the share of students with campus housing has risen only modestly, from 32% then to 38% today, he said. An additional 22,000 beds are being planned between 2023 and 2028, with an additional 16,000 possible if funding can be found, he said.
As most University of California campuses start classes this month, the acute shortage of affordable housing is pushing many students into desperation, including living in trailers or working multiple jobs to cover high rents.
Students who typically rent off campus, such as those in graduate programs or transfers to UC, are increasingly requesting university housing to take advantage of the generally below-market rates, he said. UC housing wait lists for fall 2022 climbed to 14,000 students at all 10 campuses compared with 7,500 students at eight campuses the previous year. UC Riverside, for instance, added 2,400 beds in 2021 but still has the system's largest wait list of 3,400 students, Brostrom said.
"Communities that we live in have just gotten much more expensive, and so we're starting to see demand in places and from students that we didn't normally see," he said.
Regents on Thursday approved funding for five campus housing developments that would provide nearly 7,800 beds — many that would rent at significant discounts — at UC Santa Cruz, UC San Diego, UC Riverside, UCLA and UC Irvine. UCLA, for instance, is renovating Gayley Towers from low-density studio units for 100 students to triple-occupancy units with a total 542 beds, most of them priced at $600 monthly rent — nearly 60% below the area's market-rate rents.
One major focus of the student forums this week was Gov. Gavin Newsom's proposed delay of one-third of $750 million in funding for a student housing grant program, a move to address the state's projected $22.5-billion budget deficit.
Last year, in the first state effort to support new student housing, the program distributed $1.4 billion for 25 construction projects across the three systems. In addition, the program provided $17 million to 75 community colleges to aid planning for on-campus dorms — a new venture for most of them.
The UC projects include 3,400 new beds at the Santa Cruz, San Diego, Irvine, L.A. and Berkeley campuses. At CSU, nine campuses are planning projects that would provide 3,300 more beds, including 750 at San Francisco State and 600 at Cal State Fullerton. Twelve California community colleges are working on plans for nearly 3,000 beds, with the most ambitious project at Napa Valley to provide housing for 528 students.
But rising construction costs have affected many of them, according to an Assembly budget memo, which advised further legislative debate on the delay. CSU said costs have risen by an average of 14% since 2021, with eight campuses reporting nearly $65 million in additional funds needed. Cal State Fullerton said it will reduce the number of proposed beds to 555 from 600 planned because of rising costs.
This year, campuses have submitted about 30 proposals for $2.1 billion in funding — far outstripping the $750 million budgeted for the program's second year. Newsom has proposed lowering that funding to $500 million.
"Given the student housing crisis, the ability for campuses to construct housing quickly when compared to other local housing projects, and the likelihood that delays will increase costs and lessen the number of beds projects can deliver, the Legislature should discuss whether this is an appropriate program to delay," the Assembly memo said.
A report by the state Legislative Analyst's Office, however, offered a more positive take on axing funding.
The report said removing the $750 million entirely rather than delay the funding a year "could be one of the relatively less disruptive ways to achieve state budget solutions" given projected deficits over the next few years. The report said that the projects were still in the early stages and that campuses had other options to finance them. It also raised the question of whether the state should be directly supporting housing projects, saying other programs might be more effective in helping students afford housing, such as more financial aid.
The memo added that legislators could also choose to prioritize projects from universities over community colleges, saying they would have a greater chance of success and have long-standing housing programs. UC, for instance, houses the largest share of students — ranging from 49% at UCLA to 21% at UC Berkeley — compared with less than 1% at community colleges.
Newsom also has proposed delaying funding of a state zero-interest revolving loan fund for campus housing projects, which could dramatically lower their costs. Funding for the $1.8-billion loan program was set to begin this year, but Newsom wants to push it back to 2024.
At least one key legislator nixed the idea of delays. Assemblyman Kevin McCarty (D-Sacramento) said the programs, which he championed, would address two key issues: the housing crisis and the rising cost of college. Housing costs are driving the increasing cost of college attendance at California public universities, as tuition has actually declined over the last decade when accounting for inflation, according to a new analysis by the Public Policy Institute of California.
"We do not support the delay," said McCarty, chair of the Assembly budget subcommittee on education finance. "The [housing] demand is off the charts, and we see a lot of shovel-ready projects ... that will make a dent in the housing crisis, as well as the cost of college."
A state appellate court has issued a final ruling that stops UC Berkeley from building student housing at People's Park.
He added that he would consider, however, delaying the housing grant program while funding the zero-interest loan fund.
During the education finance subcommittee hearing led by McCarty on Tuesday, lawmakers questioned higher education officials in each of the systems on the logistics of completing student housing projects but signaled overall support for building them.
"This seems like a wise, wise investment," said Assemblyman Phil Ting (D-San Francisco). "Building housing in those communities also relieves housing pressures in the surrounding neighborhood."
Some lawmakers focused on the readiness of community colleges to embark on student housing projects. McCarty suggested prioritizing projects for CSU and UC, until community colleges have had more time to figure out how the system will offer other services that must accompany housing such as dining facilities.
"In all honesty, a lot of the community college projects, they're not ready for prime time," McCarty said. "If you look at staging of the money, we should focus on the projects that are most shovel ready. Now, those seem to be most of the UC and CSU projects."
Lizette Navarette, interim deputy chancellor of California Community Colleges, disagreed and said the 21 projects proposed by officials are ready to go.
"We see the community college projects just as viable and demonstrating equal, if not more, need from the student perspective," she said.
Most of the state's college students are enrolled in community college. Many come from low-income families and attend school part time to juggle work and care-taking responsibilities. And they routinely cite housing instability as a barrier to completing their education.
Brostrom, the UC chief financial officer, said that UC has the capacity to fund its own housing projects, but that the state subsidies allow steep discounts that can be passed on to students. A UC Irvine dorm project for 300 beds, funded in part with a $65-million state housing grant, has allowed the university to reduce the cost by 30%, he said. And a zero-interest loan fund could cut UC's borrowing costs of about 4.25% by half.
He added that litigation to block campus housing projects based on the California Environmental Quality Act is another vexing obstacle.
UC Berkeley's plan to build 1,100 student beds and 125 units for low-income community residents at People's Park is on hold after a state appellate court ruled that the campus did not adequately consider the impact of noise or assess alternative sites.
At UC Santa Cruz, litigation has halted projects approved by regents in 2019 to construct nearly 3,000 student beds and 140 units of student family housing on a beloved meadow. But as the projects overcome most legal hurdles, regents on Thursday approved $151.6 million in funding to move them forward.
Students are also working to ease roadblocks. This week, they helped unveil Assembly Bill 1630 by Assemblyman Eduardo Garcia (D-Coachella), which would give developers a "density bonus" allowing them to build housing for students, faculty and staff up to three stories high if it is within 1,000 feet of campus and offer at least 20% of the units at affordable rates as determined in part by Cal Grant eligibility.
The bill also would streamline the campus housing permit process, taking it outside the purview of state environmental laws that have been used to block projects, according to Ulyate-Crow, the UC student housing activist who helped shape the proposal with the Student Homes Coalition, UC Student Assn., Student Senate for California Community Colleges and Generation Up.
In his own Santa Cruz community, the nation's second-priciest real estate market, Ulyate-Crow said more students are falling into housing insecurity or forced into bidding wars against as many as 60 others trying to nail down an apartment.
"We need action to tackle this now and get shovels in the ground as soon as possible," he said.
Times staff writer Debbie Truong contributed to this report.
The stories shaping California
Get up to speed with our Essential California newsletter, sent six days a week.
You may occasionally receive promotional content from the Los Angeles Times.