Behind the story: She was reporting on roses — and discovered her green thumb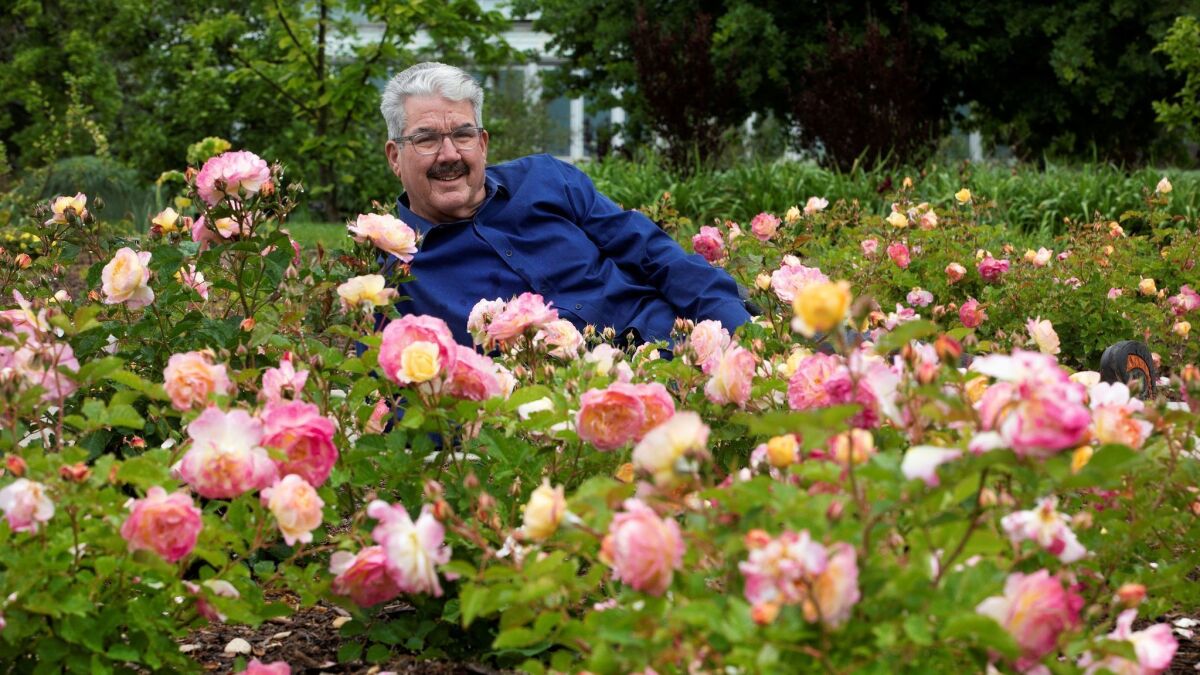 Sometimes you just trip over things.
In my case, I was scrolling through Gardening in LA, one of the most comprehensive gardening blogs in Southern California, compiled by longtime master gardener Yvonne Savio.
It was late December, and I was preparing a story for January, traditionally the best time to prune roses in Southern California. My editor, Rene Lynch, had suggested that I compile a list of pruning workshops. I was short on time, worried about missing events, and trolling for events online.
Savio had an entry that caught my eye:
"Rose hybridizer Tom Carruth, the E. L. and Ruth B. Shannon Curator of the Rose Collections at the Huntington, will introduce his newest floribunda, 'Huntington's 100th,' developed to commemorate the institution's upcoming centennial, which gets underway in the fall of 2019. The old-fashioned rose is a soft pastel yellow touched with a blush of orchid pink and cream, with a powerful fragrance reminiscent of citrus blossoms and sweet fruit....."
Column One: The perfect rose: 62 years in the making »
Despite my hurry, I read the entry again, intrigued by the idea that the Huntington's rose curator created something especially for its centennial. I thought it might be worth a phone call to find out more, noted the curator's name, and continued my frantic search and scroll.
(Confession: I'd met Carruth a year earlier when I was writing an article about keeping roses alive in a drought. He was easy to talk to, funny and informative without being condescending. For years, I'd yearned to grow the gorgeous roses I'd read about in catalogs, but I've never had much success in getting them to bloom. Deep inside, I was hoping that if we spent enough time together some of his rose smarts would rub off on me.)
I called Carruth in early January and discovered the story about the Huntington's 100th was better than the short write-up on the gardening blog. He didn't create the rose for the Huntington's centennial. It just so happened that one of the last pairings he did as a breeder for Weeks Roses developed into a spectacular flower that would be ready for the Huntington to release for its 100th anniversary.
I wrote a short story about the rose, and to my surprise, my editors asked for more. They wanted to understand the creation process, and that meant I was able to spend a lot more time with Carruth and his colleagues.
What do you a call a rose that's red and bright yellow? Ketchup & Mustard, of course »
I learned that it takes a decade to develop a new rose and get it ready to sell, that names can make or break a rose. I got to sit in the dirt and learn how to prune.
And I finally got up the courage to plant two bare-root Huntington's 100ths, one in my front yard, one in the back, and watched every day as they leafed out and bloomed into ready-made bouquets, first as a fragrant creamy yellow bloom that eventually matured into a flower that was a rich purple-pink.
Just like the pictures in the catalog.
---
Get our L.A. Goes Out newsletter, with the week's best events, to help you explore and experience our city.
You may occasionally receive promotional content from the Los Angeles Times.