Fashion designer Phillip Lim's store in L.A.'s arts district is a platform for sharing beauty
Twenty years ago, Phillip Lim was a talented up-and-comer, designing clothes for the label Development out of a downtown L.A. studio where the door was secured with a padlock and the streets were virtually uninhabited. With no restaurants nearby, Lim used to drive over to Zip Sushi, an izakaya spot five minutes away in the Arts District, for meetings. Today his former workspace is the site of the perpetually bustling restaurant Bestia, and the onetime location of Zip Sushi is on the same block as the 3.1 Phillip Lim concept store, which opened in May 2017.
For Lim, a first-generation Chinese American raised in Orange County but now based in New York, the Arts District flagship does not constitute a full-circle return, exactly, but more of an elliptical orbit, as both the designer and the neighborhood have taken their own unique evolutionary courses. When Lim and his business partner, Wen Zhou, launched the company in 2004 (both were 31 at the time, hence the "3.1" in the name), they grew quickly, opening stores in cities around the world, including Tokyo, New York and West Hollywood (they closed the sleek boutique on Robertson Boulevard in December 2016 in anticipation of the new retail space). While the Arts District is seeing tremendous growth now, its central core still has a secluded vibe that seems to be more about food and coffee and taking in some art than it is about shopping.
In fact, Lim says he chose the neighborhood precisely because it is not a shopping district—perfect for a store that is not a typical store. The 5,000-square-foot warehouse was conceived as "an unfinished home inside the space," says the three-time CFDA Award winner. In the space, standard clothing racks and cases display the current 3.1 Phillip Lim womenswear and menswear collections, with his signature bold shows of color, daring ornamentation and tailoring turned on its head. Alongside these wares, one can also find lighting by Apparatus, modern furniture from the Patrick Parrish Gallery, handcrafted household goods from M. Crow and a curated selection of art and design publications from the East Village-based Mast Books, all carefully vetted by Lim and all of it for sale.
The store is not only "meant to host friends from a products standpoint," Lim says, it also aims to invite the neighborhood in. The generous open floor plan allows for "activations" such as film screenings, performances and workshops: new ways to engage with the community that space limitations in other cities prohibit. "It's not a typical retail model for us—it's so different from all our other stores," Lim says. And if it doesn't quite make sense at first, that's okay. "This was more about creating an incomplete sentence, an open dialogue. I am such a fan of the in-between—the journey, not the destination."
This is a practice, not a concept, for Lim, who has been doing something unheard of in the fast-paced fashion industry: taking extended time off to travel. "I've been taking one-month hiatuses to kind of disconnect myself and live a different way," he explains. Lim travels by himself, visiting countries such as Columbia, Cambodia, Indonesia and India. "Places that I feel still have a certain type of craft or way of life," he explains. "It is so inspiring, in a way that just moves you. As a creator, how do we not lose touch with that? How do we figure out how to put that into the stores we make, the events we have, the people we celebrate? I want to be that type of company and really use our platform to share beauty in that way."
The 3.1 Phillip Lim Fall 2018 men's and women's collections explore these themes further. Designed with a "global nomad" in mind, the clothes are colorful, versatile, comfortable and—important for that particular wearer—packable. The men's collection emphasizes outerwear: down parkas and dusters; industrial denim and wool jackets; windbreakers and an array of cropped trousers. The women's collection is more romantic. Cozy sweaters are worn over long ruffled skirts and wide-legged pants; long, slinky knit dresses in luscious colors are wrapped with scarves or layered with unstructured jackets and swishy coats. Several dresses look like pieced-together silk scarves, and a group of patchwork skirts and dresses was inspired by the pillows and textiles Lim's mother used to piece together from fabrics she found in the dollar bin.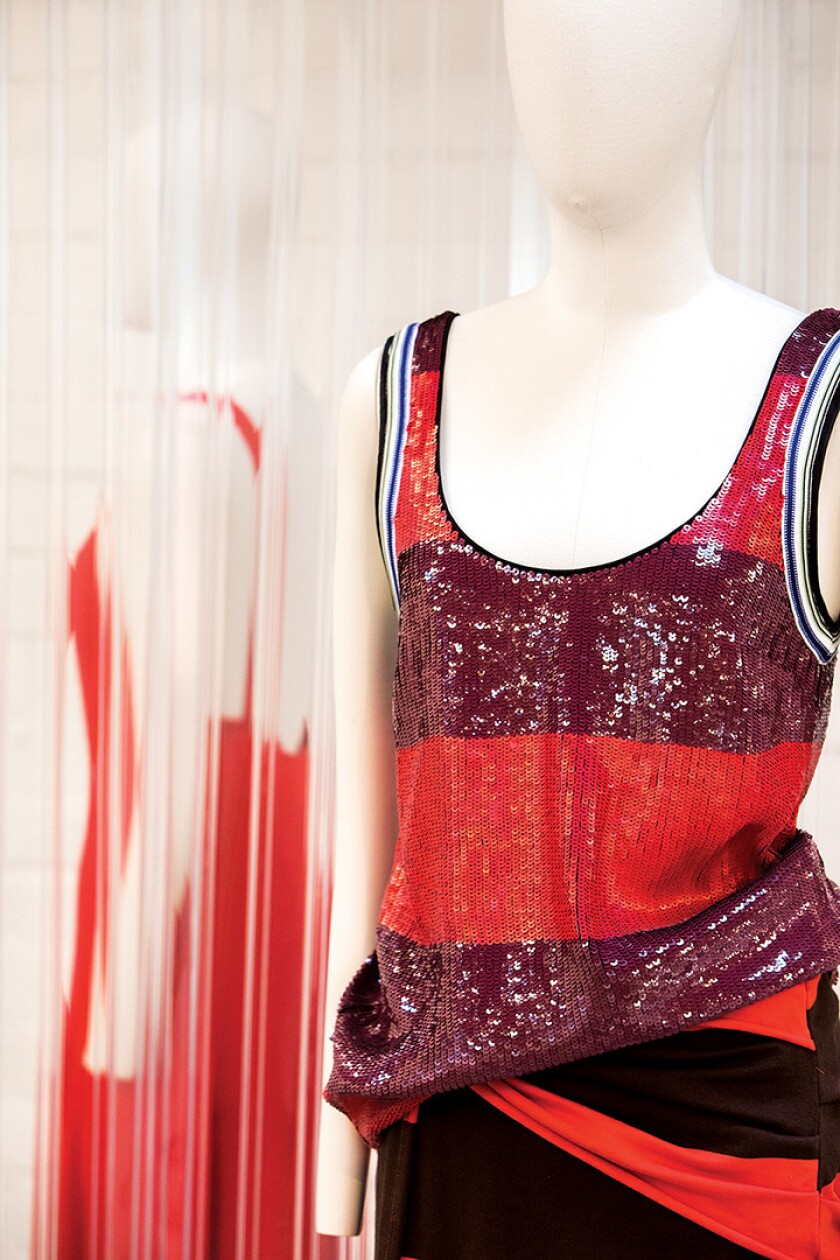 "When I go home there are still things that she made decades ago, and the workmanship is so tender and so precise and refined—you can feel the love," he says. "And in the collection I wanted to make clothes that were well loved, well lived in, and that told a story." Lim envisioned the assemblage of patterns and hues—even the textures of the suiting—as being crushed by a suitcase, packed and pulled back out, colored by sun and dust. "It's an homage to a nomadic group of people who are on a journey, like immigrants, I guess," the designer notes. "So without saying that—because I didn't want to make it political—I was able to use my own experiences and make it more personal."
It's a near 180 turn from the chic, feminine frocks and impeccably tailored jackets that first earned Lim a devoted "it girl" following, but he sees the continuum. "When you begin, you construct everything to death to prove a point, but then there's no point to prove anymore because you're still here doing what you love. It's like the cycle of life—you start as a child, you end as a child."
Growing up surrounded by the Orange County culture of "cheerleaders and jocks and after-school sports" on the one hand and a strictly traditional Chinese home life on the other, childhood was not always easy for Lim. Sometimes he felt caught between East and West. But when he launched the line bearing his name, Lim looked to China for his manufacturing. "My business partner and I are both first-generation Chinese American," he says, "and we were like, Let's celebrate that. From day one we were promoting this idea of boutique manufacturing in China, because it's had such a stigma for so long. Everyone knows the stereotype of manufacturing cheap goods in mass quantities in China, but that's gone. Manufacturing in China is expensive now because of the skill level. The most beautiful things are made there. That's not something to hide."
While Lim may not choose to make political statements with his clothes, he's conscientious about his role as a "global citizen," and he wants to help. It was his involvement with the New York City Asian-immigrant youth organization Apex that led to his next project, a film he is executive producing called Zimo. A simple story of young love set in Chinatown, the script was written by Lim's longtime casting director Daniel Peddle, who will also direct. They plan to cast real kids and shoot in October, in order to wrap up the edit in time for the festival circuit. For Lim, it's an opportunity to show immigrant youths that their experience is shared by many and that there is a world of possibility out there for them. "Maybe that's how I can help, how I can play a part," he says with a smile. "We're all alike in the end, just trying to figure out where we belong."
---