In a Rodarte garden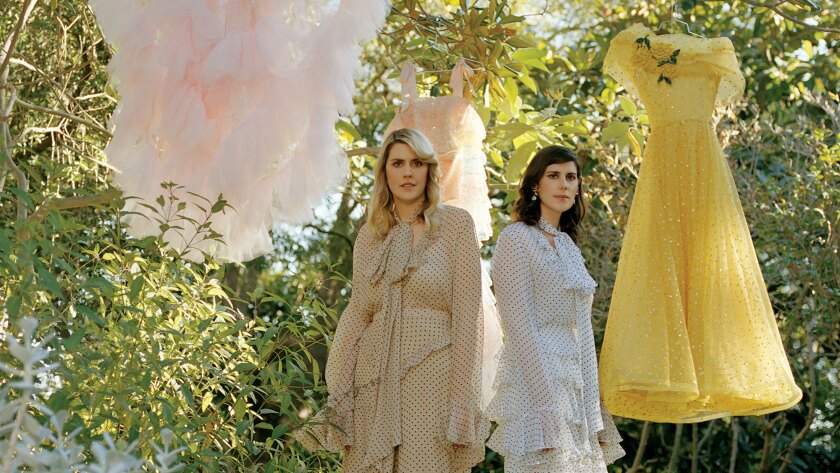 Laura and Kate Mulleavy have broken their self-imposed taboo: They are wearing silk polkadot frocks of their own design—Kate, 39, in a tan ankle-length dress with a ruffled hem, Laura, 38, in a white creation with ruffles from waist to knee. They are looks number 18 and 9 respectively from Rodarte's Fall 2018 collection, which the sisters and collaborators showed during the Paris haute-couture collections last July. There was a time when the two believed that wearing their own creations could limit their artistic freedom, risking reducing themselves to dressmakers. "I would never wear something I design," Laura Mulleavy said several years ago at a MOCA gala dinner.
Yet here they are ensconced head to toe in Rodarte, marking a noteworthy relaxation of the anxieties that once propelled them. "Never say never," Kate laughs. "It was reactionary—against people trying to marginalize our creative authority." Nodding vigorously, Laura asks, "Do they use the word genius about women? I don't hear that very often."
A mere 13 years into their careers, the Mulleavys are working on a retrospective of their work for the National Museum of Women in the Arts in Washington, D.C. The exhibit, which opened earlier this month, includes pieces from their runway shows in New York and Paris as well as from their costumes for the 2010 movie Black Swan. Digging through archives and their film work—they also wrote and directed the 2016 film Woodshock, starring their friend Kirsten Dunst—has allowed them to reconsider their work.
This might be a moment to savor for designers who have had a fairy-tale fashion career, replete with awards and museum exhibits. When the label was just four years old, the sisters won the Council of Fashion Designers of America's Women's Wear Designers of the Year award in 2009, and they won a Cooper Hewitt National Design Award in 2010. They have done capsule collections for Target and for The Gap. They have sold a dress to Karl Lagerfeld (who bought it for his muse) at the iconic Parisian boutique Collette. They designed costumes with Frank Gehry for the LA Opera's Don Giovanni production in 2012. The Metropolitan Museum of Art in New York included Rodarte looks in its recently closed all-time blockbuster exhibit Heavenly Bodies: Fashion and the Catholic Imagination, which drew 1.7 million visitors, exceeding the former record-breaking 1978 Treasures of Tutankhamun exhibit. That wasn't even the first time their pieces were shown in a Met Costume Institute exhibit—that was Blog.Mode: Addressing Fashion in 2007.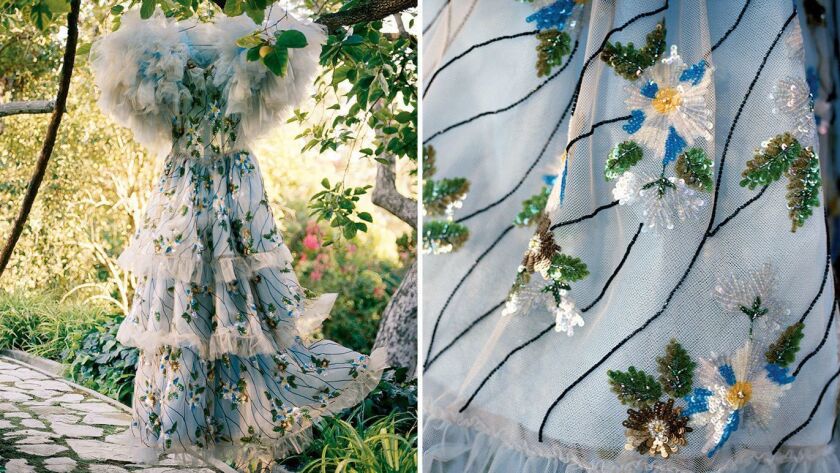 Yet there's still that pesky "crafty" thing. "Do you know how many people have said that about our collections?" Laura demands, as Kate groans. "When they write about male designers, they use the word couture. With us, they use the word crafty." As they discuss the demeaning sense of craftiness, the Mulleavys pause to wonder if they've exaggerated. "Maybe it's only one person who's said it," Laura posits. Says Kate, brow furrowed: "Maybe so."
But no. A Google search of "Rodarte crafty" serves up 508,000 hits, including this sentence in a Vogue review of the Fall 2013 collection: "Acid-wash silk was a harder sell, and the crystals studding the striped alpaca sweater of a sweater-skirt combo were more crafty than couture." There's "These girls are expert at crafty couture," from British Vogue's review of Rodarte's Fall 2015 collection, and "think crafty, ethereal mixed-lace dresses" from Women's Wear Daily's review of Fall 2017.
Another term often applied to Rodarte collections is DIY, and both may stem from their earliest designs, which were literally DIY crafted. The Mulleavys launched their label in 2005, shortly after graduating from UC Berkeley—the elder Kate with a degree in art history, and Laura an English literature major. They named it after their mother's last name—Rodart—restoring the original Mexican e at the end. In a story that is now legendary (yet true), they sewed seven dresses and three coats by hand, inspired by the redwood trees where they grew up near Santa Cruz. Rather than go the Etsy route, they savvily reached out to influential editors, taking the clothes around New York in a cardboard box. Their designs ended up on the cover of Women's Wear Daily.
"It was never about making clothes, it was about trying to express something."
Kate Mulleavy
Anna Wintour soon became a champion. The label and its designers had a place in the 2009 documentary The September Issue, about the making of an issue of American Vogue magazine, when then-creative-director Grace Coddington fussed that a Rodarte look would be pushed aside in favor of a look from a brand that advertised.
Their shows and red carpets became a parade of A-list actresses—Cate Blanchett, Reese Witherspoon, Natalie Portman, Kirsten Dunst, Chloë Sevigny—as well as a sometimes bizarre grouping of Hollywood creatives, including Star Wars director George Lucas. These days, when they name drop a friend, it could be artist Catherine Opie.
Still, for years their collections retained a sense of having been glued and stitched together by people with more ideas than training. Famously, for their California Condor collection in Spring 2010, they burned, shredded and sandpapered the fabrics, creating works that might have been more fitting hanging on a gallery wall than on a body. The homemade quality didn't inhibit the fashion world's visceral reaction—in fact, it may have been Rodarte's greatest collection.
As designers who are sensitive about being seen as mere dressmakers, though, the Mulleavys have had an uneasy relationship with fashion and art. "I want people to think it has a value beyond a garment," says Laura. Their runway shows are at the center of their collections—they almost always end with a tableau of models arrayed for maximum drama. In September in New York they held their show outdoors in the rain at the Marble Cemetery on the Lower East Side. Rather than detract from the effect, the rain augmented the romance of the frothy, ephemeral clothes.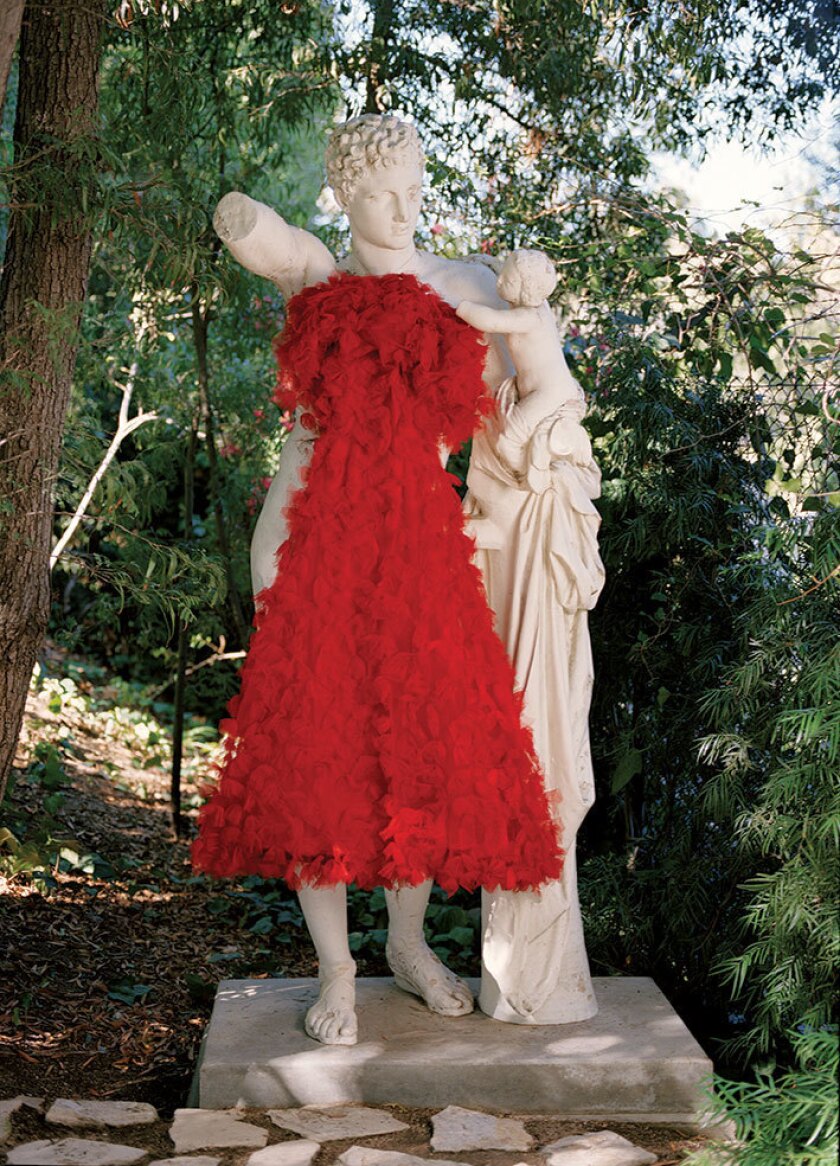 "It was never about making clothes, it was about trying to express something," says Kate. "Kate wanted to be an artist at one point in her life," says Laura. "It was probably the first job I ever told people I wanted when I was little," says Kate. Laura interjects, "I think I just copied everything that Kate did when we were little."
When they were children, their mother gave them each a journal. Kate drew elaborate costumes. Laura meticulously mapped their house, including everything in the cupboards. "It's kind of how we draw now, too," says Laura.
Inseparable, the sisters share a work email account. They live in Pasadena, where they throw an obsessively decorated annual Halloween fest (they are big-time horror movie fans).
Despite a lack of formal training—or perhaps because of it—an unusually large number of awards have come to the designers. There are too many to account for here, but Rodarte was nominated for its first CFDA Swarovski Emerging Womenswear Designer award only one year in, in 2006, and won the award in 2008, the same year it won the 100,000-euro Swiss Textiles Award in Zurich. The Mulleavys were the first women to win the award. In 2010, the year they won the Cooper Hewitt award, they also won a Jeff Koons gold bunny sculpture as the prize from the National Art Award from Americans for the Arts.
Rodarte was named one of Fast Company's 50 Designers Shaping the Future in 2012, and while this isn't widely discussed in fashion, where their collections are sometimes controversial, it is possible to see their influence broadly. Today's trend for long-sleeved, high-necked prairie dresses—most prominently by the young label Batsheva—can find their seeds in Rodarte's Fall 2011 Days of Heaven collection, a concoction of long coats and dresses that evoked Laura Ingalls Wilder when they appeared on the runway in New York.
The collections are not widely distributed. It's far easier to purchase one of their T-shirts or hoodies online—emblazoned with Radarte, a reference to one of their favorite teenaged words, rad—than it is to buy one of the looks from their runways. Produced in Los Angeles, the Rodarte collections are coveted by some retailers. When asked via e-mail about what sets the label apart from the many European luxury labels she carries, Catherine Bloom—whose clientele at the Beverly Hills Neiman Marcus includes many of the city's elite—responds with a red-rose emoji and two phrases: "A feminine fantasy, a beautiful dream."
The Mulleavys aren't leaving fashion, but they are moving on from it. Their film Woodshock, made for a reported $5 million, was not a critical success. It merited a 25 percent on the Rotten Tomatoes Tomatometer and grossed just $43,000 in the U.S., according to IMDB, though reviews lauded the film's beautiful visuals. The sisters, with an eye to both costume design and screenwriting, view it as a new beginning.
"I went through a period thinking the fashion industry was stifling me," says Laura. They conceived of Woodshock in 2010 and started writing the script in 2011. "By the time we walked off the set in 2015, I was a different person. It was an experience that changed my life. Being in charge of so many people, I felt emotions I that I had never felt before. And when we came back to designing, I felt so much more sure of myself."
So now the Mulleavys are confident enough of their artistic merit to wear their own fashion designs. Are they wearing art? Their answer to that age-old challenge spans several days and shifting points of view but seems to rest on the very real cliché about the eye of the beholder.
"I remember when George Lucas went to one of our shows, he said, you know, your shows are like a film," says Laura. "I view myself, because I write, I do fashion design, I do other types of design—I do feel like an artist."
"The question," Kate, the older sister, interjects, "is limited. I find that the process is artistic, or else we won't have done it on the terms that we've done it on."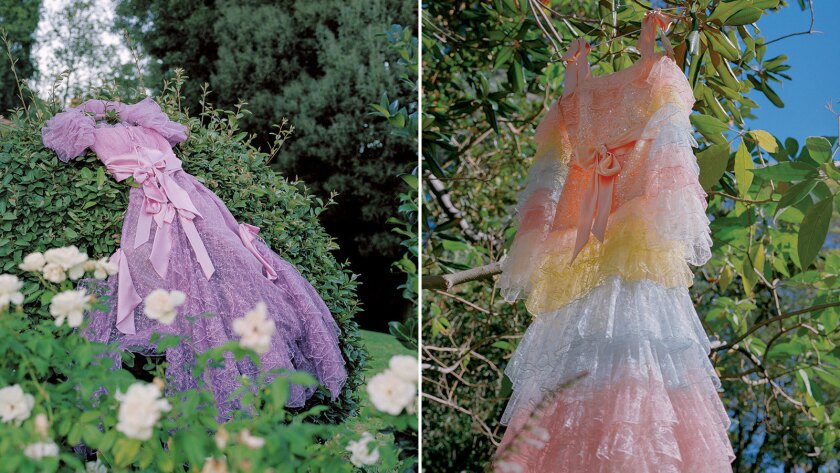 ---