You happy with those Oscar nominations?
Have you ever seen a tiny blue butterfly? I mean a real one, not the kind you hallucinate after one too many trips to the kinds of places my colleague Adam Tschorn frequents. I hike around the Palos Verdes Peninsula at least once a month, and I've never come across one of these beauties.
From the Oscars to the Emmys.
Get the Envelope newsletter for exclusive awards season coverage, behind-the-scenes stories from the Envelope podcast and columnist Glenn Whipp's must-read analysis.
You may occasionally receive promotional content from the Los Angeles Times.
I think I have a new resolution to add to my 2023 list ... a good thing, since I've already broken so many.
I'm Glenn Whipp, columnist for the Los Angeles Times, host of The Envelope's Friday newsletter and the guy still recovering from the cold dawn of Oscar nominations morning, which happened three days ago and left me with a desire to do little else but go on a hike with Barry Keoghan around Lough Tay in Ireland, and not just because it's also known as the Guinness Lake ... though can you imagine a reservoir filled with that creamy stout? It'd almost be as wonderful as seeing a blue butterfly! Or being nominated for an Oscar ... which happened to a lot of fine people this week.
All the Oscar nomination coverage you could possibly want — and more
My pal Mark Olsen spoke with Austin Butler and prompted him to acknowledge the debt he owes Vanessa Hudgens for his journey on "Elvis." Times film critic Justin Chang ranked the 10 movies nominated for best picture, being far too kind to "Triangle of Sadness" and vastly underestimating "Everything Everywhere All at Once." (But he's still OK.) Robert Daniels wrote an insightful essay on how the awards ecosystem fails Black women. And Jen Yamato spoke with the gang from "Everything Everywhere," which, quite correctly, led the field with 11 nominations.
And there's more ... much more, which you can find on The Times' Oscars landing page, including news on newsworthy nominations for John Williams and Angela Bassett.
All the Oscar snubs and surprises
After the nominations arrived Tuesday, the sounds you heard around town ranged from the chosen few buzzing the tower in celebration to the dull thud of disappointments being flung against a wooden door a la "The Banshees of Inisherin," though, hopefully, without the need for bandages or infantile acts of revenge.
Of course, in an Oscar multiverse, everyone's a nominee and nobody came away from the nominations announcement feeling like they were on the receiving end of a "Babylon" elephant's bowel distress. In this reality, though, the morning brought its fair share of surprises, pleasant and otherwise. There were also omissions, which, for the sake of alliteration and search engine optimization, we'll call "snubs," though voters probably didn't intend any ill will, unless you were the filmmaker who wrote and directed that elephant scene, in which case, it was entirely personal.
But that's the exception, not the rule. Meanwhile, I rounded up the "snubs" and surprises for the 95th Academy Awards, which will be handed out on March 12, a date so far away that it feels like a surprise and a snub in and of itself.
Enjoying this newsletter? Consider subscribing to the Los Angeles Times
Your support helps us deliver the news that matters most. Become a subscriber.
How Andrea Riseborough pulled off that stunning nomination
"To Leslie," the indie drama that scored Andrea Riseborough one of the most shocking nominations in Oscar history, opened on Oct. 9 at Monica Film Center in Santa Monica, where it came and went after playing to an empty house for five days.
It ended its theatrical run soon afterward with a worldwide box office of $27,000 — that's thousand, not million. Marc Maron, who co-stars with Riseborough in the downbeat drama about an addict returning to her West Texas hometown to rebuild her life, was incensed at distributor Momentum Pictures' handling of the film, grousing on his "WTF" podcast: "The f— distributor dropped the ball on facilitating something that would bring a lot more attention to the movie. And now this movie with a 100% Rotten Tomatoes score that everyone should see [has] been hobbled by the people responsible for putting it out there."
But a funny thing happened on the way to obscurity. Riseborough, a gifted English actress who has worked with everyone from Mike Leigh to Alejandro G. Iñárritu and won many admirers and allies in the process, somehow entered the awards season conversation. You didn't see her face on billboards along Sunset Boulevard or in for-your-consideration ads in the trades. There wasn't any money for that.
So how did Riseborough pull off a nomination for a movie that pretty much no one outside the 310 area code has seen? I did a deep dive into her campaign and rounded up some of the reactions, not all of which were positive, though Riseborough's friend Kate Winslet did email to tell me she was absolutely chuffed.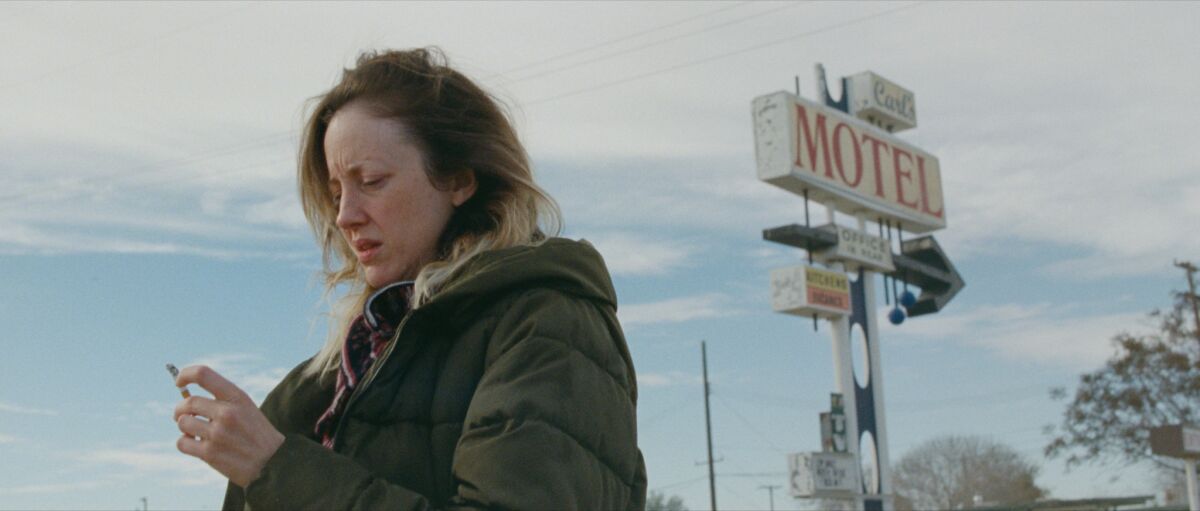 Get our L.A. Goes Out newsletter, with the week's best events, to help you explore and experience our city.
You may occasionally receive promotional content from the Los Angeles Times.