Why Michael Connelly turns the legal system upside down in 'Resurrection Walk'
What's next? On Dec. 12 California Poet Laureate Lee Herrick joins book club readers for a live streaming conversation.
Good morning, and welcome to the L.A. Times Book Club newsletter.
After immersing in nonfiction for the last four incredible book clubs — watching birds, reporting on Trump, Elon Musk, and two books on AI — I switched gears to catch up with a previous guest author. This past week I've been devouring the new suspense novel from Michael Connelly, who memorably joined book club readers in Hollywood before the pandemic shut down our live events.
In "Resurrection Walk," Connelly pairs Lincoln Lawyer Mickey Haller and former LAPD detective Harry Bosch on a mission to help a woman who may be wrongfully imprisoned for her husband's murder. Both of Connelly's beloved characters now have separate TV shows that don't crossover (Haller on Netflix, Bosch on Amazon Freevee), so it's a treat to find them teamed up again on the page. "Resurrection Walk" immediately landed on the bestseller list.
After turning the last page, I reached out to Connelly and he shared some insights about his new mystery, his current reading and what's ahead.
The Lincoln Lawyer launches his own Innocence Project inside his defense practice with help from half brother Harry Bosch. Why did you take on the subject of wrongful convictions?
I was looking for a new angle in terms of getting Mickey Haller into the courtroom. This is the seventh Lincoln Lawyer book and it gets repetitive if every case follows the lines of client accused, client goes to trial, jury decides client's fate. I needed to do something different. I was talking to one of the attorneys who I consult with on these books and he was working on a habeas case, trying to get a convicted client declared factually innocent and released from prison. He told me that in a habeas case the legal standards are turned upside down. Your client is guilty until proven innocent, the opposite of the standard of innocent until proven guilty. I liked that challenge for Mickey and I built the story around that upside down world.
How did you come up with the title?
It just felt to me that if you are released from prison after being found guilty, you were getting your life back. You were raising up and joining the living again. So the title sort of came to me when I was writing the first chapter where a Haller client walks out of prison and joins his waiting family and the rest of his life.
What other books on wrongly accused defendants did you read? Any favorites?
There are a lot of them out there but I'd go all the way back to "To Kill a Mockingbird" by Harper Lee. It probably had the biggest effect on me in terms of a hero lawyer standing up for the wrongly accused. I read it when I was 12 and I might not be a writer today if I hadn't.
In your book, Detective Bosch picks up Gabrielle Zevin's "Tomorrow, and Tomorrow, and Tomorrow" while surveilling a woman at Vroman's bookstore. What's behind that?
That is just a nod to that book, which I think was my favorite book of the last few years. I just loved it and it makes you feel good when you recommend a book that other readers come to love as much as you do.
What's the last book that kept you up at night?
This might be kind of strange but I read "A Mystery of Mysteries: The Death and Life of Edgar Allan Poe" in one night. Written by Mark Dawidziak, it is an exploration of the many theories involving Poe's unexplained death. It is written like a detective novel in a very propulsive manner, but what got me was how Poe had none of the protections that writers and artists have today. Poe is probably the most iconic writer in American history, whose work remains relevant 175 years after his death, and it was just a punch to the heart to read about his difficulties as an artist. He invented the detective story and was a forerunner in the genres of horror and science fiction and yet he lived and died in poverty. That was a crime in itself and that kept me awake and reading.
Can you say what's next for Bosch and Haller?
There is no doubt that this is a pivot book and it is about Mickey finding what is important in his life. So I expect that next time we see him he will not be the same attorney we have seen before. Maybe the Lincoln Lawyer won't be riding in a Lincoln. I'm not sure yet. But when I do come back to him, I'm hoping that whatever vehicle he's in that he's riding with Harry Bosch.
Next book club
When California Poet Laureate Lee Herrick shares his travel schedule with his friends, he says they often compare it to the itinerary of a band on tour. "It's just city after city after city."
Herrick had an inkling of what he was getting into when he accepted the job last November. He served as Fresno's poet laureate from 2015 to 2017.
On Dec. 12, California's 10th poet laureate joins the L.A. Times Book Club to talk about his first year on the road connecting with readers at schools, libraries, prisons, colleges and poetry slams up and down the state. Recently, Herrick launched "Our California," a project to get people writing about where they live with an emphasis on social justice. "I suppose there are two potential outcomes," Herrick says. "One is to get those creative ideas flowing, but also to see how writing can be related to our immediate surroundings. I think with social justice, it has to be an idea before it becomes an action."
Herrick will be in conversation with Times editor Steve Padilla starting at 6 p.m. Pacific. Sign up on Eventbrite for this live-streaming event.
Tell us: What questions do you have for Lee Herrick and what poetry did you most enjoy this year? Share your comments and questions when you sign up for book club night or in an email to bookclub@latimes.com.
Keep reading
Book awards: L.A. novelist Justin Torres ("Blackouts") and Yale historian Ned Blackhawk ("The Rediscovery of America") took home top honors at this week's 74th National Book Awards. Actor, author and recent book club guest LeVar Burton hosted the New York City gala as war, politics and book bans also grabbed the spotlight. The reason books are threatened, Burton told the crowd, is "because they are so powerful."
Giveaway: Pink says she will give away 2,000 banned books during the Florida leg of her tour. The Grammy winner is partnering with the national free speech organization PEN America and Florida bookseller Books & Books for the fan giveaway. "Books have held a special joy for me from the time I was a child, and that's why I am unwilling to stand by and watch while books are banned by schools," she says.
Latino voices: Check out the first edition of De Los|Reads, a new Times feature dedicated to amplifying the work of Latinx authors. Roxsy Lin shares fall fiction — "Sabiduría Familiar / Family Lore" by Elizabeth Acevedo; "A Haunting in Hialeah Gardens" by Raul Palma; and "Le Dedico Mi Silencio / I Give You My Silence" by Mario Vargas Llosa — along with new nonfiction and children's books too.
Explaining Los Angeles: Columnist Patt Morrison roams the rich history of the city's new, used, rare, secondhand, antiquarian bookstores. Don't let anybody diss L.A.'s reading habits, she says. This was and is a bookstore boomtown.
New releases: The best-reviewed books this week include Sigrid Nunez's new novel, "The Vulnerables" and Barbra Streisand's 970 page memoir, "My Name is Barbra." "You might not have the appetite to linger for the whole thing, but you'll find something worth a nosh," says Alexandra Jacobs in The New York Times.
Cactus thieves: In "The Cactus Hunters," Jared D. Margulies tackles the phenomenon of cactus and succulent poaching and collecting. "In the process, he explores rumor-mongering (no, the plants aren't great air purifiers), the curious love of cacti behind the Iron Curtain and the nature of desire itself," writes Mark Athitakis, who interviews Margulies for The Times.
ICYMI
You can still watch Tuesday's AI Book Club Night with authors Fei-Fei Li and Joy Buolamwini, two of the nation's leading researchers on the rapid rise of artificial intelligence and its impact on our humanity. They make a bewildering subject interesting and accessible.
Li's memoir, "The Worlds I See," pairs AI's coming of age with her own personal coming-of-age story as a young immigrant overcoming every imaginable barrier. Buolamwini set out to build robots and instead found herself confronting inequalities embedded in the systems that control whether we get into college, get jobs, get access to health care or get arrested. Her book is "Unmasking AI."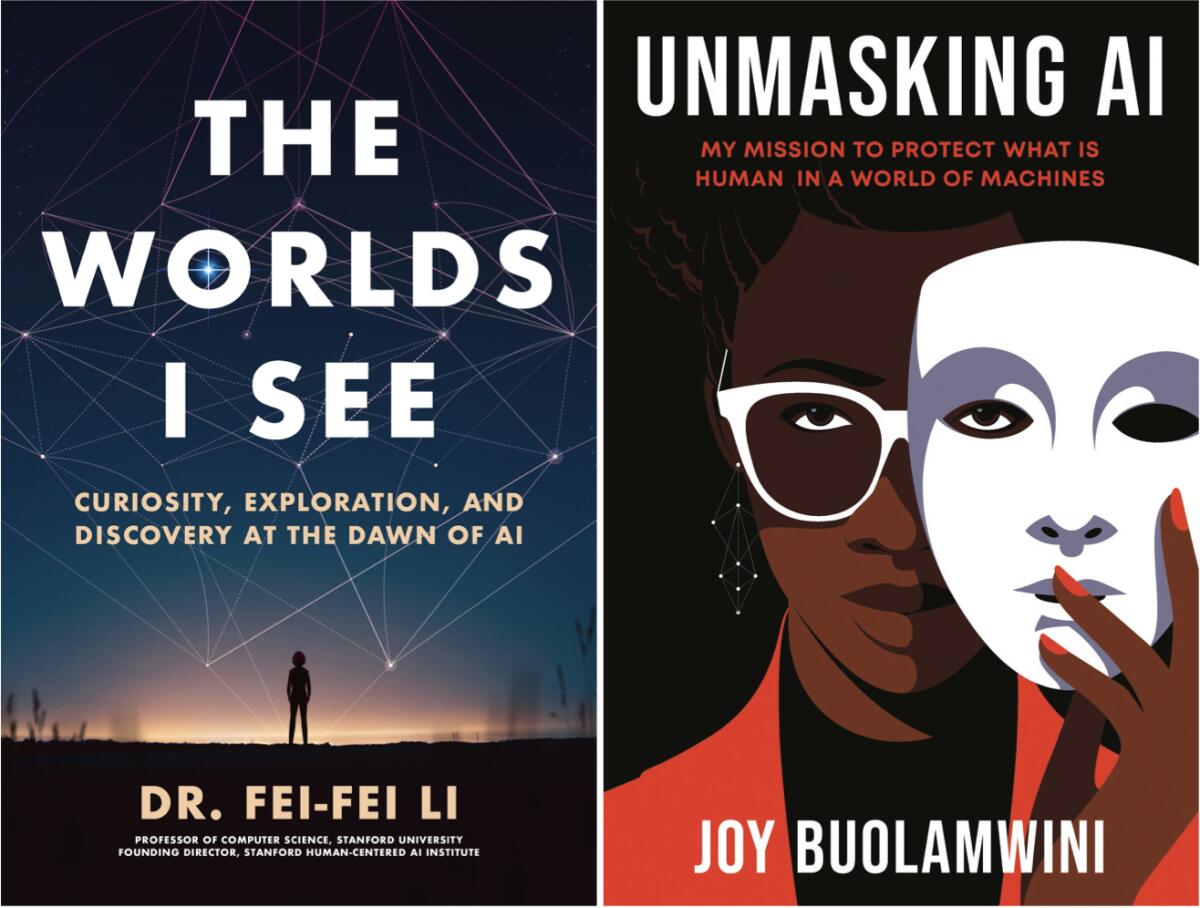 Last word
"I was 15 years old when I read my first diverse book," said Oprah Winfrey at this week's National Book Awards. "Maya Angelou's 'I Know Why the Caged Bird Sings,' and the whole world fell away for me. It was the first book at 15 I ever read with a Black protagonist.
"That book gave a voice to my silences, my secrets. It gave words to my pain and my confusion of being raped at 9 years old. Until 'Caged Bird,' I didn't know that there was a language, that were words for what had happened to me, or that any other human being on Earth had experienced it. That's the power of books."
Do you enjoy our book conversations? Here's how to support the Los Angeles Times Community Fund and the newspaper's literary and literacy programs.
Sign up for our Book Club newsletter
Get the latest news, events and more from the Los Angeles Times Book Club, and help us get L.A. reading and talking.
You may occasionally receive promotional content from the Los Angeles Times.